Hello everyone!
We are proud to announce the official launch of the New Universe platform.
What is new universe?
The New Universe Platform allows people of all ages to quickly and easily create and share games in the platform as easy as any social network.
When others play the games the creators receive direct payment without any intermediary thanks to Web Monetization!
what was our motivation?
We started New Universe with the strong idea of being an online platform where users with no prior knowledge of game development can easily create, share and monetize (via web monetization) their own content.
You can check the trailer of the platform here:

Progress on objectives
New Universe — Grant Report #01
Objective: Announcement of the development progress of the new universe platform in the grant for the web community.
Status: Completed

New Universe — Final Grant Report
Objective: Announcement of the progress and launch of the new universe platform in the grant for the web community.
Status: Completed
New Universe is a project that consists of several parts:
| Part | Description | |
| --- | --- | --- |
| Main Hub | "Turtle Island" | |
| Game Editor | To create your games | |
| | | |
| Mission modules | 4 types of missions that you can mix in your games | |
| Island navigation system | The portals are used to go to the games, go to the main menu and go to create new games | |
| The Character | Choose your cute avatar to identify yourself | |
| Game search system | allows us to list the games of the users in the platform | |
| Chat | It is the communication system between players in the main hub | |
| News | It's the games and the news that we create as administrators | |
| News | It's the games and the news that we create as administrators | |
| Website | Our window to the public where you will find more information about the platform | |
| Website | Our window to the public where you will find more information about the platform | |
Key activities
It has been a great and challenging task, with many goals and objectives, where all the resources granted have been invested in the production of the platform.
To achieve the creation of content such as:
The production of 3D characters with humanoid characteristics


Create a friendly and animated interface for all types of users


Even if you don't have a Coil ID you can create 3 games on the platform


We integrate a Chat System for communications with other players (it is limited in words to protect minors)


The Main Hub and System Portal navegations:



Thanks to the feedback we understood that we should make video tutorials to better explain how to create a game in New Universe, such as:
Create interactive objects:

Switch mission:

Communications and marketing
We also participated in different events to publicize the New Universe platform, such as:
And the Conexion Investor Panel 2022 organized by Latinx in Gaming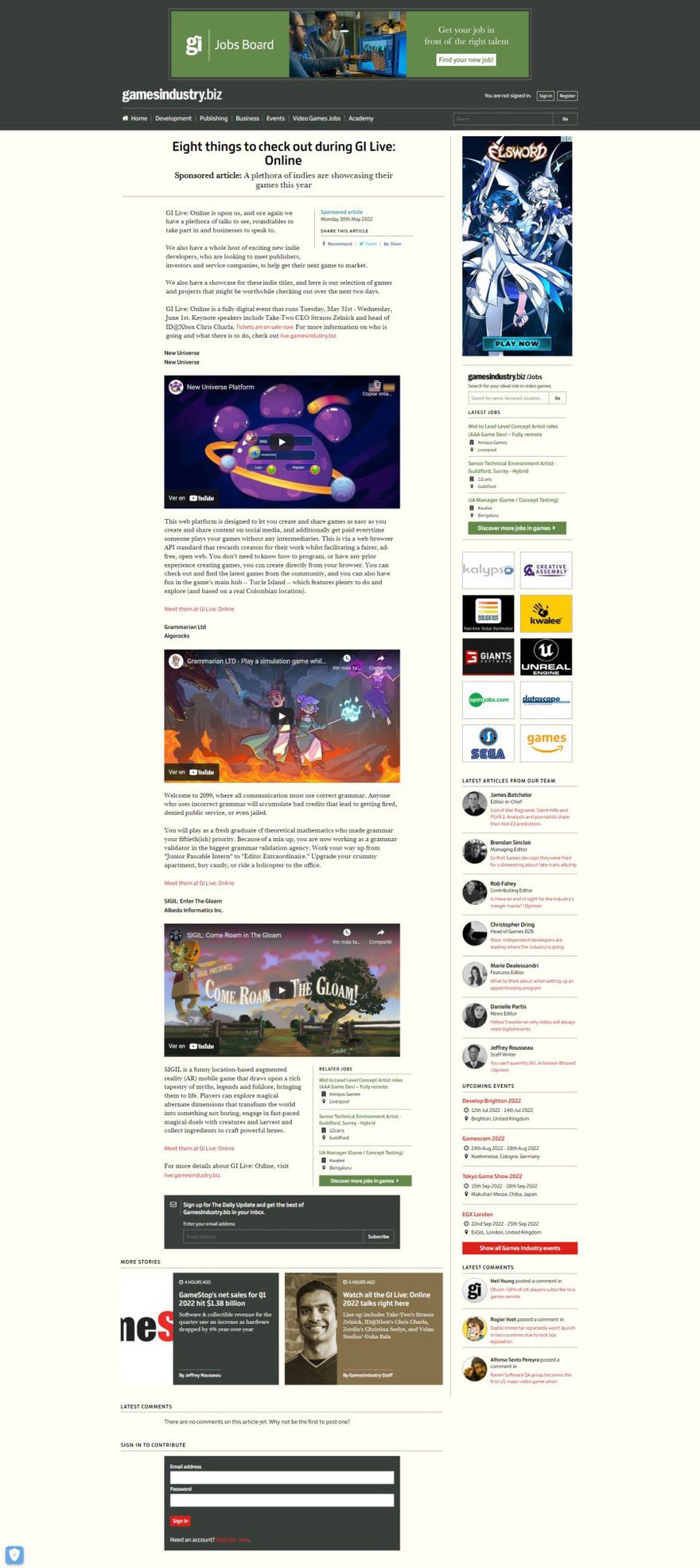 Additional comments and closing remarks
Users ask us to expand the chat system, so we promise to continue working to create a communication filter system (so far the chat for children is a success)
We will continue working to integrate new monetization systems such as Web 3.0, we are committed to expanding the platform and working on it permanently