For our university societies we have different offline programs such as our Hackathons. The Hackathons are a moment for our members to come together and create innovations based on the current socio- geographical Holistic needs. We empower youth to build tools and technology businesses that will help to improve lives in their communities. The objective of hackathons is to encourage and enable the creation of innovative solutions to address the shift in digital technology use in Africa. Our previous events saw the wide range of subjects and interests of the students.
For example in 2016 the University Poetry competition to celebrate the power of poetry across the African Universities. event where our members in the Campus societies are a composition of different artists, and members who are just fanatics of art and entertainment. Students have used this art form as a form of protest and a way of addressing their issues, sometimes through struggle songs but always with a feature of poetry to creatively lament on their lived social realities on Campus. The space that we have created, is a safe space where students can express themselves and raise awareness also on other social issues, such GBV ( Gender based Violence ), Rape Culture.
The Latest hackathon we gave was for the Tshwane City Group named, Tshwifi smart cities hackathon. It was based on the needs of Pretoria city in South Africa. The intent of the hackathon is to find technology based solutions that will assist the City of Tshwane in addressing service delivery challenges aligned to the following stream of business:
1.sustainable water, energy and waste resource sustainable
2.transport & mobility
3.responsible and sustainable tourism
The hackathon will form part of the building blocks to achieving the new vision for 2030 which is in part anchored around service delivery excellence and innovation; creating jobs; promoting social cohesion and inclusion; and fostering participation and collaboration. By successfully implementing the proposed hackathon the City will accelerate its momentum in igniting excellence and achieving the 2030 vision.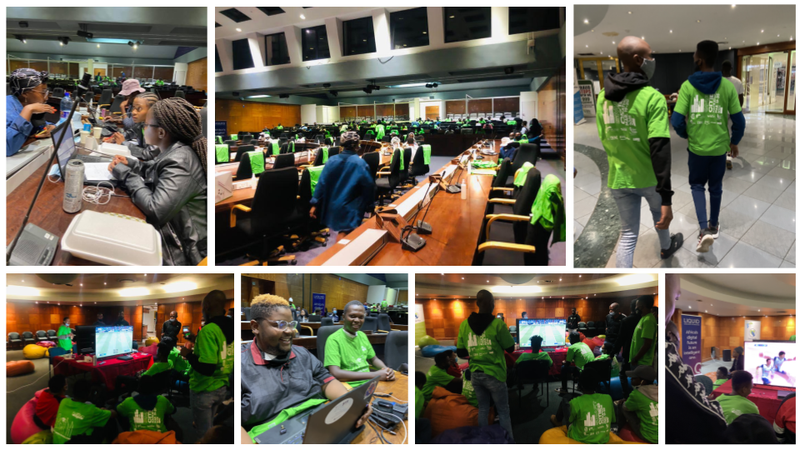 Woman in Tech Hackathon
This weekend we will host our Woman in Tech Hackathon
Friday 8th till 9th of October
Snake Nation partnered with Openseed to establish Women in Innovation and Business(WIB) Society, a university programme designed for correcting all the barriers to diversity by working with diverse partners, judges, mentors, and trainers; expanding recruitment networks to diversify the pipeline; designing curriculum intentionally tailored to more diverse needs.
Women in Innovation and Business(WIB) is an initiative that works with university female students studying in any of African universities
Our motivation is to apply impact driven programmes with a global scope that counter social challenges and facilitate greater diversity in tech development. The internalisation of gender roles in Africa has their roots deeply entrenched in the patriarchal society. There are binaries when it comes to work division and choice of jobs, with some subjects deemed as more feminine (E.g. nursing, teaching, biology) and some more masculine (E.g. mathematics, science, computer science).
The effect spills over to the low number of women involved in the field of Science, Technology, Engineering, Mathematics and Innovation (STEMI), creating barriers of entry for women into high paying career opportunities that STEMI offers. Less than 2% of venture capital funding goes to women-led businesses in women owned businesses, despite women achieving 35% ROI In Africa only 9% of start-up's have women leaders and only 30% of women in Africa are in the technology and innovation related sectors.
CSRC and Snake Nation will introduce and promote regional collaboration and exchange of ideas to address national and regional challenges
These programmes are designed to be scalable in a variety of ways. Cohort size, length of programs, size of production and media budgets. Based on the goals and resources available, the program can be scaled and lead in partnerships after the initial setup face.
Our Program includes
1.Workshops
2.Meetups Sessions
3.Hackathon
4.Pitch Night
5.Startup Programme
6.Skills Podcast
The upcoming Women in Tech Hackathon is a collaboration between Snake Nation partnering with Cape Peninsula University, IOTA, Liquid telecom and Africa is talking.
Problem statement
Africa is witnessing a spike in Gender Based Violence (GBV) related offences and femicide. Sexual violence has been a long-standing issue. Similarly, there have been students actively challenging this violence from as early as the 1980s. Female students don't feel safe behind the campus walls, CPUT GBV hackathon is aimed at finding digital solutions to fight the scourge of gender-based violence (GBV). Gender-based violence is a shocking reality for so many women in South African
51% of women in SA say they've experienced GBV, with 76% of men saying they've perpetrated GBV at one stage in their lives (2010 Gauteng sample). A similar study revealed that one in five women report that they have experienced violence at the hands of a partner.

In 2019/20, 53293 sexual offences were reported, an average of 146 per day, up from 52 420 in 2018/19. Most of these were cases of rape. Of this the police recorded 42 289 rapes in 2019/20, up from 41 583 in 2018/19, an average of 116 rapes each day (SAPS Crime Stats).

In 2019/20, a total of 2695 women were murdered in South Africa. This means a woman is murdered every three hours. Femicide is five times higher in South Africa than the global average, with South Africa having the fourth-highest female interpersonal violence death rate out of the 183 countries listed by the WHO in 2016.
Students are asked to explore ways of making campuses and communities safer, investigate how best to respond to threats, and produce tech ideas that could save lives.
The expected outcomes
Providing an opportunity to young people and startups to collaborate for better understanding of the challenges faced by the humanity and working towards finding solutions;
Engaging young people and startups more actively on issues related to social concern Developing advanced digital skills, making them more employable and entrepreneurial Encouraging young people in building technology-based start-ups thus contributing in economic independence of the region as well as creating more job opportunities. Creating excitement around 5G and getting young people ahead.
We are very excited about the upcoming weekend and the solutions our members will come up with. On the 11th of oktober we will announce our winners.
We are extremely interested in your thoughts, so don't shy away from commenting or sending me or other team members @tawandabrandon and @orinea a message.
We would also like to thank Jacque Njeri for the beautiful artwork!
We will keep everyone updated on our progress through our post!