SnakeNation.io
SnakeNation.io is our authentic social platform where creativity challenges rules and dopeness delivers value.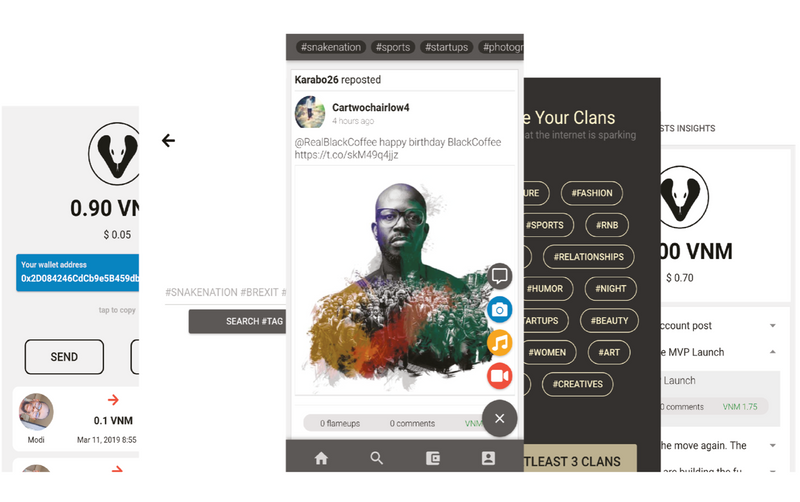 The Snake Nation platform is focused on creating sustainable value in the creative economy, benefiting young creative rebels, emerging talent, and established professionals through the creation of an open and inclusive platform and community. The new shared creative economy will be defined by the direct connection between creators, their audience, and value driving opportunities within the Snake Nation platform. The use of both traditional and digital platforms for the distribution of the creative content, ultimately promotes unrestricted economic growth and freedom of expression for creators. This will enable the establishment of sustainable future careers for the M2 creatives.
Snake Nation Platform is an application for content tracking, rewards, and ownership that uses blockchain technology to transfer value. It is an extension of the existing Snake Nation community helping to create an unrestricted global inclusive creative economy.
The platform uses elements of blockchain technology to increase transparency of content origin, simplify the transfer of value, and reward value to contributors on the Snake Nation Platform. Members can earn VNM through content engagement (Likes, Comments, Shares, Posts), reaching achievements called scales (set milestones for participation), and winning in the competitive feature section of the Snake Nation Platform.
VNM can be used to unlock exclusive content, transfer between members, purchase goods and services, and promote content within the platform. Brands are able to leverage the platform participant engagement by sponsoring feature contests and individual content creators.
The platform community is comprised of Snake Nation members who are utilizing the digital assets native to the Snake Nation Platform and engage in the creation, selling, and promotion of content and products ("members") to External Digital Platforms, Social Studios, University Societies, Brands, Media Partners, Creatives, Entrepreneurs, and Influencers Content Consumers External Corporate Brands.
Members are able to maximize the benefits of the Snake Nation community. University societies, social studios, brands and external digital platforms can create or partner with curated member channels run by creatives, entrepreneurs and influencers to gain exposure on Snake Nation Platform . Through licensing opportunities, Snake Nation platform content is then made available to global media partners, and Snake Nation exclusive brand partners.
We are extremely interested in your thoughts, so don't shy away from commenting or sending me or other team members @tawandabrandon and @orinea a message.
We will keep everyone updated on our progress through our post!