So, you want to post a series?
Perhaps you've already written a couple of posts in a series but weren't aware that there was a way to formally link them together, or maybe this is your first post in a brand new series and you want to make sure that the next one up is clearly linked to it. Either way, we got you covered here! 😀
Just follow these steps...
First, check out which editor version you're using from settings > customization — just scroll down to the heading "Writing" and look to see if it says "basic markdown" or "rich + markdown".
If "basic markdown"...
You need to add a line in the front matter that specifies your post is part of a series and then give the series a title, like so: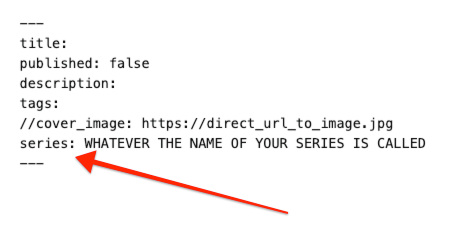 If "rich + markdown"...
You must click on the gear icon at the bottom of the screen beside "Save draft" and then input your series into the available box.
Learn more about Series!
Want to learn more about series? Check out the next post in this series. 😉