Project Update
itme is online! We're delighted to announce that a pre-alpha version of itme.online is now in production.
We're Travis Vachon, Tani Olhanoski, Ian Davis and Dr Dédé Tetsubayashi, a group of civic-minded Bay Area startup-world veterans who believe in the potential of bringing cooperative governance and feminist economics to the world of servers, data and code that we've built our careers around. It's been a long, hard few months for everyone, and we'd be lying if we said the chaos of the pandemic, election and insurrection at the US Capitol wasn't a massive distraction from the exciting work this grant has funded. If we hadn't already been concerned about the role that our industry was playing in the degradation of our civic institutions, the last few months have left no doubt that we need to rethink how we create and relate to each other online. With this heavily on our minds, the team spent much of October, November and December 2020 researching state-of-the-art content creation platforms on the Web, getting our hands dirty with Solid development and working with our design team to start sketching out our vision.
In mid-January, we brought a prototype of itme.online to a digital immersive online party as face.baby - a social network run by an evil demon offering to let you monetize your digital soul in exchange for the rights to do as it would with that precious commodity. This "Art n' D" design process let us get early feedback and experience running a Solid application on a custom Solid Pod server and was just the deadline we needed to get something imperfect out the door and in front of friends. After a successful weekend of content creation and play, we repainted, rebranded and relaunched face.baby as itme.online.
You can try itme.online today if you already have a Solid Pod or sign up for one at a Pod provider like Inrupt. Most Pod servers will host your Pod at a unique domain name (mine is tvachon.inrupt.net) which you can use as your "handle" on the landing page of itme.online.
itme.online is a digital garden, a bidirectional linking-centric zettelkasten-like tool for creating networked thought and showcasing yourself online. We're very excited about the potential for a Web Monetized, social-first digital garden to empower people who might not otherwise publish in prose-centric "blog posts" to get paid for their thoughts via frictionless Web Monetization, and our early testing has gotten us even more excited about the potential of this new mode of communication.
Stay tuned for more regular updates as we move into a more stable pattern of iteration toward alpha and beta releases of itme.online, or get involved! The source code of itme.online has been released under an open source license on GitHub and we'd love to chat with anyone interested in building on our Next.js/Tailwind CSS/swrlit development stack.
Progress on objectives
Our plan to build a Web Monetized content creation platform is on track. Users can create mixed-media documents with text, images, checklists, blockquotes and more, and share a public link to this content: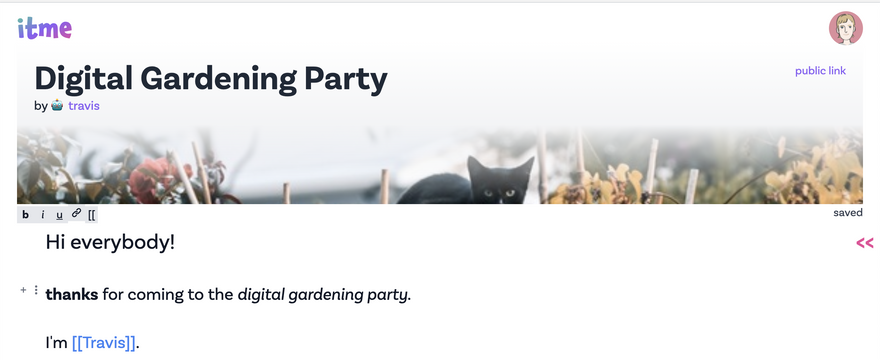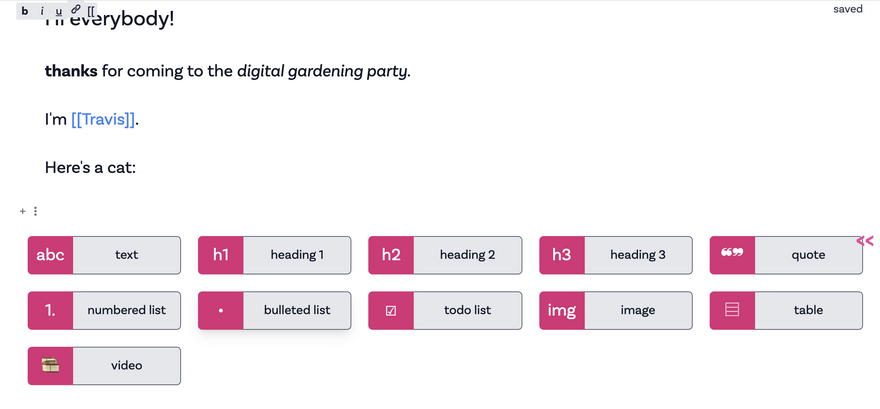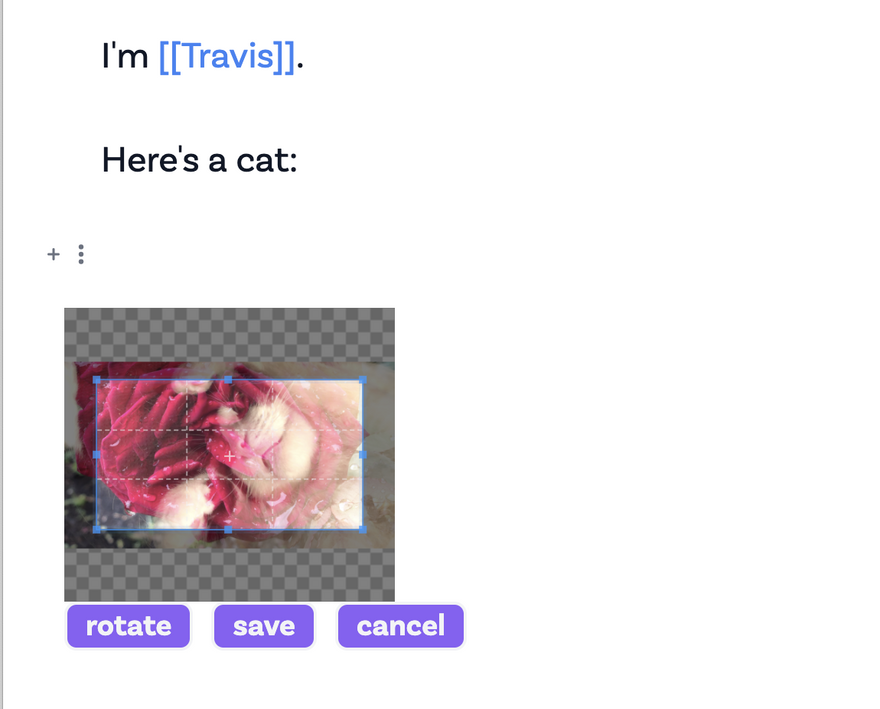 Once they've set their Interledger Payment Pointer, their content will be automatically Web Monetized, and we've been encouraged by the non-trivial amounts of money our users have already earned with their content.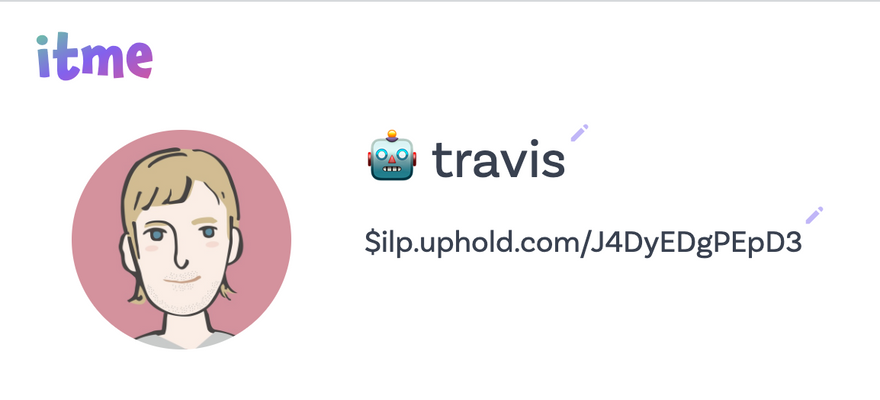 The biggest change from our original goals is in the way we're thinking about custom domain names. While we believe Solid Pod hosting at custom domains will be a valuable addition to our Solid Pod hosting offering at some point, we've determined that building a service for custom domain Solid Pod hosting is technically more challenging and philosophically more fraught than we have time to properly handle within the grant timeframe.
As a short-to-medium term compromise, in the next two months we plan to allow itme.online users to publish their content at a custom domain. This will still enable them to migrate to a stack they own without disrupting the hosting or monetization of their published content. Users will be able to specify which "notes" they want to make part of their public presence, and we will handle the mechanics of ensuring their domain routes to the right content.
Key activities
We are on track, with the modifications described above, to deliver our key deliverables. Users can log in and create and upload various types of content, set an interledger payment pointer, and immediately start getting paid for the content they create. Our grant money has primarily gone to pay for the research, design and implementation of this platform. Because Solid is a bleeding edge decentralized application development platform we have found it more challenging than we expected to design and implement itme.online - an entire month sorting out login issues, false starts as we imagined a content creation platform that worked with older design patterns rather than building on the bidirectional linking that aligns so deeply with the Solid philosophy and has recently taken the Web by storm.
We believe data security is critical to building a content monetization platform that people could rely on as a significant source of income, so we have contracted the services of security researcher Michael Loadenthal to help us build a comprehensive threat model for Solid Pod hosting. While we initially conceived of this relationship outside the scope of the Grant for the Web project, it has become clear that it is core to building a platform with real staying power, and we hope to make some or all of the whitepaper he is writing for us available to the Grant for the Web community and beyond.
Communications and marketing
So far our team has been fairly quiet about this work as we've slowly built toward this release. We are excited to kick off a period of more consistent communications and community-building with this post, so thanks for joining us on this ride! We've started hosting regular digital gardening parties to get people onboarded, build community, and get real-time product feedback. If you're interested in coming to a gardening party, sign up for our newsletter to get notified when we have capacity to invite a wider audience!
What's next?
In the remaining 2-3 months of the grant period we're excited to integrate custom domain support and move to an alpha or beta release of the platform. We'll be launching a Pod server to a limited audience soon and will build a cleaner and simpler signup and login experience to replace the confusing multi-part process that is the default in the Solid world right now. We hope to run a small content creation contest and produce a short video explaining our product to the world. Our longer term goals have moved further into the cooperative business world and we are currently considering creating a standalone cooperative to own both itme.online and its default Pod hosting service, which would allow us to bring more community members in as member-owners of the organization hosting their digital gardens.
What community support would benefit your project?
We would love community feedback on the prototype we've launched. We're particularly interested in learning from anyone who has made it easier for their users to obtain a Coil.com membership and an Interledger Payment Pointer - one of our biggest annoyances with the current platform is how our users will need to complete three unrelated setup tasks to become fully operational users.
We could also use additional financial support. While our Grant for the Web has given us a great head start, our ability to commit to longer term plans for itme.online will hinge on whether we can find a way to make this work financially sustainable for the contributors - money isn't our core motivation in building these tools but we have to pay our bills! The easiest way to support us today is to sponsor us on GitHub and we'd love to talk to anyone interested in helping us ensure the long-term viability of this project - send us an email at hello@itme.email to start a conversation!
Finally, if anyone is interested in talking more about our dreams of cooperative organizations growing collaborative digital gardens for governance and more, please reach out!
itme's future
itme has big plans for 2021 - itme.online is just the beginning - and we're actively on the lookout for collaborators who can help us make this work sustainable going forward. If you like what we're up to, send an email to hello@itme.email, subscribe to our blog, sign up for our newsletter or follow us on twitter.
PS: Linkssssssss
Here's a collection of links about our project and the things that are inspiring it - hope they're helpful!
https://itme.online
hello@itme.email
https://itme.press/
https://tinyletter.com/itme
https://twitter.com/itmepress
https://itme.company
https://solidproject.org
https://github.com/MaggieAppleton/digital-gardeners/
https://maggieappleton.com/bidirectionals