Project Description
Alchemy
Alchemy is an easy-to-use drag & drop website experience hosted on GitHub with Web Monetization already integrated into it.
The website encourages users to explore client-side software right-to-repair by including configuration as an "inspect element" JSON file.
Alchemy was presented during MozFest 2021.
Alchemy explains the basic functionality of the (c-b)/a fractal Euclidean coordinate/measurement system I developed via observational evidence (logarithmic geometry).
Alchemy is more fully explained in the website experience's associated GitHub repo.
Cheerbot
Cheerbot is an early stage project first displayed as an IRL EthBot using the greenpill meme at the solarpunk gallery during ETHDenver2022.
Cheerbot connects regenerative Web3 with Raspberry Pi right-to-repair Maker communities using collectible pixelart sprite animation NFTs to support public goods.
Cheerbot will become an "impactDAO" and is supported by nfDAO, Gitcoin, KERNEL, The Graph and LexDAO.
Cheerbot will soon have Web Monetization integrated into it, hopefully in time for MozFest 2022.
The plan is to have a website hosted by a Cheerbot that people can use to real-time control the Cheerbot over a browser by paying for it with Web Monetization.
Unfortunately, I didn't find the bandwidth to organize a MozFest 2022 presentation of Cheerbot, in part because I instead dedicated my MozFest time to the AI Accountability Case Labs workshop.
I might still have a chance to present Cheerbot with Web Monetization at MozFest's Emergent Sessions.
Image
An IRL EthBot version of Cheerbot generated by the Alchemy website.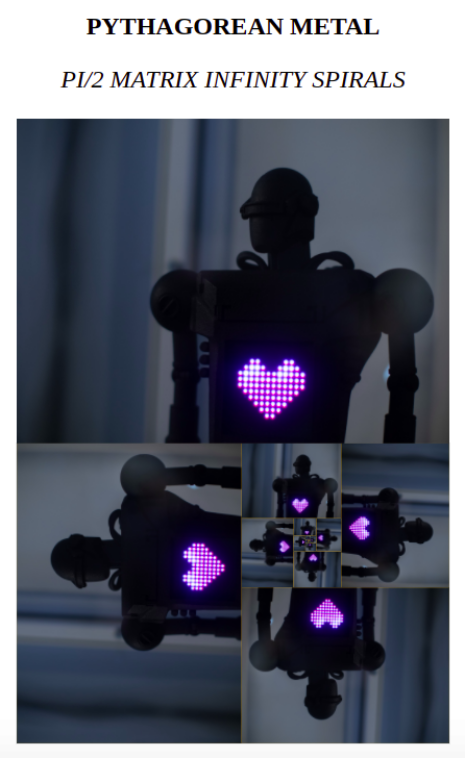 Web Monetized Resources at MozFest
Ways in Which I Am Web Monetizing These Resources
See the idea about remote controlling robots using Web Monetization within robot self-hosted websites explained above. Compare with Cloud alternatives such as microinstances.
Images That I Would Like to Accompany My Web Monetized Resources in the MozFest Galleries
The spiral image I shared above works. Thank you.
Copy for a Tweet About My Web Monetized Resources at MozFest
"Check out the MozFest2021 presented Alchemy fractal Euclidean coordinate/measurement system (logarithmic geometry) designed by @bestape using Web Monetization! His other project, @cheerbotme remote control using Web Monetization, is on its way."
My Payment Pointer Supports this Internet Health or Social Good Initiative
Cheerbot is open source software designed as an easy-to-read forkable or copy/pastable public good. All Web Monetization proceeds from the Alchemy website and the upcoming Cheerbot remote control prototype will be reinvested into Cheerbot open source software.
My North Star: "physical automation literacy for all peoples."
I'd Love the Community Support with this Project By ...
People are welcome to contribute to the the repos or join the Cheerbot Discord.
Let's Stay Connected
Additional Comments
Thank you for your interest in Alchemy & Cheerbot!