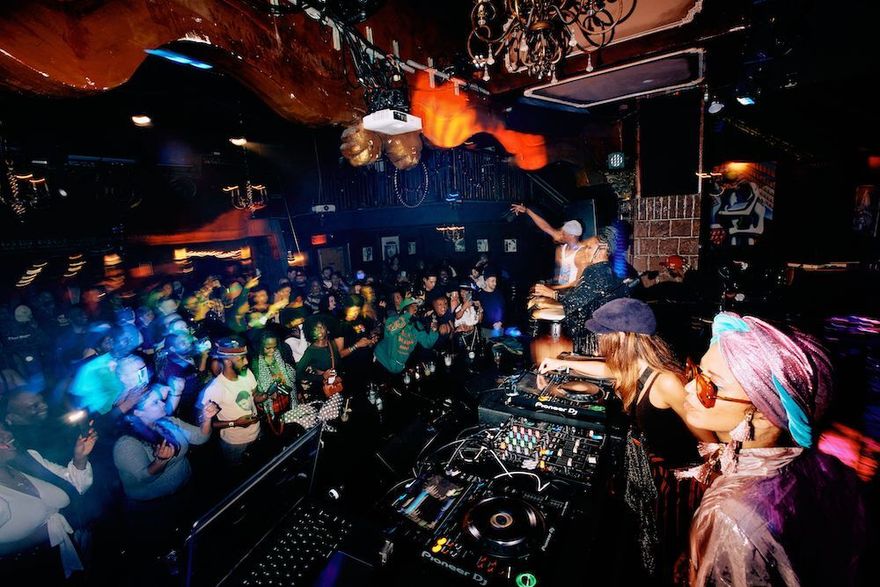 Project Update
This grant was crucial in our growth online. We have been working around the clock to create a platform that our creative community can benefit from financially.

We are happy to share:
We have grown our online presence from 400 monthly visitors to 2000+ monthly visitors

We have published over 150+ mixes, 50 videos and 18 articles.

We were able to employ 7 people to work on this project. This in itself was a huge part of our mission (to financially empower our community). The workload was rather heavy and we realized how much money we would actually need to employ these people full time.

We were able to successfully sign up 10 artists with payment pointers and create profiles for them on our site that are integrated with coil technology.

We helped the artists create original content and featured that content on their profiles for their audience members to participate in.

We were able to monetize our artists when they streamed on our website. Each artist had an exclusive stream on soulinthehorn.com that had over 50+ people at a time.

We learned A LOT! This has been an incredible journey and we really feel like we are just getting started. When you begin building a platform that utilizes "fintech" there is no way you can think of every little detail until you dive in and get user experience. So there were a lot of ideas that worked and a lot that didn't… will share some of those below…
Some of our struggles
Outside of the online platform, Soul In The Horn curates between 4-8 activations a month (i.e corporate events, hotel residencies and bi-weekly dance parties) . As we were developing our website, one of our goals was to add our own ticketing system and include fintech in these transactions. We were successful in creating our own ticket links and in doing so and it has been a MAJOR business breakthrough. All the fees that Eventbrite charges could add up to 10-20% of your revenue. In creating our own ticket platform, we were able to keep that and pay our artists more money. Where we struggled a lot was with how the Coil Plugin would interact with Ticket plugin. We found that when the coil plugin was active our customers purchasing tickets would receive error messages at checkout which was extremely frustrating for both our team and the users. As soon as the Coil Plugin was disabled that error message no longer persisted.

Our facebook ad account was suspended. Turns out we were piled in with 100's of other facebook accounts restricted around September 9th and have been working with the Meta team since to resolve the issue.

Our subscription permissions were not operating correctly. We had a lot of emails going back and forth with WordPress and MemberPress trying to figure out why our permissions weren't working for at least 6 months. We had to unsubscribe a lot of our members that had been with us for a long time and go through the process of resubscribing which took A TON of customer service emails and a lot of patience from our community which we were super grateful for.
Progress on objectives
Our main objective was to see if micropayments were going to be a sustainable method of payment for creatives by creating a platform that is integrated with Coil technology and testing on 10 participants. We were successful in doing so and have received a lot of great feedback from what we have created. Please visit www.soulinthehorn.com to view the work. We have a lot ahead of us to make this platform financially beneficial to our community, but we know we are off to a great start!
We created a questionnaire for our members to fill out how they felt about the whole experience. The overall attitude towards micropayments was somewhat similar. People can see the potential in it but they feel it has a long way to go and a lot of work has to go into making it worthwhile.
"I love this idea and I think it has great potential in the future as a way for artists to be paid directly from fans… I would love an option where fans could tip a dollar amount rather than have micropayments since I don't have as much content as other artists and they wouldn't spend as much time on my page"
"I see how it could work but having to explain signing up to this new wallet to all my supporters is confusing"
"I wish it were easier to get tips. I would probably choose a platform like Twitch over this for that very reason. I don't see a financial benefit just yet"
"I wish micropayments paid better than Spotify"
Our direct competitors are platforms like Twitch and Mixcloud, and many of these creatives have an account with both. Mixcloud and Twitch take somewhere between 30% - 50% of all profits from subscriptions but even with that high percentage, our community still finds those platforms to be a more viable method than micropayment technology. We know that Twitch was a web monetized platform, which we had used, so our community see's the potential and they are excited to see how we can continue to grow.
Key activities
We developed a website for our community with hundreds of DJ profiles, mixes and videos.

We held a total of 4 discussions in our metaverse on soulinthehorn.com as well as 3 exclusive live streams on our website.

We had each artist create a 1 hr audio and video mix and some went on to create more if time permitted.
We completed all of these tasks and are happy to say that we have 200+ subscribers on our website.
Communications and marketing
With the strategies that we proposed in our initial progress report we were able to grow our traffic from 400 monthly viewers in 2021 to over 2000+ monthly viewers by the end of 2022. We used Linktree, Twitch, Facebook and Instagram (ads and organic) to drive people back to the website. Our social media accounts grew over 20,000+ since the beginning of 2022.
Our members only mailing list grew from 2,154 people to 8,267 subscribers. We sent out weekly newsletters.
In regards to streaming time, our Twitch Channel is way out performing our website as of the moment with over 7.72 million minutes watched (128666 Hours) and 6,832 subscriptions throughout the year - Essentially, this is the kind of traffic that we would love to create on our site and we know that we are well on our way.
Surprisingly, music was not what most people were coming to our website for… instead it was the articles we were posting and then in August once we finished developing the ticket platform… tickets! We experimented in exclusively streaming from on soulinthehorn.com multiple times and found about 20 - 30% of our weekly viewers followed us over there. But a lot of people were asking "Should I end my Twitch subscription and sign up here"? We believe this to be a good sign for the future.
What's next?
Organization - we threw a lot to the wall this year and now we can see what sticks and what needs to be cleaned up. We wanted to offer our community free content as well as paid content in a subscription format but this has left a lot of users confused as to what they can actually access or gain from our subscription. We still are working with our developers to make our web pages more user friendly and functional.

We have ongoing work to modify our Wordpress Theme to interact better with these necessary plugins so aforementioned issues do not continue to persist.

We would still like to include our global community. We ended up not extending outside of the US for multiple reasons including deadlines being pushed back, internet censorship in certain countries, laws and regulations. We also recognized that a lot of our international audience was on Twitch whereas we still need to work on building our international audience on our own webpage.

We want to integrate Coil Wallet with our ticketing system. This was outside the area of expertise for our current developer so we would love to work more closely with Coil and their Wordpress experts. We think this has amazing future potential.

We believe fintech is the future and we will continue to educate our community on the power of web monetization.
What community support would benefit your project?
We would love for the community to check out the site, engage with it, enjoy the hundreds of hours of music that we have curated with our creative community and let us know how you are enjoying it!