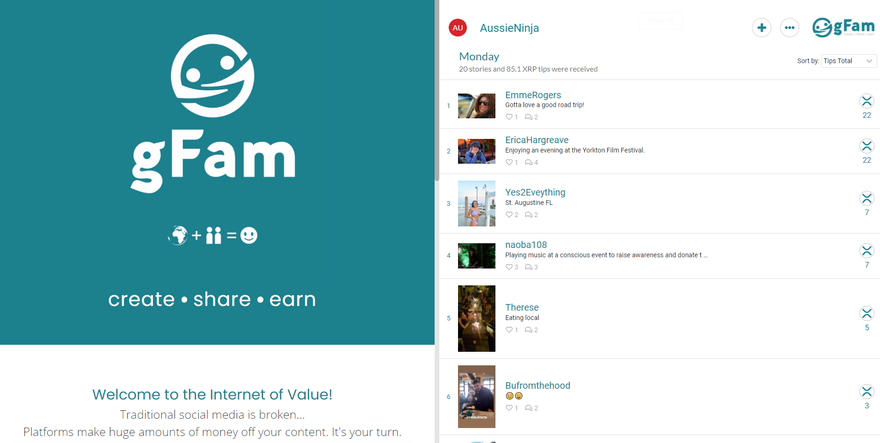 Can you imagine the first person that really pitched 'user generated content' as a money-making idea? The concept that other people would create content for you, you'd slip some ads in and make all the money?
We're now at a place where Facebook was many people (and honestly some entire countries) first entry point to the internet and a few tech companies make billions from the efforts of 3.96 billion people. Amazing.
Project overview
gFam.live is a platform that is all about creators.
One thing that unites all of humankind; past and present is story-telling. We love it. Creators are story-tellers and gFam.live provides creators with easy avenues to monetize the content their audience loves.
Creators post to gFam.live and their audience can tip them to reward them and encourage the creation of more content that they love and/or reward them with micropayments through a Coil.com subscription. This type of subscription rewards all the creators that subscribers spend time with.
Creators get 100% of the tip from their audience within 3 seconds paying no fees whatsoever.
To date gFam.live creators have received $13K USD worth of tips from their fans, audience and global family.
Web-monetization has eliminated the need for advertising, 'advertiser-friendly content' and algorithms. There's no system to try and game... creators can just post the content they love creating.
Project team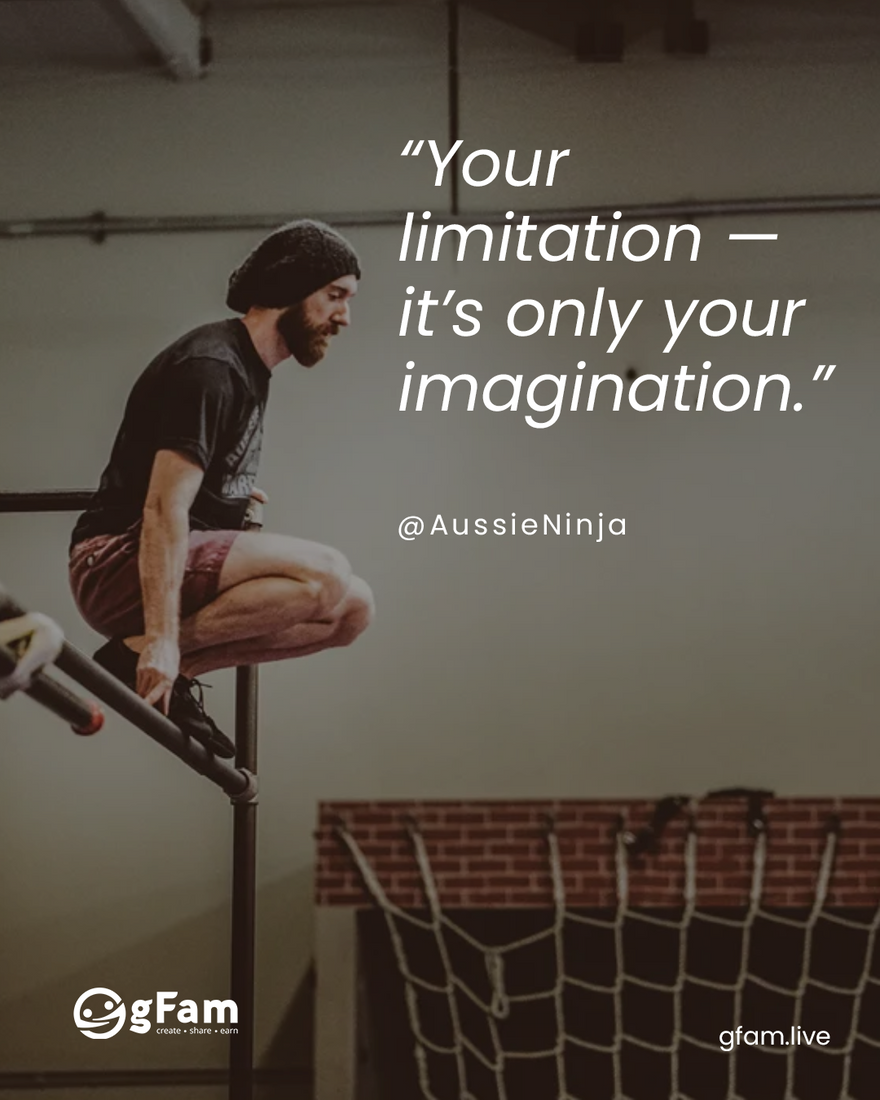 This is me, Adam aka AussieNinja. I'm running the project and pulling in help where needed... which is a lot because, well, I've had to learn so much in building up this platform.
What we are doing
gFam.live has been live for about 8 months, and we're extremely busy building up the features and trying to convince creators to join us.
We're launching a ton of new fun features on the 1st of March 2021. Launching an entire social media platform is not easy... nor is enticing creators onto the platform. The most overwhelming feedback we've gotten is that it seems too good to be true so it must be a scam. Which is a huge shame and we honestly never expected education to be such a massive part of our mission.
What community support would benefit your project?
Obviously if you're interested in earning from the content you love creating, jump onto gFam.live and start posting.
If you know any creators who are frustrated with trying to monetize their content on traditional social media because they don't want to; spend hours gaming the algorithms, become brand ambassadors, sell exclusive content, develop merchandise or courses, etc then please send them our way or ask them connect with us on any of the links below...
Link Round Up!
https://gfam.live/
https://twitter.com/globalfamilyapp
https://www.instagram.com/gfam.live/
Here is our most recent Grant For The Web report:
https://community.webmonetization.org/gfam/monthly-report-for-gfam-44j2
Highlight other projects
One piece of work that absolutely blew us away was this story/comic/animation/game:
https://coil.com/p/RooftopRampage/Prologue-/1hTJP3zlv
We absolutely love the creativity that web-monetization opens up.
If it's possible for one platform to have another platform as a best friend, then gFam.live is definitely BFFs with MG.Social
This social media platform has absolutely everything! Creators can receive tips, web-monetization micropayments, friends, groups, comments, a mobile app. It's incredible and it's rate of development is amazing.
https://community.webmonetization.org/mgsocial
https://twitter.com/MGSocialNetwork
This video that MG.Social produced explains web monetization better than any other piece of content I've seen:
https://cinnamon.video/watch?v=505576973699909490
Of course gFam.live would never have existed if it wasn't for the amazingly supportive platforms and communities of Cinnamon and Coil:
https://cinnamon.video/aussieninja
https://coil.com/u/AussieNinja
Thanks for reading!