Hi everyone!
As discussed earlier in the year we want to empower members in the Web Monetization community with a safe and accessible space to learn with others as we grow into a healthy, social and connected ecosystem. We have learned a lot about your interests in the last months and we've got some exciting sessions coming up!
If you haven't registered your specific interests, needs or things you would like to share yet, or if you'd simply like to add some new skills, you can join us here: gftw.gradu.al. If you scroll down you'll see it now also includes a clear overview of all of the community calls hosted so far.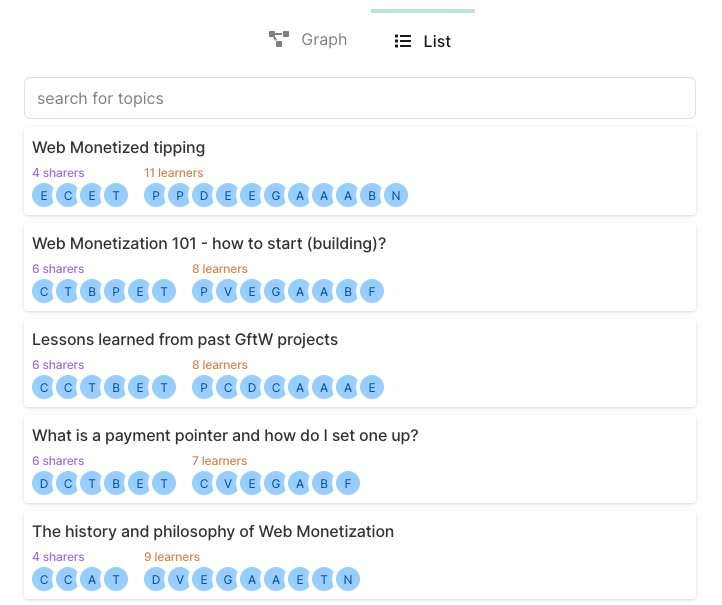 Top 5 of the most popular community interests so far
Upcoming Sessions
1. Lessons Learned from past and current gftw projects
Friday, June 10th, 2022 at 3-4 PM CET
REGISTER HERE
We would love to invite any current or past GftW grantees to share some insights on things we have learned about Web Monetization so far. Any lessons gathered out of previous cohorts or current projects are welcome so together we can figure out how best to implement web monetization into our projects!
This session will be co-hosted by Alison Guzman, Christian Dawson and Amanda Figueroa from the Curationist.
Christian will be walking us through a previous Sustainable Financing Study they did in the past and then Amanda will be helping us start to unpack all the hard questions they ended up with afterwards, about how to run a project like Curationist.org in a way that achieves real equity.
2. Web Monetization earning with tutorials on gFam Learn
Tuesday, June 21st, 2022 at 4-5 PM CET
REGISTER HERE
gFam.live aims to introduce new storytellers into the web monetization community with its social media posts, and now new functionality called gFam Learn will attempt to enable teachers to earn directly from students via web monetization and/or tips.
Adam Waring will present the gFam Learn functionality and answer any questions you might have on the processes or technology. As far as we're aware there is no capacity or platform online for teachers to earn per lesson or for students to unlock and pay for just the lessons they're interested in. With gFam Learn, lessons can be visible to everyone and tips/microtransactions are provided as a bonus or lessons can be gated and unlocked by either Coil Subscribers or by a specified amount of XRP via the XUMM wallet.
3. Ways to web monetize your work: examples from the community
Date TBD
This came up as one of the most popular potential sessions on the Gradual Community Hub so we are currently in discourse on the Interledger Slack to find a date for us to get together and have a show and tell. Join us there!
If you have an idea for a skillshare with the community or a session in any format you can now also propose them directly from the community page.
As more sessions are coming up I'll be sure to announce them with new posts. Looking forward to connecting more and helping each other out!