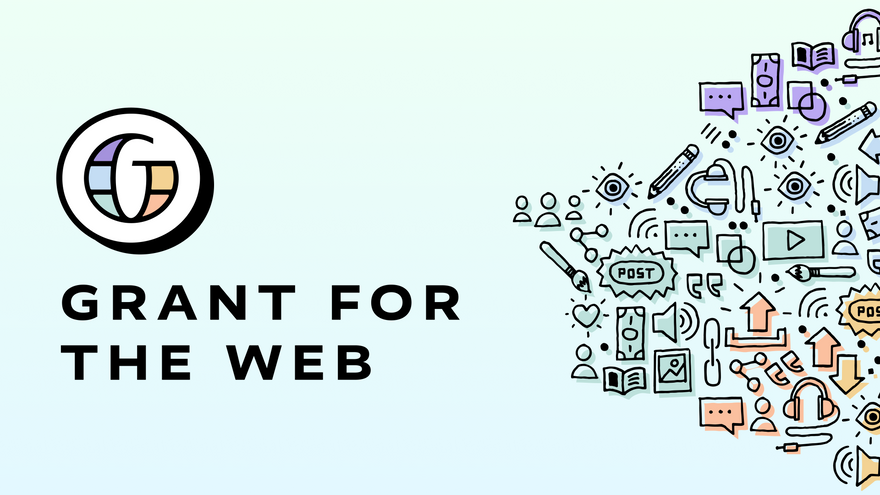 Grant for the Web announces 25 recipients from our Second Chance call for proposals.
Successful Second Chance projects were applications that demonstrated an evolution and maturation of the ideas originally proposed, but not selected, in our first open call for proposals.
Funded projects range from an Interledger Protocol-enabled wallet linked to a South African social media platform to a Web Monetized Portuguese journalistic outlet anchored on the principles of open source and open content. Grants range from $10,000 to $100,000 USD.
Projects were submitted through a public, global call for proposals launched in January. Out of 177 people that were eligible to apply, 70 submitted applications that were then reviewed by a panel of independent judges recruited from across the technology, open standards, philanthropy, and arts/culture sectors. The successful grantees in our second cohort come from 18 different countries.
See all of Grant for the Web's grantees.
Everything Is Connected: Even If It Is Not
Filomena Slovak, Slovakia
Everything is Connected is a Web Monetize social experiment to incentivize mentorship, peer support and address an increasing polarized society. By building cross-platform discussions, peer knowledge sharing and an appreciation based culture Everything Is Connected aims to bridge disparate ideas, and reignite the love of discovery.
Mukto Library
Nasir Khan, Bangladesh
Mukto Library is an open platform for book lovers. Starting with the Bengali-speaking community with plans to expand for all languages, Mukto Library allows users to read books, write notes and reviews, or just add books and build a virtual personal library. Coil members will have access to additional content, like 'meet the authors' events, an ad-free experience & more. Team includes Blue Cube Community.
ProgNovel
Radhy Ramadhan, Indonesia
ProgNovel is a modern open-source PWA that focuses on bringing speed, modern features, and modern monetization, to empower authors and contributors with a minuscule effort and resources to host. In addition to no-ads and exclusive content features, ProgNovel will experiment with revenue sharing and affiliate marketing powered by the Web Monetization API to encourage contributors (editors, proofreaders, etc) and influencers to participate actively to help authors create web novel contents.
Web Monetized Art (drawings/paintings) Platform
Xander Jake de los Santos, USA
A platform where artists can not only survive, but thrive. It will be a website similar to most social media platforms but without the ads and will reward artists for what they create through Web Monetization. Users can choose to monetize their content or not, and experimental features will be built around the use of Web Monetization and how it should reward good content/art. Team includes Talia Skyles
OpenSpeaks
O Foundation, India
Only 22 of the 780 languages of India are officially recognized. The rest of the languages, mostly indigenous, are still used as first languages by communities that have extremely low access and participation in the knowledge commons. This project aims to research web-based citizen media in select indigenous languages of India to develop frameworks and conceptual models for integrating Web Monetization for multimedia content platforms, especially using Creative Commons. All the research outputs (report, multimedia, code and data) will be released under open licenses. Team includes members of O Foundation (OFDN) in collaboration with the Ho and Santali community.
Code Angel
John Asafo-Agyei, UK
Code Angel is a Question and Answer website for developers. Any user can post a code-related question and developers that are registered with the platform can choose to respond. Answers stay evergreen because developers are incentivised through micro-payments that are sent to them via XRP tips and Web Monetization. Developers who answer questions will use a Xumm account to receive/send XRP micropayments. The platform will take a small percentage and forward the rest to the person who provided the top answer.
Decentralized Identity & Payments
Dominik Beron, Austria
Self-Sovereign Identity provides means to return control over users' identities data back to the individuals themselves, enhancing privacy & security, and furthermore authenticity of the data. With this project we propose to research & design an Interledger-based payment protocol that extends our existing Open Source SSI stack to enable micropayments when exchanging W3C Verifiable Credentials. This will enable multiple use cases, bringing great value to the Web Monetization but also to the SSI ecosystems. Team includes Philipp Potisk.
FlipToons
James Casia, Philippines
Creating a webcomic reader platform with Web Monetization where creators get paid based on the duration of content consumption and readers get to consume webcomics without sacrificing privacy and dealing with multiple subscriptions. Also hosting the Web-Monetized Comic Challenge to provide opportunities and create awareness, especially to Filipinos, of the web's broken business model and how WebMonetization helps solve them. Team includes Kent Leo L. Makibulan and Camelle Angela Gomez.
Launchpad
Michael Kleinhenz & Veethika, Germany & India
Launchpad is an interactive game, playable through messengers (WhatsApp, Telegram, Signal, etc) and a companion web app. The goal is to playfully educate and enable internet users to successfully monetize their creations on the web and gamifies real processes in the software and web market. This way, it also abstracts and describes processes and ideas such as DRM, AI-based algorithms, paywalls, etc., and educates players on the challenges and importance of modern internet and web technologies, enabling them to make the right decisions.
Interruptor
Rute Correia, Portugal
Interruptor is the first Portuguese journalistic outlet to take a data-driven approach to analyse cultural issues, beyond current affairs. Our work is anchored on the principles of open source and open culture. All of our content is accessible without paywalls. We respect the privacy of our readers and listeners and do not use any invasive trackers nor cookies. Our goal with Web Monetization Standard is to use it as an extra revenue stream for our work and empower other small media to do the same. Our motto is "Cultura livre, código aberto": "free culture, open code". Team includes Ricardo Correia and Ciaran Edwards.
Alquimétricos LAB, Nuvem de criação (Creation cloud)
Fernando Daguanno, Brazil
Alquimétricos was founded in 2015 as an open-source initiative to bring STEAM educational resources to low-income communities, especially in Latin America. Over the years, the project has gained scale, prizes and followers, becoming an international community of educators, designers, makers, communicators and visual artists. This project will research, experiment, and build a case study on monetizing open-access content from the existing platform through Web Monetization to benefit a Brazilian ecosystem of low-income public schools and social institutions, as well as promoting Web Monetization as the main contribution option for premium content subscription. Core team includes Tatiana Tabak, Paula Martini, Léo Melo, Camila Couto, Italo Martins, Prof. Carlos Vidal, Luciana Squeri and Rudá Cordaro.
Interledger.dev
Ashvin Parameswaran, Australia
An education platform at interledger.dev where learners pay creators only for the time spent learning. This payment model aligns incentives for learners and creators; money spent and money earned are predictably scaled as usage increases. Streaming micropayments keeps the focus entirely on educational engagement and offers a viable alternative to ads, donations and paywalls. Team includes Gaurav Mitra.
New Day
Today is a New Day, Slovenia
New Day is an experimental project aimed at exploring ways of using the Web Monetization Standard to fund independent and investigative journalism. It will bring together a selection of Slovenian news media outlets and online publications in a pilot program focused on implementation of the Web Monetization Standard, optimization of user onboarding, and testing of communication strategies. Team includes Filip Dobranić, Jasmina Ploštajner, Tadej Štrok, Maja Cimerman, Eva Vrtačič, and Franci Zidar.
Folawole.com
Folawole, On the land stewarded by Native Americans forcefully named USA
There are not enough black led performing arts online hubs that cater to black diasporic performing artists and allies around the globe. There has been historical, political and financial denial of black artist's from creating lasting and autonomous cultural hubs and performing arts centers. Folawole.com is a black-led performing arts platform for representation, mentorship, research and experimentation with a branch for focused activism through the very first black-led, international performing arts union. This project will explore how Web Monetization can inspire sustainable practices and holistic service-driven work on a website
Qwyre
Gavin Chait, France
Qwyre.com will enable cooperative and collaborative literary publishing and distribution of African speculative fiction online, and conversion to downloadable standards compliant EPUBs, by facilitating Web Monetization of proportional micropayments for writers and editors through development of an open-source Python and Vue.js progressive web application. Qwyre will permit multiple authors and editors to collaborate on preparing a literary work for publication, publish that work, and share proportionally in web monetization micropayments. Instead of accumulating micropayments and making bulk transfers to stakeholders, incurring numerous transaction fees along the way, the system will pay proportionally after each download or read, directly to the writer, editor or publisher's account.
MG.Social
Mathew Safford, USA
MG.Social is a live and fully functional, ad-free, Web Monetized social network (micro-blogging) platform. The business model of MG.Social is built around the revenue generated by integrating the Web Monetization standard into the platform and requiring a Web Monetization provider subscription (Coil) for access. For content creators, the advantage of the platform is the ability to easily monetize and receive instant compensation when their content is consumed by Coil subscribers on MG.Social. The advantage for content consumers is the ability to directly support creators as they consume that creator's content, advertiser-free. The nature of a micro-blogging platforms leads to users that tend to both create and consumer content, allowing them to obtain both benefits.
HostBeak Kreators
Ogoluwa Ojewale, Nigeria
HostBeak Kreators will create, educate and provide a community of 1,000 empowered African creators with personalized websites, their preferred domain name, and the ability to monetize their content on the web. We will train the creators on payment pointers, how to manage their website, web hosting and more, all to help them become well informed on the importance of Web Monetization and how to be compensated for creating digital footprints of their talent, content, skill and ideas online. Team includes Ogoluwa Ojewale, Joshua Folorunsho, Victoria David Akpan, Abdulhafiz Ayobami Abdulfatai, Felica Ojekunle, James Moses James, Naomi Frank, Ezekiel Lawson, Glory Praise Emmanuel, and Ukpono James.
Reductress
Sarah Pappalardo, USA
Reductress is the first and only satirical women's magazine. For years, the ad model has forced Reductress to focus on pageviews, site traffic, and loading the site with ads, which has compromised site speed and user experience, with diminishing returns in revenue. In line with our goal to leave the ad model behind, Reductress has already enabled the framework for microdonations and subscriptions to the site for an ad-free experience and exclusive content. We're ultimately laying the groundwork to rely more substantially on Web Monetization in general and building out core features of a "Members Only" section of our site to engage Web Monetized users in a world of curated Reductress content that they can rank and discuss in an online community. Team includes Dima Kronfeld, Jibran Bisharat, and Kendra Singh.
Hyperaudio for Conferences
Mark Boas, Italy
Hyperaudio for Conferences is a web-based platform to which conferences can add recorded content maximising accessibility, engagement, and revenue. Our focus is to broaden the accessibility of conference talks by augmenting them with multi-lingual interactive transcripts. By placing Web Monetization at its heart, we'll create new models to incentivise viewing, sharing, and transforming audiovisual content. We'll also use Web Monetization to ensure that viewers only pay for what they consume and that funds can be transparently divided between content creators, remixers, sharers, and our service. Team includes Annabel Church, Piotr Fedorczyk, Daniel Schultz, and Laurian Gridinoc and Joanna Bogusz.
Kult
Patrick Rahy, Portugal
Kult is a network-based platform for culture & entertainment content curation. It is a space to share, discover and debate movies, TV series, music, podcasts (and soon books), supported by a community-rewarding system. It allows the creation of personal galleries to save and organize content, encouraging people to become curators while offering the possibility of monetization and recognition for valuable curation. We will test and develop a sustainable and collaborative way of monetization for culture creators & curators on the web, using Web Monetization to offer a better alternative than streaming business models and existing social media. Team includes Helena Tude, Diogo Peralta Cordeiro, Phablulo Joel dos Santos, and Gleibson Silva.
Lowering Legal Friction
Andrew Katz, UK
Regulation, including GDPR, consumer law and privacy, presents a barrier to entry to implementing Web Monetization standard and Interledger Protocol. We will develop a suite of legal texts including a template for generating a GDPR record of processing, a privacy policy, a generic terms of use, and consumer terms for using Web Monetization Standard and Interledger Protocol. We will develop them in the open, and make them available under a Creative Commons Attribution licence. We want people implementing Web Monetization to concentrate on providing excellent content and a great user experience, and not have to waste time and resources on unnecessarily expensive and time-consuming routes to compliance with legal regulation. Team includes Tim Astley, Usha Guness, and Jiri Svorc.
Monetization for Authenticated Content and Rightsholders
Janos Farkas, USA
This project seeks to address the shortcomings of current online monetization for content in these areas: (i) authenticating sources with tools proposed by recent initiatives, (ii) managing complex rights-holding and permissions,. (iii) handling multiple payees. Shared rights-holding means a single payment may need to be distributed among several - sometimes many - recipients to support decentralized commerce. The project will create and demonstrate tools which integrate the distribution of single ILP payments to multiple payees with content authentication, and licensing for real-world use cases. Team includes Gulzar Ahmend and Hamza Nouradine.
Snake Nation
Karl Carter & Tawanda Brandon, USA & South Africa
Snake Nation is a social media platform with a digital wallet & VNM, our Stellar based(XLM) utility token. Platform members are incentivized for their content engagement in VNM. We are building an ILP Capable VNM Wallet that allows for creative publishers to collect/stream Web Money and e-commerce to their VNM Wallet. The VNM token is meant to streamline and reduce the friction that exists on the current global payment systems, which in emerging markets, marginalizes most of our members when it comes to receiving their earnings. Having the ILP wallet integrated into the app allows for enhanced wallet functionality including the ability to make P2P payments, cross-border payments, withdrawals, top-ups, and contactless payments in any currency. Team includes Dre Ngare, Amber Ryan, Tawanda Brandon, Lawil Karama, Tshitso Mosolodi, Jacque Njeri, and Orinea Tshivhenga.
Instill Science
Jan Zheng & Jessica Sacher, PhD, USA & Canada
Instill is a community that incentivizes researchers to write constructive peer reviews. The platform also provides a safe place for underrepresented researchers to ask the community for feedback on how to improve their drafts, to increase their chances of publication. Existing peer review communities like PubPeer or PREreview don't support feedback requests, and also lack proper reward or incentive systems that attract peers to give feedback. Instill will initially start with Coil integration, but will explore using Web Payments to add community tipping (like Reddit badge awards), a payout pool program, where membership fees proportionally pay authors, and a bounty system where authors are paid to write feedback upon request.
Monetizing Open Video Assets (MOVA)
Nicol Wistreich, UK
MOVA is a project that uses the International Standard Content Code to make a light fingerprint of a video and register it with a Web Monetization wallet on a distributed ledger through a desktop app; then uses CiviCRM to execute a revenue-sharing agreement for it. These new approaches could support both filmmakers and rightsholders in making works available under Web Monetization, while broadening the spaces and platforms that can share, monetize and champion them. Team includes Matthew Wire, Connor Turland, Pegah Vaezi, Silvia Schmidt, and Sebastian Posth.