Hello everyone 👋,
We are so excited to share what we have done so far. It's been months working to bring to life this project Hostbeak Kreators with the simple goal to empower 1,000 Africans towards Web Monetization.
One of the first things we did was build a solid brand around the project and an attractive website https://kreators.hostbeak.com which we imagined any site visitor would hope they fit the criteria to apply: https://community.webmonetization.org/hostbeak/hostbeak-kreators-for-africans-now-live-3no6
Then we also decided to make a short compelling video explaining the details of the program:
https://community.webmonetization.org/hostbeak/hostbeak-kreators-video-promotion-5d90
We received entries from 27 African countries namely:
Angola, Kenya, Ghana, Uganda, South Africa, Senegal, Tanzania, Democratic Republic of the Congo, Malawi, Ethiopia, Zimbabwe, Nigeria, Cameroon, Sierra Leone, Benin, Liberia, Somalia, Burundi, Gambia, South Sudan, Eritrea, Zambia, Rwanda, Chad, Namibia, Central African Republic, and Burkina Faso.
In fact, we had applicants who already had blogs/websites but just applied and told us it was because they felt our website and the project was really cool.
Here are some remarks we got from Applicants:
From Nairobi, Kenya: "Everyone in my circle saw this on their social media and thought I was a perfect fit".
From Zimbabwe: "I saw a youtube Ad, then like Moses I felt like this was my burning bush nahmean".
From Ghana: "I heard u guys from a friend of mine".
From Abuja, Nigeria: "I was admiring the source scripting on your webpage. I decided to fill out this form and find out more while running a JS test in the background ...".
From Ethiopia: "From Adds!!!".
From Zambia: "Through a social media link".
From South Africa: "A family member sent me this link".
One thing we learnt is branding really matters and telling your story in a simple way can help in getting responses to your call-to-action without too many questions from the audience!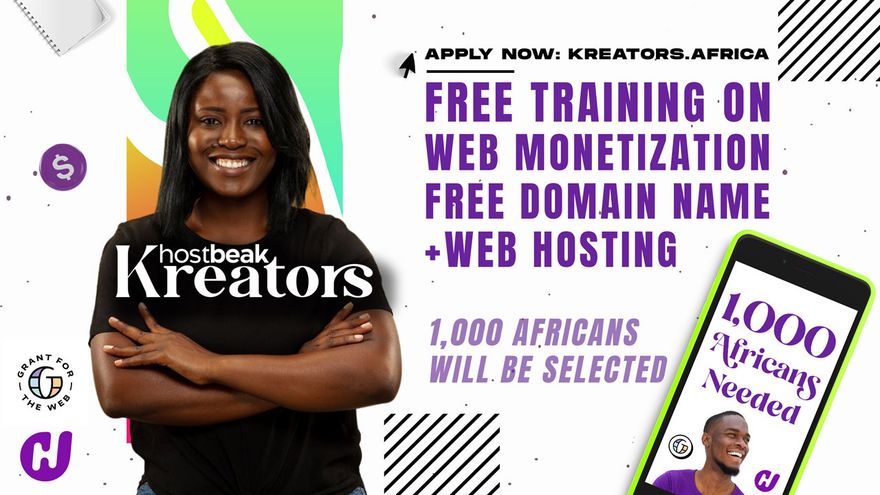 Project Update
So far, we have:
Made the call for applications for African Creators.

Built the Website and done marketing for Hostbeak Kreators Application: https://kreators/hostbeak.com

Prepared training/workshop materials for the new "Kreators" (ongoing).
Progress on objectives
Our goal is still the same; create, educate and provide a community of 1,000 empowered African creators with personalized websites, their preferred domain name, and the ability to monetize their content on the web. We will train the creators on payment pointers, how to manage their website, web hosting and more.
We wish we gave the public more time to apply even after extending the deadline to 5, January, 2021 and also probably not setting it towards the end of the year.
We noticed a lot of people were distracted with holidays, wrapping up their work for the year and other activities.
The interest from the pubic seemed to intensify immediately after the New Year celebrations.
We have decided to build an online platform when the training is over. kreators.africa will pull feeds/posts from all the 1,000 Kreator sites and direct traffic to the main article when clicked.
With this, we will be able to notice high-performing articles and track activities from other websites.
Key activities
Application Page: kreators.hostbeak.com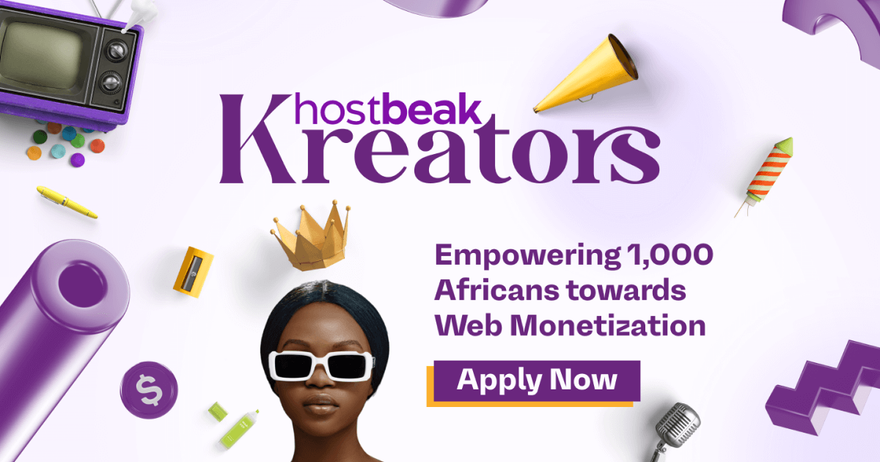 Video Campaign:

Communications and marketing
From our statistics, Hostbeak Kreators campaign had over 2 million impressions online, mostly via YouTube and Google Display Ads which we found very effective. We ran promotions on Social Media as well.
Another means we found very effective was Newsletter/Email Marketing. We got in touch with some Organizations and communities who had lots of African subscribers we thought would be interested, For example: Ingressive for good which went pretty well.
The project was also posted on some blogs e.g https://techpadi.africa/2021/12/hostbeak-kreators-empowerment/
We noticed Africans spend quite some time on Facebook, so we contacted lots of African groups to share the information and even went Live on Young People Connect Africa when we got lots of questions as regards the program.
Here is the LIVE recording: https://web.facebook.com/joseph.etim.58/videos/939077916714883
What we observed was so many people felt they had to learn a lot to take or monetize their craft/content/business online so we made sure to let them know how easy it was with the Kreators program.
What's next?
Currently, we are collating and sorting the entries, we also have a list of Judges which we will finalize and reveal soon.
Our team has been curating content, tutorials, guides and more (ongoing) to help the creators solve various issues they might face.
Some of them can be found in our new blog: https://blog.hostbeak.com and on the website's knowledgebase: https://hostbeak.com/knowledgebase
Once we publish the selected "Kreators", we will have LIVE training with them and assign various Instructors/Mentors to guide them through the process of creating, managing and monetizing their websites, payment pointers, coil subscription, etc.
We strongly believe that this would inevitably have a ripple effect on their colleagues, friends, etc to also find ways of monetizing their craft/content online.
We are also currently building the web platform to showcase content from all the Kreators.
What community support would benefit your project?
We would really welcome valuable content that can help these Kreators. You can write articles, tutorials, guides, etc and send to us or if you already have these content ready, you can give us permission to use and we could reference them to the source if you wish.
If interested, kindly send a mail to kreators@hostbeak.com and we will respond as soon as we can.
Additional comments
We are open to suggestions from the community on how best to execute the remaining part of the project.
Relevant links/resources