Our Meet the Judges Series continues for the Future|Money Art & Culture grant. If you missed the first round of introductions, you can review them here:
---
Today, we will highlight the following judges:
Kokayi Issa
Artist. Producer. Educator. Connector of dots.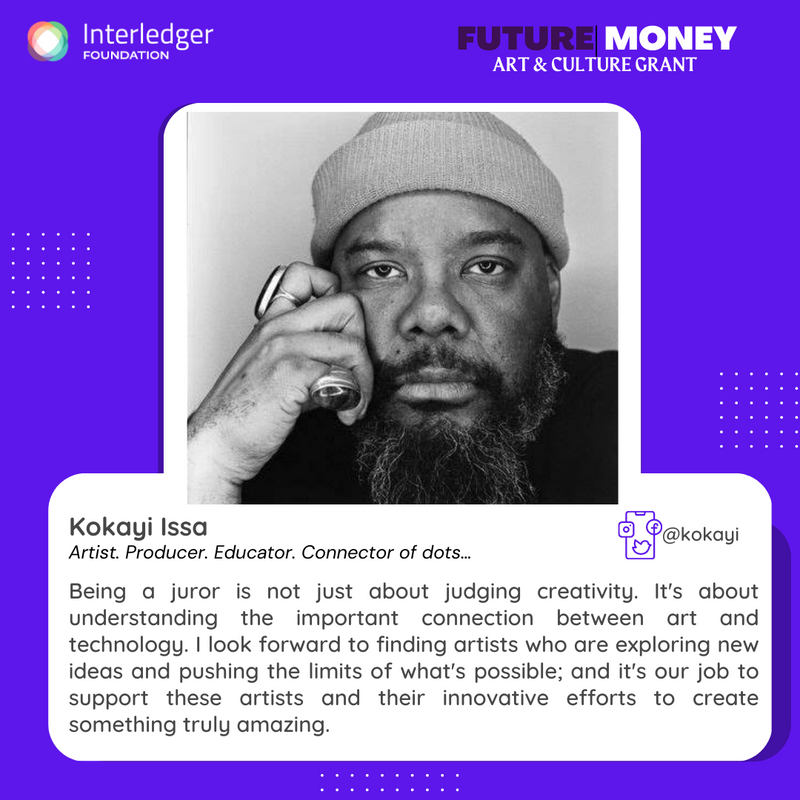 Kokayi was very instrumental in the development of the Future|Money Art & Culture grant and in recruiting this diverse pool of jurors.
Kokayi is a preeminent Improvisational Vocalist, GRAMMY-nominated musician, and Creative DSGN for projects with Grammy-nominated artist Goldink and artist/musician Guillermo Brown (James Corden Show). He can be heard on Whose Hat is This? Everything's Ok, Goldlink's At What Cost, MTV's Rebel Music, Kevin Hart's Laugh At My Pain, A'Larrache (Canal +), I Ain't Scared of You: a Tribute to Bernie Mac, and over 60 titles spanning: Jazz, Hip Hop, Rock and R&B. School of Improvisational Music (guest faculty), OneBeat mentor, freelance music emissary with the U.S. State Department, Music Supervisor - Untitled Interactive Games. Chief Ideator and co-curator of BeatsnBeans: a discussion series on creativity, coffee culture, and the reimagining of creative spaces. Recipient of the Halcyon Artist Fellowship, DCCAH Artist Fellowship, and Sister Cities Grants.
Kokayi has featured on dozens of albums since the onset of his career, including titles by contemporaries such as Goldlink, Gregoire Maret, Terri Lynne Carrington, Omar Sosa, Steve Coleman, and Dafnis Prieto as well as continuing to perform as a member of Steve Coleman's Five Elements, Ambrose Akinmusire's Origami Harvest and Dafnis Prieto's Proverb Trio.
Learn more about Kokayi here:www.kokayi202.com
---
Rose Jaffe
Visual Artist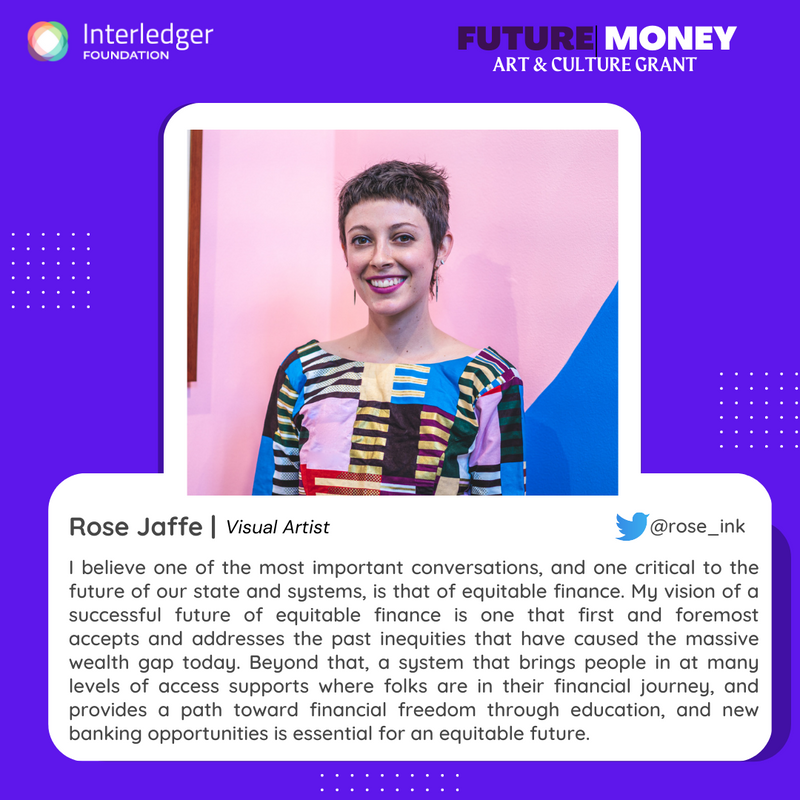 Rose Jaffe is a visual artist, with mediums spanning mural painting, ceramics, printmaking, and digital illustration.
Born and raised in the nation's capital, Rose earned her BFA at The University of Michigan and has pursued a creative career full-time after teaching middle and high school art in the city. She has painted over 30 murals nationally and internationally, including over 20 in her hometown. Her art has been featured in over fifteen publications, including the Washington Post, City Paper, NBC, and CNN among others. Her work is vibrant and often playful, with themes of political activism, natural healing, and spiritual grounding.
Rose is dedicated to harnessing the power of art to spark conversation, build connections, and create social change.
Learn more about Rose here: www.rosejaffe.portfolio.com
---
Simone Eccleston
Curator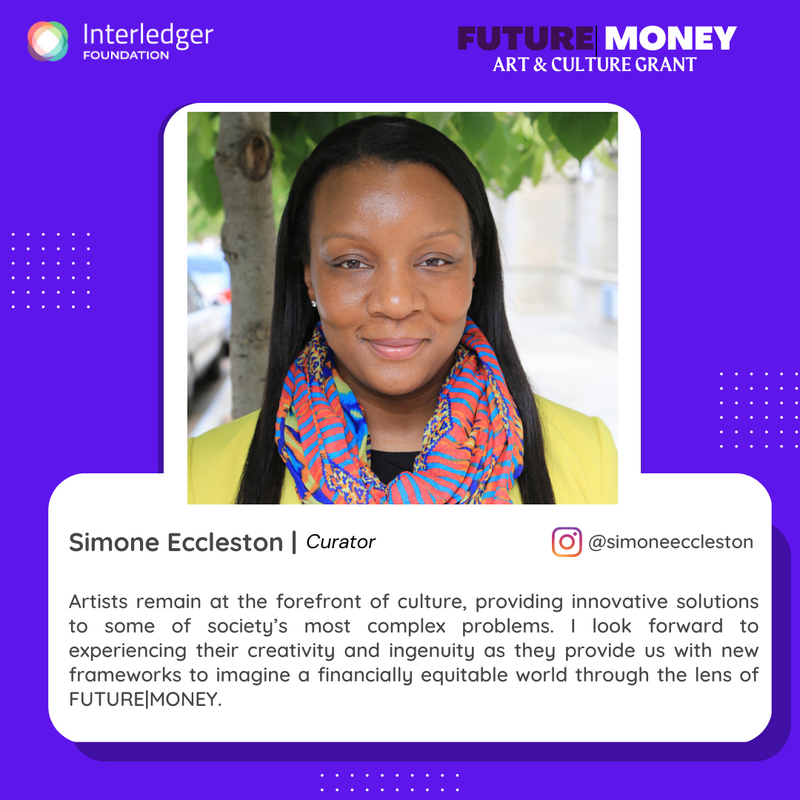 Simone Eccleston has over 15 years of experience in celebrating and investing in the creative genius of artists and communities from the African Diaspora. She is the Founder & Chief Genius Officer of The Black Genius Foundation and the Director of Hip Hop Culture and Contemporary Music at the John F. Kennedy Center for the Performing Arts. Prior to her appointment at the Kennedy Center, she was the Director of Programming at Harlem Stage, one of the nation's leading arts organizations committed to supporting visionary artists of color through the commissioning, development and presentation of their work.
Learn more about Simone and her work here: www.theblackgeniusfoundation.org
---
There are still more Future|Money grant judges to showcase. So, stay tuned for more profile highlights.