Future|Money judges, grantee of the week, final report from Itadi, a community member shared some good news, plus upcoming community engagement from Interledger.
---
This week we introduce you to more of the Future|Money Judges
Lawil Karama is a multidisciplinary artist who creates installations using modeling, sculpting, and various materials. Her art addresses a variety of subjects, with a focus on showcasing the beauty of marginalized communities and exploring the experiences of those in the diaspora. Through her work, Lawil confronts traditional narratives and weaves together her own experiences with those of others to give voice to the unheard.
João Pina is a photographer focused on the human condition and human rights in Latin America. Pina's photographs have been published in The New York Times, The New Yorker, The Washington Post, National Geographic, GEO, Stern, El Pais, Le Monde, among others. His work has been exhibited at the Open Society Foundations (New York), International Center of Photography (New York), Howard Greenberg Gallery (New York), Canon Gallery (Tokyo), Museu de Arte Moderna (Rio de Janeiro) and more.
Fabiola R. Delgado Curator and Creative Consultant. Formerly a Human Rights Lawyer and a political asylum seeker, she strives for justice through art and cultural experiences, recentering perspectives and encouraging intergenerational creative learning.
She has worked with multiple Smithsonian Museums, Washington Project for the Arts, Times Square Arts, Brooklyn Museum, S.O.U.R.C.E. Studio, The FUNDRED Project, MacArthur Fellow Mel Chin, and is an inaugural recipient of the National Leaders of Color Fellowship –a collaborative program from the six U.S. Regional Arts Organizations.
Hollis Wong-Wear is a Grammy-nominated recording artist, songwriter, content producer and strategist who works at the intersection of creativity, community organizing and public policy. Her debut solo album, Subliminal, was released in May of 2021, called "full of sparkling, celestial gems" (Portland Mercury) and "both taut and effortless, a reaction of driven energy one moment and a breath of easy poetics the next" (Ones to Watch). In addition to her artistry and songwriting career, she is the Founder and Principal of hww.work (pronounced homework), a production company specializing in film, video and content creative for social change.
Jason is a #1 New York Times bestselling author of more than a dozen books for young people, including Look Both Ways: A Tale Told in Ten Blocks, All American Boys (with Brendan Kiely), Long Way Down, Stamped: Racism, Anti Racism, and You (with Ibram X. Kendi), Stuntboy, in the Meantime (illustrated by Raúl the Third), and Ain't Burned All the Bright (with artwork by Jason Griffin). The recipient of a Newbery Honor, the Margaret A. Edwards Award, a Printz Honor, a NAACP Image Award, and multiple Coretta Scott King honors, Reynolds also served as the National Ambassador for Young People's Literature from 2020-2022.
Nicole Dowd is the Head of Public Programs at the Smithsonian National Museum of Asian Art, overseeing planning and implementation of museum-wide public programs and community engagement. Previously she served as Head of Cultural Programming at Apple in Washington DC, developing both in-person and virtual public programs and piloting the Today at Apple Creative Studios teen program. Over the last decade she has worked with and mentored artists throughout the DC region, as Director of Arts Programs at Halcyon and Program Manager of the Hamiltonian Artists Fellowship.
Be sure to check out more about our judges on their websites.
---
From the Community
Andrzej Mazur of Enclave Games becomes W3C Games Community Group co-chair
I'm excited to announce that I was accepted as a co-chair into the W3C Games Community Group, joining Tom Greenaway from Google and Noël Meudec from Meta , with the support of François Daoust from W3C.
I was invited as a co-chair to help make the group more active again, since both Tom and Noël are moving away from web games activities within their companies. Now after half a year break we're trying to get back to regular meetups, with the upcoming one targeting April.
Congratulations Andzrej on your new role!
---
The Grantee Report
Mysilio through its Web Monetized Digital Knowledge Commons project developed an interesting model of how monetization pointers could be used to track and reward content stored in any personal online datastore format, not just Solid Pods.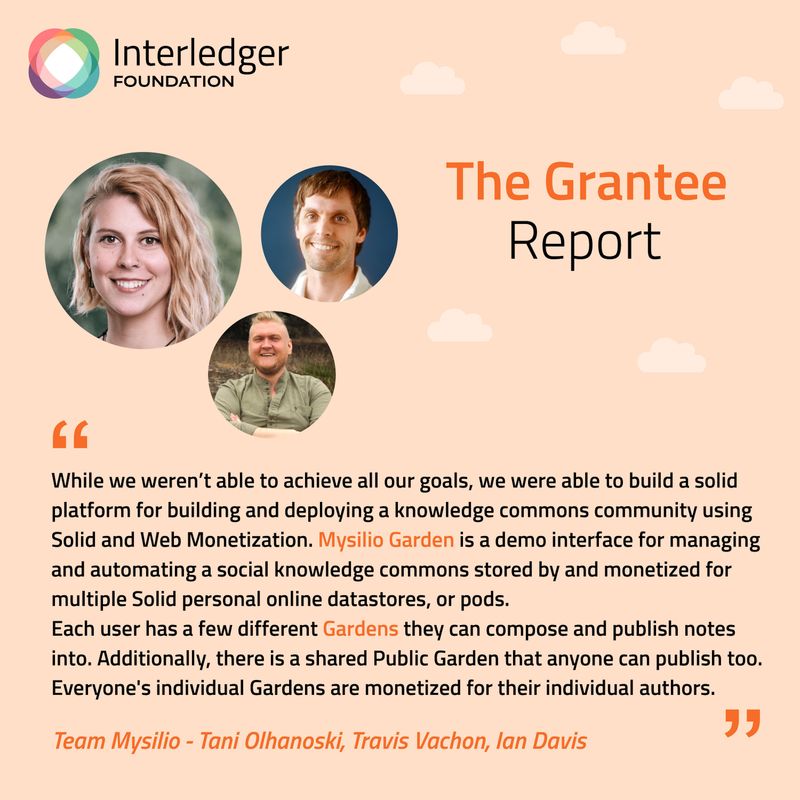 Mysilio's Digital Gardening provides a toolkit for others to build their own richly interlinked knowledge commons ecosystems. Each user has a few different Gardens they can compose and publish notes into. Everyone's individual Gardens are monetized for their individual authors.
To learn more about Mysilio's knowledge commons, read the report here.
---
ITADI Digital Sustainable Farming Initiative Final Report
Tabi Bonney's final report takes a look at the Itadi's initiative of achieving the first direct-to-consumer farm in Togo.
During the grant period, the ITADI Digital Sustainable Farming Initiative was able to achieve its goal of designing and piloting the first direct-to-consumer farm that leverages the power of web monetization to address issues of transparency, sustainability, and equitable market access in the coffee and cash crop industry. We are proud of the progress we have made during this time, and we believe that it is just the beginning of our journey towards achieving our long-term vision of connecting communities and promoting financial inclusion through Interledger Protocol, mobile monetary systems and digital wallets when conducting business internationally with different currencies.
As we move forward, we will build on the foundation we have established and explore new ways to leverage technology and innovation.
Our long term vision is to expand this initiative to reach more farmers and consumers in the coffee and cash crop industry. We recognize that many small-scale farmers lack the resources and infrastructure to effectively market and sell their products, which often results in low incomes and economic instability.
Many thanks to Tabi for the great work he is doing, we hope to see more from Itadi.
---
Interledger Updates
Participate in the Open Payments Huddle on April 27th
Have you registered for our next Open Payments Huddle: Researchers Roundtable scheduled for April 27th?
Join us for our upcoming community conversation with ILF grantees: Natalie Axton, Lior Zalmanson, Yotam Liel, and Denny George w. Sarah Rezaei & Hansika Kapoor as panelists to discuss their research projects on the adoption of Web Monetization and open payments in various groups.
Register today https://www.eventbrite.com/e/608736817207
Join Interledger Foundation at the Global Digital Development Forum in Washington, DC
Are you interested in open payments, digital financial services, and global economic inclusivity? We are excited to participate in the Global Digital Development Forum and to showcase how the Interledger Foundation works with local communities to surface new ways of thinking, building, and implementing systems that show it's good business to be inclusive.
From indigenous communities and cultural discovery to locally-led microfinance and utility payments and services, meet our panelists who are leaders building inclusion from within from Bitke (Kenya), Kult (Brazil), Paystreme (Central America), People's Clearinghouse (Mexico), and Thitsaworks (Myanmar).
Interledger's panel discussion is scheduled for Thursday, April 27 at 13:00 pm GMT (1:00 pm GMT/9:00 am EST).
Click here to register for #GDDF2023 https://digitaldevforum.course.tc/catalog/2023
Forum co-sponsors: USAID, Chemonics, IBM, Deloitte, DAI, Google, RTI International, Save the Children, Interledger Foundation, Bixal, and Palladium on the TechChange platform.
---