Interledger Foundation is pleased with the cohort of exceptional and multifaceted professionals that will review the Future|Money Art & Culture grant applications.
As we round up the Meet the Judges Series, we will showcase the remaining three judges. Feel free to check out previous posts with the profiles of other judges. For ease of reference, click here:

Introducing the cohort of judges...
---
Hollis Wong-Wear
Artist. Songwriter. Content Producer. Strategist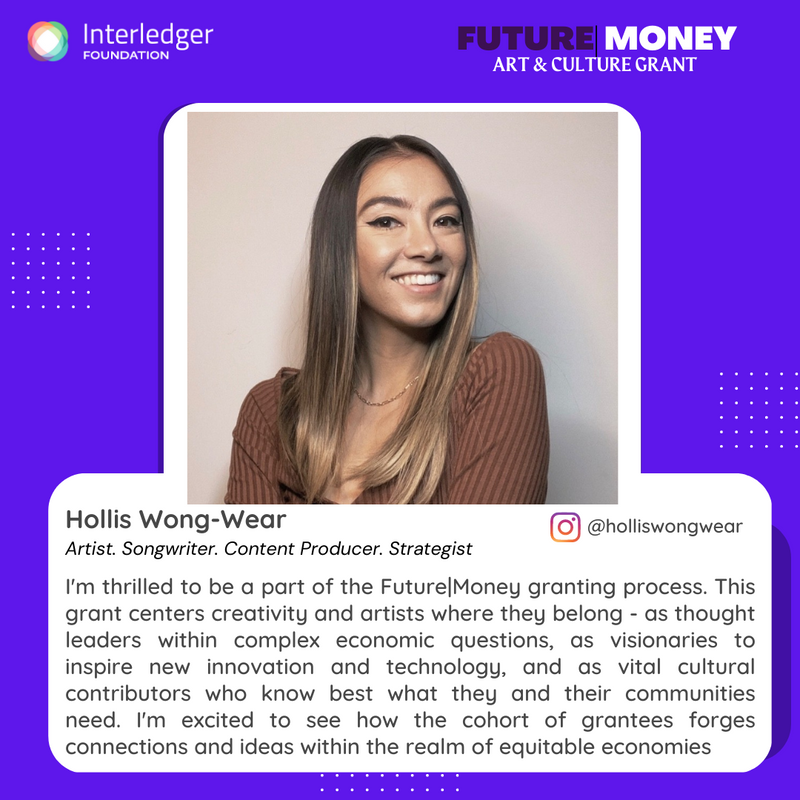 Hollis Wong-Wear is a Grammy-nominated recording artist, songwriter, content producer and strategist who works at the intersection of creativity, community organizing and public policy. Her debut solo album, Subliminal, was released in May of 2021, called "full of sparkling, celestial gems" (Portland Mercury) and "both taut and effortless, a reaction of driven energy one moment and a breath of easy poetics the next" (Ones to Watch). In addition to her artistry and songwriting career, she is the Founder and Principal of hww.work (pronounced homework), a production company specializing in film, video and content creative for social change.
Hollis is a seasoned communications and grantmaking specialist and team-building facilitator who works frequently with organizations and government. Recent clients include the City of Seattle's Office of Arts and Culture and Office of Civil Rights, Starbucks Music, Create CA, Warner Music Group, and the Institute for Intellectual Property and Social Justice and their program Take Creative Control.
She is a Google Next Gen Policy Leader, an alumna of the Hedgebrook Residency, a Humanity in Action Senior Fellow, and received her BA in History from Seattle University. Hollis was born in Petaluma, CA, attended high school in San Francisco, and currently resides in Los Angeles.
Learn more about Hollis here: www.holliswongwear.com
---
Jason Reynolds
Author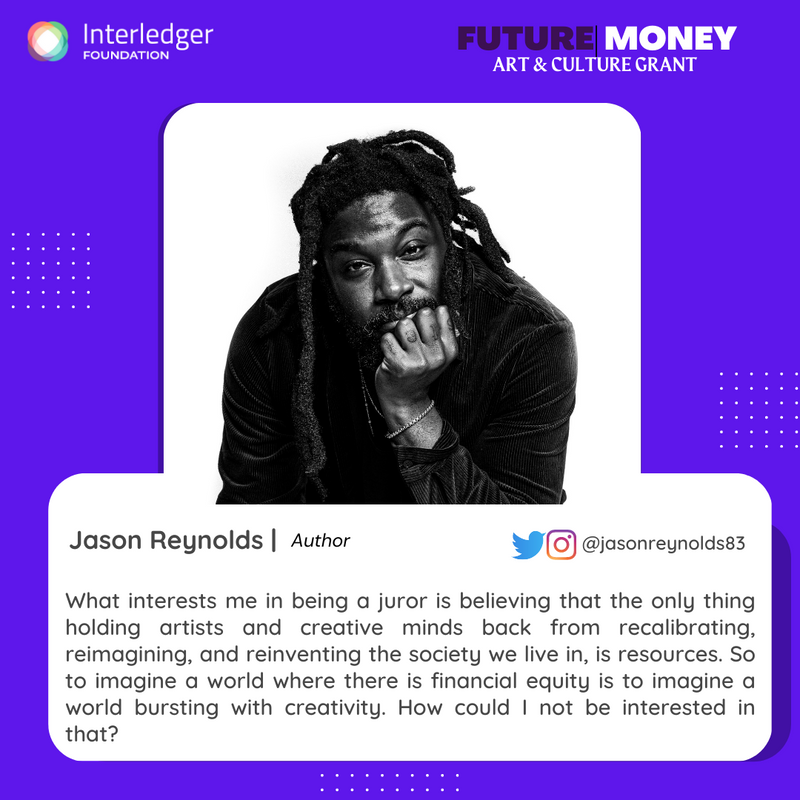 Jason is a #1 New York Times bestselling author of more than a dozen books for young people, including Look Both Ways: A Tale Told in Ten Blocks, All American Boys (with Brendan Kiely), Long Way Down, Stamped: Racism, Anti Racism, and You (with Ibram X. Kendi), Stuntboy, in the Meantime (illustrated by Raúl the Third), and Ain't Burned All the Bright (with artwork by Jason Griffin). The recipient of a Newbery Honor, the Margaret A. Edwards Award, a Printz Honor, a NAACP Image Award, and multiple Coretta Scott King honors, Reynolds also served as the National Ambassador for Young People's Literature from 2020-2022.
He has appeared on The Late Show with Stephen Colbert, The Daily Show with Trevor Noah, Late Night with Seth Meyers, CBS This Morning, and Good Morning America. He is on faculty at Lesley University, for the Writing for Young People MFA Program and lives in Washington, DC.
You can find his ramblings at JasonWritesBooks.com.
---
Nicole Dowd
Artist. Exhibition. Program Manager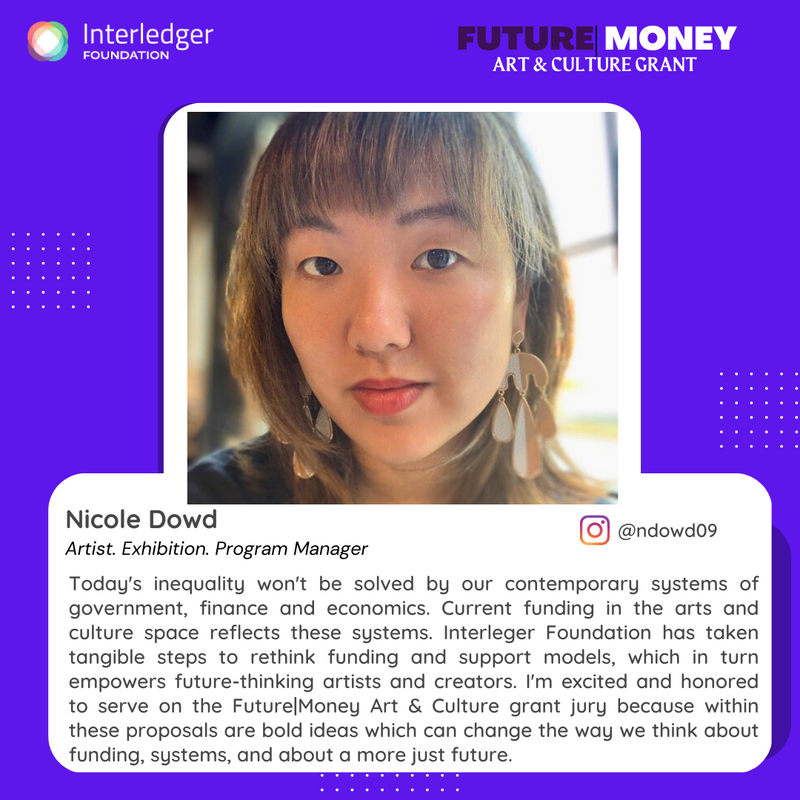 Nicole Dowd is the Head of Public Programs at the Smithsonian National Museum of Asian Art, overseeing planning and implementation of museum-wide public programs and community engagement. Previously she served as Head of Cultural Programming at Apple in Washington DC, developing both in-person and virtual public programs and piloting the Today at Apple Creative Studios teen program. Over the last decade she has worked with and mentored artists throughout the DC region, as Director of Arts Programs at Halcyon and Program Manager of the Hamiltonian Artists Fellowship.
Nicole received a master's degree in exhibition design from the Corcoran College of Arts and Design and studied fine art, art history and journalism at George Washington University. She is passionate about building meaningful connections between artists, cultural practitioners, and organizations which can help to support and sustain their work. She currently serves on the Board of Directors at The Nicholson Project, a DC-based artist residency and community garden.
Learn more about Nicole here: linkedin.com/in/ndowd
---
We thank you all for your interests in the Future|Money Art & Culture grant. We will keep you posted on the outcomes in short order.
Cheers!