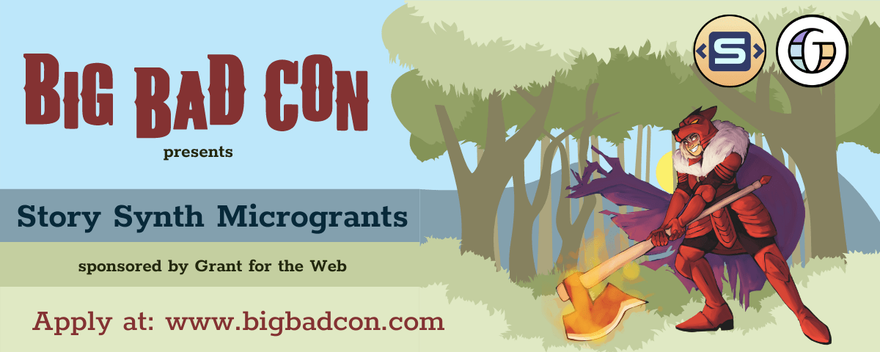 Our project is a microgrant program that funds designers of marginalized identities making web monetized games via Story Synth a web based storytelling game platform.
We kicked off our microgrant program in the winter and had a strong first wave of applicants. We've since approved and disbursed 59 microgrants of $300 each, all going to game designers of marginalized identities. An initial wave of grantees have finished their games and many more are in the late stages of playtesting. We still have a few dozen microgrants remaining so please help us get the word out!
On the technical side, Story Synth has a new set of features tied to web monetization. We've added a number of extra features in response to grantee requests. Along the way we've also taken steps to increase platform security and accessibility and also made it approachable and flexible for first time game designers.
Curious about our grantees' games? Check out the creepy horror game The Nameless Summer or browse many more games in the Story Synth Gallery.
Progress on Objectives
Objective: Add new web monetization functionality
Status: 100% complete
Details: Designers can choose from several monetization approaches (docs)
Paywall: each game session requires at least one web monetizing player for the game to start (other players can play for free)
Style: web monetizing players have an upgraded CSS style sheet supporting fancier designs
Message: anyone can play, but players without web monetization see a custom message asking them to support the designer through web monetization
Optional: players with web monetization have the same experience as non-monetizing players
Objective: Approve 100 microgrants of $300 each
Status: 59% complete
Details: We've had 71 total applications so far and the pace of applications have slowed down. We're continuing to promote the microgrant program and are hopeful early grantees completing and sharing their games will generate more interest.
Key Activities
Our initial launch of the microgrant program met with lots of excitement
We've had 71 total applications (excluding spam) of which we've approved 59 grantees and disbursed their funds
We've held 3 Office Hours sessions to help the grantees
We've provided frequent advising and assistance to the grantees in the Story Synth Discord
We've created 2 video tours of Story Synth Formats, Extensions, and Custom Options
We've added multiple features and extensions that were requested by grantees
We've launched an updated set of web monetization features including custom style, full paywall, and monetization message
Communications and marketing
We did our initial promotional blast on social media, throughout marketing lists, and through our websites (Big Bad Con's launch announcement, information page with application link). We also posted information on the project to several targeted communities of game designers on Slack and Discord.
We've created two YouTube videos to help designers understand the array of formats and customization options available: Story Synth Formats Tour, Story Synth Custom Options and Extensions Tour.
We pitched several journalists and were covered in a Gizmodo article: How a New Wave of Grants Is Building a More Diverse Tabletop Scene
What's next?
We still have funds to approve 41 more applications but the rate of applications have slowed down. We're continuing to promote the project and also allowing earlier grantees to reapply, so long as they've completed their initial game.
What community support would benefit your project?
We'd love to help sourcing more applicants! You can share the Story Synth Microgrants page which has all of the details and a link to apply. Story Synth is very approachable for first time designers and we're happy to offer help and advice in the Story Synth Discord.
Additional comments
Here's some info on the demographics of our micrograntees: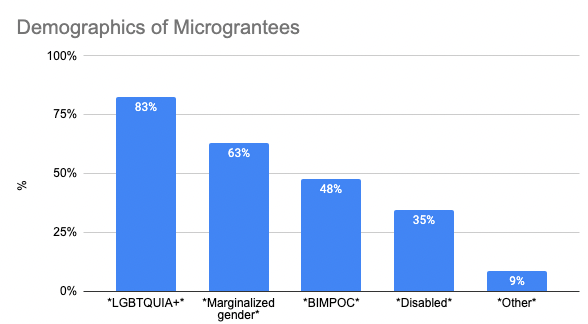 Here is the current stage that the grantees' games have reached: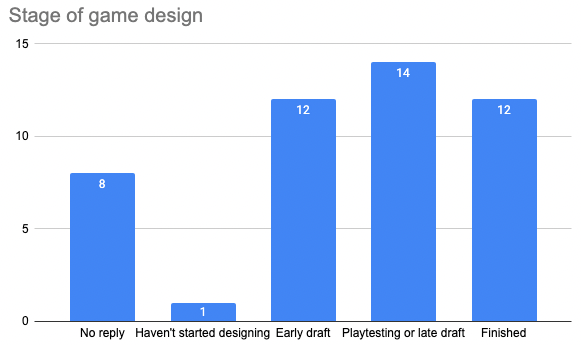 Cryptocurrency concerns and related pushback
We've seen a degree of pushback from current and potential grantees about potential links between web monetization and cryptocurrency. The indie game design community is particularly sensitive to potential environmental impacts of cryptocurrency and the danger of cryto-related scams. With the help of the GftW team, we've managed to assuage and defuse most of these concerns though we did have some folks withdraw their application and stop sharing information about the project.
At the moment, the biggest friction seems to tie to wallet creation as Uphold and Gatehub tout the ability to trade and stake cryptocurrencies; most grantees have had strong negative reactions to these sites. We're seeing nearly all of the micrograntees choose to use a non-profit's wallet instead of setting up a wallet of their own.
Relevant links/resources
We'd love to see more folks apply! Learn more and apply here: Big Bad Con's information page (with application link)