Hi,
Our project, Black Web Fest x Web Monetization, is focused on educating underrepresented creators about web monetization, creating additional video resources to help creators promote their work and gain visibility.
Before applying for the grant, I did some research and community outreach. The community outreach was extremely helpful. I got to learn about Interledger Foundation, Coil, and the community. Although I did research, I had some missteps with this project. I was not even a month in and had to submit a budget reallocation form and change of scope. My first hiccup was around legal. As part of the Interledger community, I saw New Media Rights' fantastic work and their offerings before receiving the grant. I didn't initially realize that Black Web Fest was out of their jurisdiction because we're a NY-based organization. Not shortly after receiving the grant, I connected with their team, who suggested I find a NY-based firm with contest and sweepstakes experience. So, I found a local firm open to working within the short turnaround time. Unfortunately, I estimated legal fees would be close to 1% of the project cost, but it actually cost near 10%. These agreements were essential because they not only protected Black Web Fest but ensured creators submitted their work and understood the rules of competition in advance. Reallocating these funds was a critical change to the success of the program. One of the key things I learned from working with the law firm was extending a contest outside of your country can be very nuanced because of taxes and local laws. We were limited to accepting submissions from the United States and Canada (excluding Quebec).
Communication and Marketing
As part of the budget reallocation, we decreased the marketing budget and eliminated the line item for a PR vendor. I wanted to put a larger amount toward marketing so we could reach a larger audience. With the remaining funding, we paid for a listing site to promote but fell behind on crafting a press release. We luckily utilized our community and strategic partners to promote the program, including the Interledger community 😊. Moving forward, I want the funding set aside for promoting the program to promote the winners in a press release. This would allow these underrepresented filmmakers to gain much-needed visibility.
Here is a list of some of the organizations that promoted our project :
Another part of the project was to host an info session. This was an hour-long presentation over Zoom that educated creators about the program, our partner, and web monetization. After seeing attendance for the first info session, I changed it to three info sessions. We received over 50 sign-ups for the info sessions. The format allowed me directly speak with creators, answer their questions, ask for their feedback, and better educate them about web monetization. Many said they wanted a full demo of how to sign-up for web monetization and use different platforms. Each attendee received a free one-month Coil membership. I also sent attendees a follow-up email with additional resources from the web monetization community.
In late June, I caught Covid. I am grateful I recovered but being sick put our work behind two weeks. Unable to promote the program at that time, we decided to extend the submissions an additional week. In the end, we received 44 submissions. A few filmmakers submitted for multiple categories.
We also asked for $4,000 for funding to pay eight judges an honorarium. I was only able to secure one judge for each category. By only having four judges, we now have an excess of $2,000. We want to give this funding to four semi-finalists. This means more Black filmmakers would receive funding and support to promote and monetize their work.
In our original proposal, we planned to use an established partner in the web monetization ecosystem to promote and host our winners' work. Recently this partner has been unresponsive. Aside from hosting the filmmakers' work, they committed to promoting the work on their platform. At this time, I would not feel comfortable endorsing their platform or asking filmmakers to upload their work.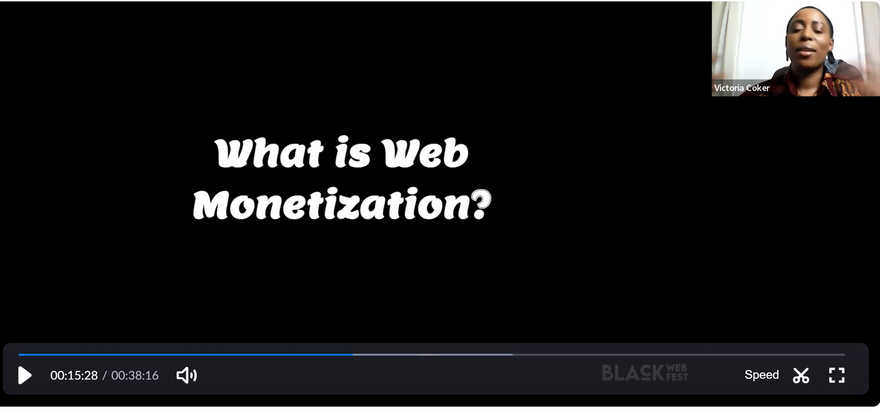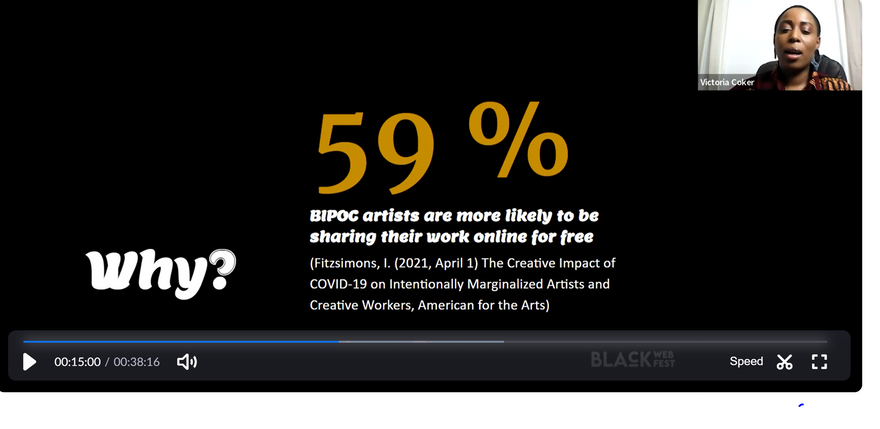 Key Activities
Developed Legal Agreements
Opened Submissions & Launched the Program
Created Promotional Materials and Promoted Across Channels
Hosted Three Info Sessions via Zoom
Sent Out Coil Memberships
Judged Submissions
Deployed a Feedback Survey
What's Next?
We are currently waiting to see if our scope change and budget reallocation are approved. This would allow us to award eight filmmakers instead of only four. We sent a feedback survey to all the creators who submitted films. Also, rerecord the info session to remove information about our previous partner. Instead of using our original partner, we plan to use our additional marketing budget to help our awardees host their websites and to enable web monetization on these sites. This gives creators freedom and more ownership of their work. This month, we plan to record both the marketing and digital publicity videos. The marketing video will be released in August, and the digital publicity video will be released in early September.