Autumn is in full swing and so is our community!
We have a community call next week, grantee reports, grantee highlights, project updates and more to share.
---
Community Call Series Reboot
We're excited to reboot our series of new bi-monthly community engagements. Join ILF grantee Imani K. Brown of Black Tattoo Anthology as she takes inside her project Black Tattoo Anthology
Imani will give a behind the scenes tour of Black Tattoo Anthology; look at the benefits of the assets built in Kartra and the User's Experience with Katra Funnels. There will be a panel discussion and more!
Date: Tuesday, October 25, 2022
Time: 1:00 pm EST / 10:00 am Pacific / 5:00 pm UTC
To Register: get your ticket here
---
Grant Reports
Nicole Li for project Elementari shares in progress report update on web monetization for our educators and artists
While there have been delays, we're excited to announce that we are making progress on adding support for web monetization for our educators and artists (in addition to making Elementari just better).

Quick Recap:

ℹ️ Help Center. Our website finally has a Help Center and it includes some articles on web monetization! The source code will be released shortly.
👩‍🏫 New Lesson Plan Creation + Library. The development of the flow from creation to submission to publishing took longer than expected, but we are in the local testing phase with web monetization enabled.
🎨 Art Contests are launched!
For the technical developments, we've been mostly working on how educators can publish their web-monetized lesson plans on Elementari, developing our Help Center, and doing a lot of backend work (so there's not much to visually show).
A large focus for us is refining the communication of web monetization to a general non-techie audience. To do so, we've done a lot of reading, held some informal interviews with educators, are developing our survey, launched our art contests, and scheduled our first round table on web monetization. Finally, we've spent the past couple of weeks taking time to get to know other platforms, meeting with the web monetization community, and finding ways to collaborate long term.
If you would like to learn more about Nicole's project, hit the link above.
---
The Grantee Report
This week we are highlighting two of our grantees New Universe & Rashon Massey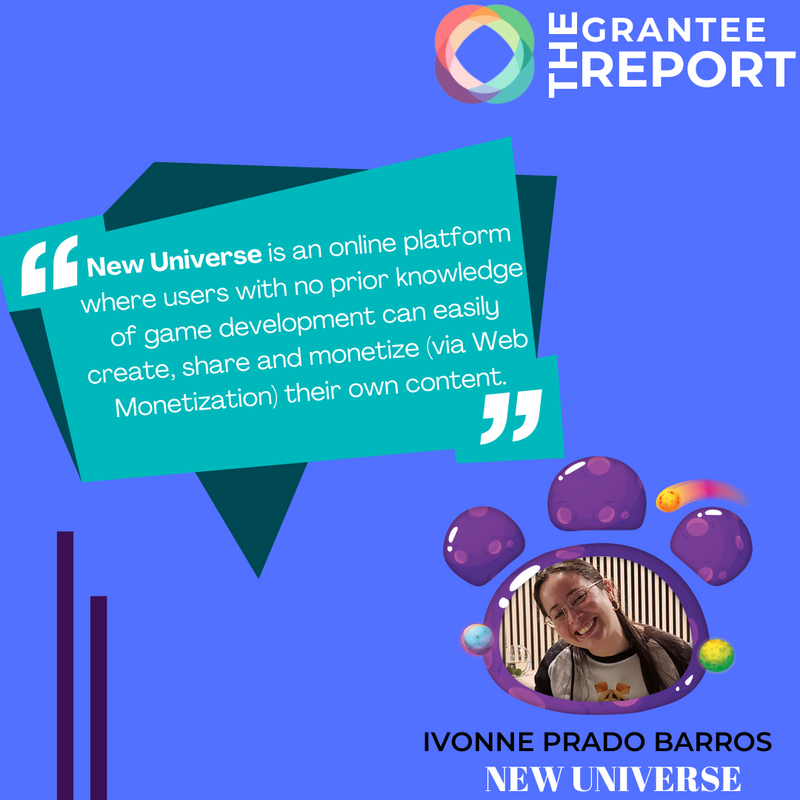 Wouldn't it be cool if people of all ages can quickly create & share games as easily as on any social network?
Check out the platform created by #NewUniverse and how it facilitates direct payments to creators of games in this granteereport.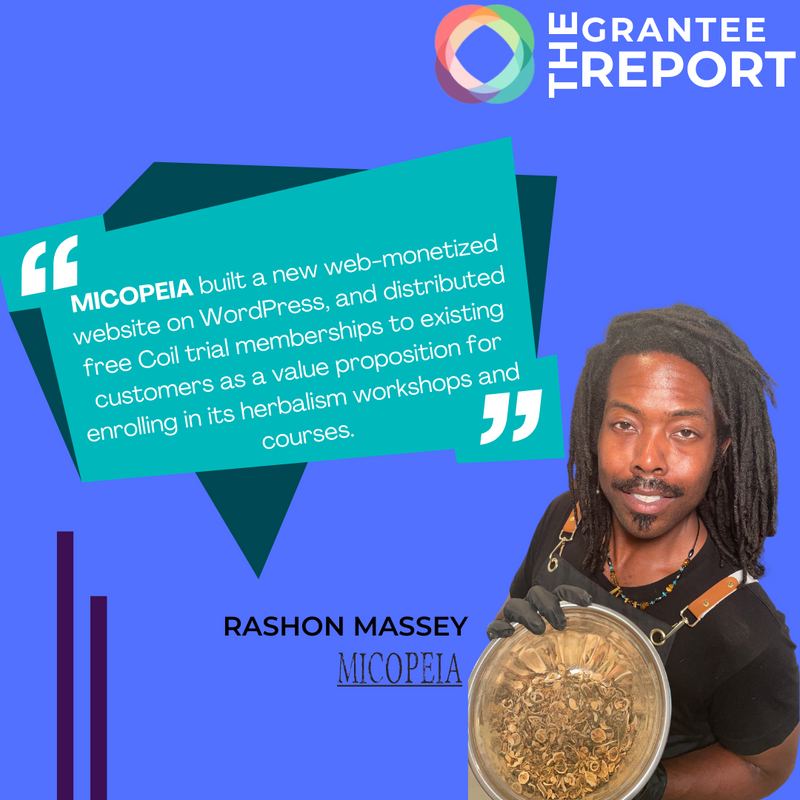 Interested in learning how #interledger supports and enables small businesses in adopting Web Monetisation? Check out this report from our grantee Micopeia on their journey and successes in creating a WordPress web monetised website for its services.
Learn more about Micopeia here.
---
Project Updates
graeme for Prototypr has found a sound way to track micropayments
Hey all, I've just built an interesting little experiment!
Using the Web Monetization JavaScript API, I tried listening for micropayments coming through on individual articles, and creating a running total of micropayments received. This gives a fairly accurate picture of how much money each individual article has received.
Even if an author has not created a payment pointer, we can track how much they earn, and send it them!
You can watch Graeme's quick video to show how it's working at the link above.
---
From the Community
Our Ambassador Erica Hargreave has been hard at work building our new YouTube Channel
I've been busy building a new YouTube Channel to spotlight the Interledger Community: https://www.youtube.com/channel/UC10ftGi2L05uiggZSCwSYww/featured
Slowly adding Interledger related videos that our community has created to the playlists. If you have an Interledger related video on YouTube that I haven't yet added to the playlists, please add a link to it in the comments below.
Subscribe and share the link to your YouTube Channel for a follow back!
---
Interledger Foundation Updates
*Join the November ILP Community Call *
The Interledger community calls shall be once a month, on the second Wednesday of the month.
The next community call will be on 9th November 2022, 4.00 PM GMT.
We'll have 5 regular update slots from:
Meet joining info
Video call link
Or dial: ‪(GB) +44 20 3956 1581‬ PIN: ‪476 812 309‬#
More phone numbers: https://tel.meet/pzs-iwrv-jny?pin=2824719901292
Please post topics you'd like to discuss here and some background context for the rest of the community.
We have slots for more regular updates on projects that build on the Interledger protocol, so please feel free to add your project to the agenda, and talk a little bit about your project in the comments below.
Have questions or need help? Join us on Slack here.
Missed the October ILP Community Call, you can find the notes and recordings at the link below
Hacktoberfest
We're ready to help you succeed in making your Hacktoberfest contributions!
The Rafiki repo issues are labeled, submit a pull request and if that closes an issue, we'll send you a cool t-shirt & a nice gift card from @coil.