In getting set to share some of the educational resources that I intended on creating and / or editing as a part of this Ambassadorship (ie.tutorials on the different creative platforms enabled for Web Monetization and an edited, condensed version of the live, studio audience broadcast recording of the 'Web Monetized at MozFest' Podcast that we recorded at MozFest 2022), it was decided that these would be shared from Interledger itself (as opposed to StoryToGo). While I was happy with this, it posed a few new challenges, as the Interledger Foundation was not properly set up on YouTube or with a podcasting client with Web Monetization enabled.
YouTube
As I had Bjorn building the first of the video tutorials of Web Monetization enabled content creation platforms on WIPS.art, I addressed YouTube first. There was an old Interledger Protocol YouTube Channel, but no one had access to it and the temporary YouTube channel had some unexpected issues, due to some changes on YouTube that limited the ability for multi-users to effectively manage the account. The latter was an issue, as it limited full management to one person who did not have the time to take on that task, and posed an issue should that person ever decide to move on to something else.
With some patience from @chrislarry, @laka, and @erikad, we found and set up a solution that would allow for a YouTube account to be set up from the Interledger Foundation with multiple managers with the privileges to effectively build and manage the channel.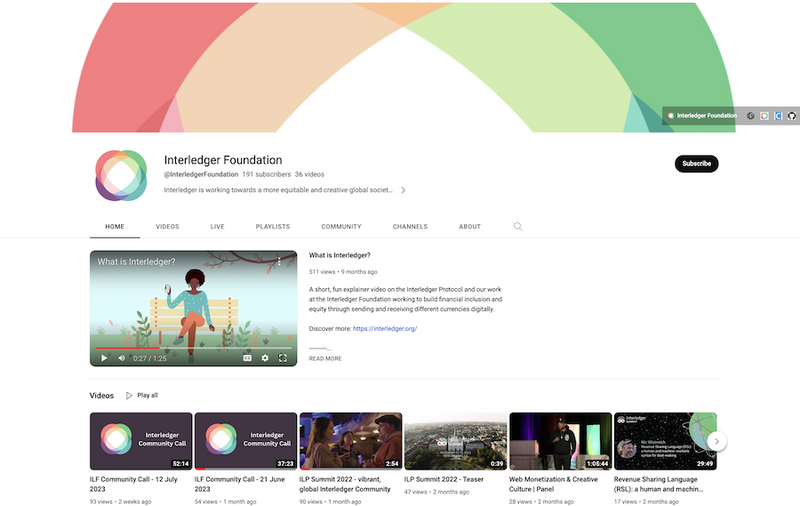 While there is still work to be done on this channel, some of the initial things I did, in consultation with @vineel, include:
creating an aesthetically pleasing, branded look to the channel;
adding Interledger's bio, links, and social media feeds to the channel;
searching for Interledger related videos on YouTube to create playlists in order to highlight the broader Interledger community on the channel's homepage;
searching for and following members of the broader Interledger community on YouTube;
adding grantees to our featured channels; and
organizing playlists on the channel's homepage to spotlight Interledger Community videos and channels.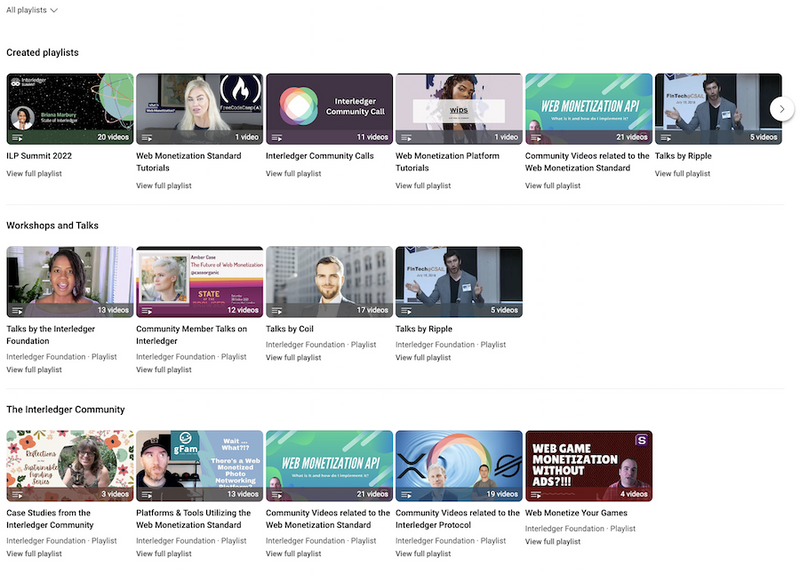 Also to begin to build community to the channel, I engaged with some past Interledger related videos on YouTube from the Interledger Channel and shared a community post on the new channel.
Next, as it is better with YouTube's algorithm to stagger videos out over times, as oppose to doing large video dumps, I created a content sharing google doc, so we could make sure multiple videos were not all added on the same day, with multiple posters.

Other best practices for YouTube that I shared as part of setting up the channel included:
properly titling videos with descriptive keywords;
writing full and complete meta descriptions on videos, including:
reiterating the main keywords in the first paragraph,
writing the full names of the people in the video,
chaptering the videos with time markers,
sharing links to organisations, platforms, tools, and / or people highlighted in the videos, and
adding a closing signature with information on the Interledger Foundation and Community and how to engage with them at the end of each video.
adding appropriate long tail tags to the videos;
filling in the advanced settings in uploading the videos;
adding properly sized, custom thumbnails to the videos;
proofreading and editing the closed captioning transcript on the videos; and
doing your keyword research on the videos to tailor the title and meta description for SEO when time permits.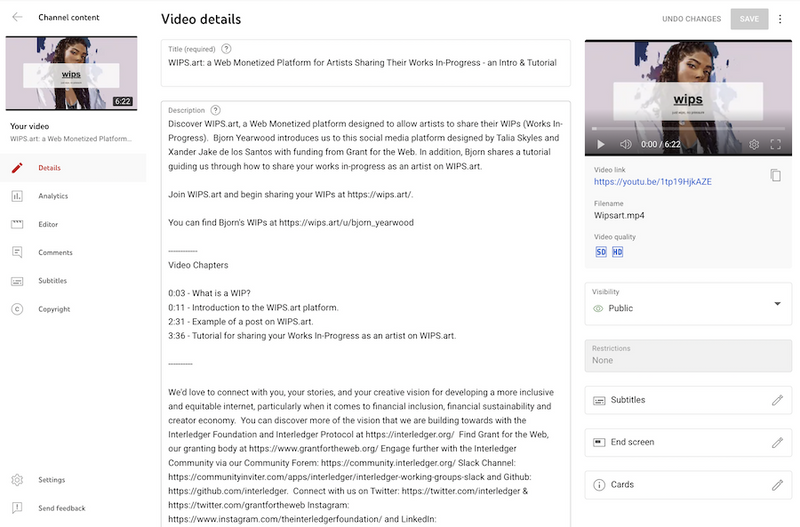 Occasionally when I have the time, I fine tune some of these things on the channel.
As time goes on, the channel would benefit from:
adding new Interledger Community videos (from other channels) to the playlists;
doing the keyword research on all the videos and fine tuning their titles and meta descriptions;
proofreading and editing the auto transcripts; and
adding edited versions of Open Payment Huddles to the channel.
I also think there is an opportunity with YouTube Shorts on the channel, in taking poignant short excerpts from Community Calls, Open Payment Huddles, and talks and interviews from the Summit to share as shorts. Currently these shorts, if properly titled are getting a lot of SEO attention from YouTube and Google.
Your Thoughts and Ideas
If you have other suggestions for the channel, please share them in the comments below.
With the tutorial videos that I was supporting young people in creating, we got the first one up from Bjorn Yearwood on WIPS.art.
I had lined up some other young people to create tutorials on other Web Monetized enabled content creation platforms. Unfortunately, when worked with their school schedules coincided with when Coil went down. I have pondered whether to continue working on those tutorials or wait until Web Monetization is back up and running. Waiting makes more sense, so that Web Monetizing your digital assets on the platform can be made part of the tutorial, as Bjorn did in the WIPS.art video.
Castopod
With the 'Web Monetized at MozFest' podcast, I was stubbornly determined to find avenues to share this podcast that were Web Monetized to further highlight pathways to Web Monetizing your digital assets.
Initially I was thinking Free Music Archives as they'd begun to share their own podcast there. But as Free Music Archive doesn't syndicate their content, that still meant sharing the podcast to other platforms that were geared to podcast listeners. After searching the community Forem for other Web Monetized podcasting solutions and asking around for any potential solutions, I decided to do one last internet search for Web Monetization enabled podcasting platforms, and I found Castopod!
This is one of those moments in life where I am grateful for my determinedness in finding an alternate solutions, as Castopod is an absolute gift to podcasters. I will do up a proper guide to Castopod at a later date, but for now, it is basically a WordPress-like management system for podcasters, allowing them to build a website around their podcasts.
Some of features of Castopod that I love, include:
hosting multiple shows from a single Castopod instance;
ability to give backend access to multiple users with varying privileges depending on their needs and the role that they are taking on;
ability to add a payment pointer to Web Monetize your podcast;
syndicating your show across podcasting platforms; and
prompting you to consider other methods for monetising your podcast.
Added to this the team behind Castopod, of Benjamin Bellamy and @yassinedoghri, are incredibly gracious and helpful. In experimenting and setting up my first self-hosted Castopod instance for Roamancing's podcasts, I ran into some issues for which Yassine kindly tried to help me troubleshoot through their discord, and when the troubleshooting was not enough due to a server issue, they set me up with their Castopod hosting. Through my conversations with Yassine, I discovered that even though they'd discovered the Web Monetization Standard, and had enabled it on Castopod, they were not familiar with the Interledger Foundation or broader Interledger community. Thanks to this being before the 2022 Summit, I suggested they apply for a travel grant and submit a talk, which they did, meaning a short while later I enjoyed meeting them in person!
Another exciting element to Castopod is it is a part of the Fediverse, so when @jeremiahlee and I began encouraging the Interledger Foundation to join the Fediverse last Autumn, and began educating them on it, it was not just Mastodon that we were nudging them towards, but Castopod too.
While I've explained what Interledger needs to do to set up a Castopod instance, this has been a slow easing into the Fediverse, so the Foundation is still working towards their Castopod instance, delaying the sharing of the edited version of the 'Web Monetization at MozFest' podcast. With the changes happening in the community, I am also waiting to hear whether or not we are still going to be calling this 'Web Monetization' or 'Browser Payments' or 'Open Payments' or something else, as if the name changes, I'd change the name of the podcast to match.
Aside from the 'Web Monetized at MozFest' podcast, there are other exciting opportunities for the Interledger Foundation and other members of our community with Castopod. Take our Roamancing podcasting experiment as an example. As it is easy to set up multiple podcasts on a Castopod instance, that then syndicates your shows for you across the web, we've created three podcasts this last year from Roamancing.
Roamancing Reads
Culture Travels
My Ukrainian Heritage
Roamancing Reads is a project that Lori Yearwood and I have long intended to do, in which Roamancing authors record an audio reading of their articles. Our intent with this is to improve accessibility on our digital magazine. We know that we could add a screen reader on our site for this, but the reality is that screen readers actually aggravate my symptoms with my post concussion syndrome; whereas natural voice audio readings make things more accessible for me. This has the added benefit of also exposing new audiences to our articles on Roamancing.com. Best of all though, our authors enjoy creating these audio readings and they allow readers to hear the author reading the article, giving the reader more of a connection to the author, and it means the author earns a bit of extra money for creating the audio recordings to accompany their articles.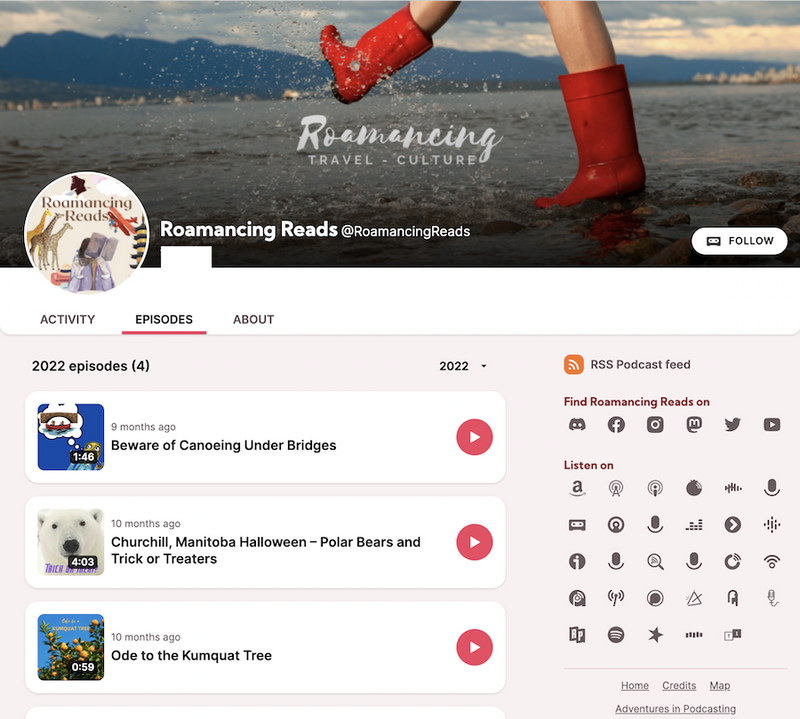 Culture Travels is our long form travel and culture podcast in which friends from around the world teach us to create something from their culture, while we chat about history, language, local food … etc. We recently won 2nd place for the Nathan Fong Memorial Award for our 3rd episode with Manami and Maya Calvo on Making Mochi and Exploring Japanese Canadian Culture. The judges highlighted how they liked how we shared this story in different ways in the accompanying article with audio, video and the written article, making it more accessible for the reader to consume in a manner that suited them.
Finally, My Ukrainian Heritage is a series of then and now diary entries in which one of our writers, writing under a nom de plume, shares her family's stories of fleeing persecution in Russia to Ukraine, and then immigrating to Canada, while discussing the scary similarities to what is happening to Ukraine since Russia declared war on them in 2022. This podcast has recently been selected for the Baltimore Next Media WebFest.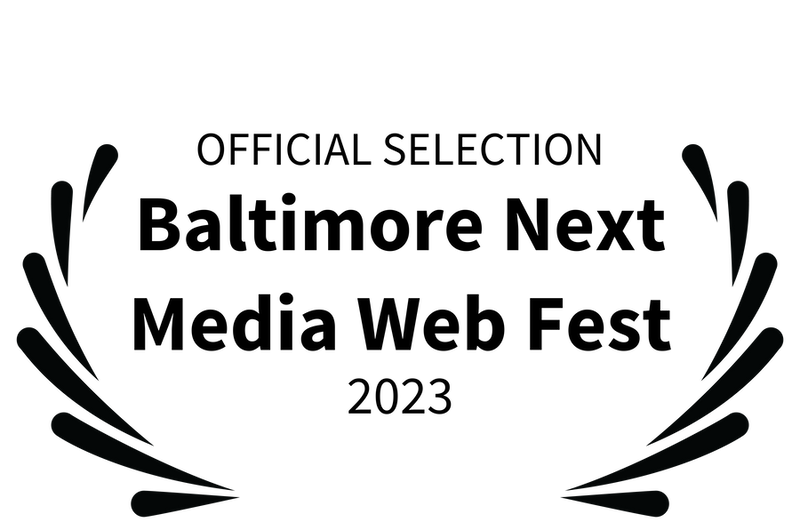 I am under no illusion that these podcasts are perfect. There are many ways I wish to improve them over time, but by pushing forward and beginning, we have already gained attention and an award towards them, but more importantly through the professional recognition that the award and screening selection represents, I have made it possible for three of our newer storytellers - Manami Calvo, Maya Calvo (12 at the time of recording), and Anne Webster - to be recognised professionally as storytellers. This has helped build their confidence, made them eligible to apply for membership in the Canada Council for the Arts, and has helped to add to their credentials for future projects that we've been developing together. All because we began and put what we created out there.
Closing Thoughts
While the intended educational resources are on hold until we have pathways for Web Monetizing again, there are a lot of positive solutions for hosting and sharing digital assets that were built in preparation for these, which I believe hold many potential possibilities for Interledger Foundation to gain more attention to the Interledger Protocol, Web Monetization Standard, and the broader Interledger Community:
from fine tuning the videos published to the Interledger YouTube Channel for SEO;
to taking advantage of the opportunity that YouTube shorts offers;
to syndicating podcasts across the internet.
Your Thoughts and Ideas
If this journey has sparked ideas in you, I'd love to hear about them in the comments below.
Thanks for reading. Tune in for Part 3 of my Ambassadorship Interim Report next on Outreach and Community Building.