In this short article, FMA Team shares inside updates, outcomes and follow ups related to the rebuild of the global iconic music service: Free Music Archive. The FMA mission remains clear; create sustainable spaces & systems in favor of independent creators to continue creating and sharing original music online.
Chapter 8
As you know, Free Music Archive is part of the Creative Commons Community offering FMA artists creative Commons licenses to add to each track they upload on FMA. We think it is special & remarkable that millions of people from around the world can listen to, share, and reuse music of talented independent artists with their consent. We bet many FMA tracks are part of amazing videos, short films, and podcasts!
Creative Commons has open doors for many online creators throughout the years. This is why we had no hesitation to celebrate the 20th anniversary of Creative Commons. Our chief, interviewed Creative Commons' CEO, Catherine Stihler, who is so proud to represent CC creatives all over the globe. Her message to you and the global Creative Commons community is available online: video.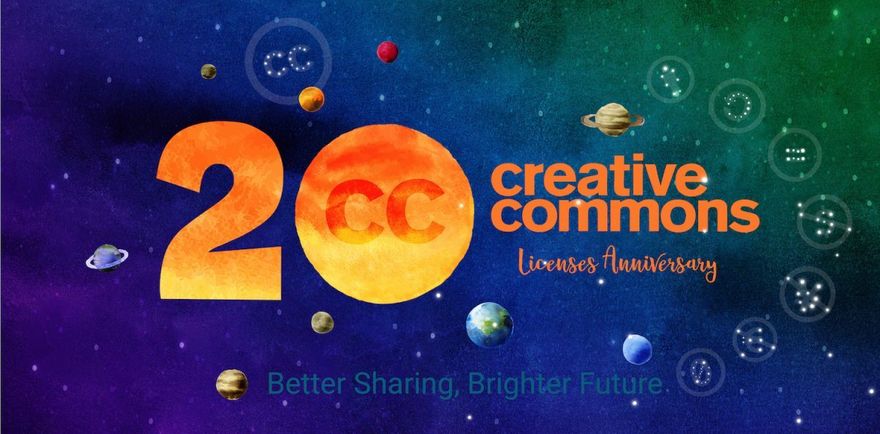 New FMA Licensing Opportunities
In the spirit of the 20th anniversary of CC and to better understand what FMA Artists needs in their new upcoming monetization toolbox, we sent out a survey to two subgroups: The CC Commercial License Allowed artists and the CC Non-Commercial Allowed artists to ask them which type of help and tooling on FMA needs the most.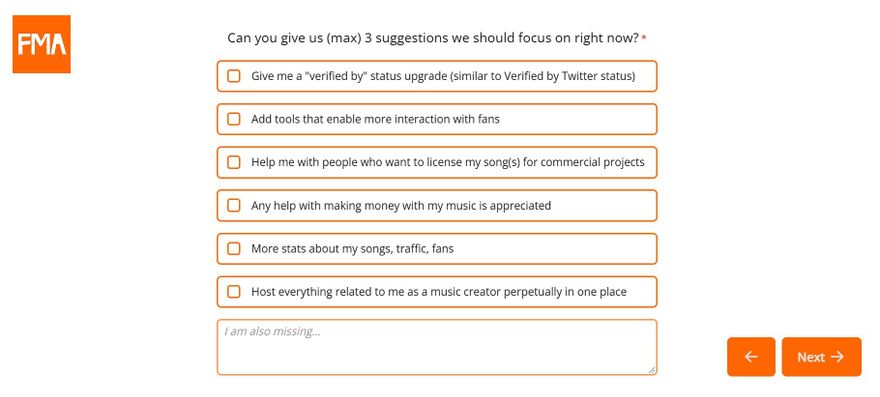 For the FMA artists that shared their tracks with Commercial licenses, we wanted to know if they were eager for more specific tooling's in order to see if presenting and proposing potential co-monetization and revenue sharing on FMA as a good direction to continue going on.
From the CC Commercial Licenses Allowed artist group, the majority of artists selected:
63% - Add tools that enable more interaction with fans
50% - Help me with people who want to license my song(s) for commercial projects
50% - More stats about my songs, traffic, fans

The FMA team is eager to bring forward new licenses wizards that gives the CC Commercial Licenses Allowed artists more control to be flexible and be able to take on many opportunities that come their way.
An FMA artist wrote down:
I have a very hard time to make people pay me for when they use my music in commercial context. They keep on doing it and I have a hard time to name a price when they do email me and ask to use my music in commercial context and I would like to have something for that.
For the CC Non-Commercial Allowed artist group, it was important for us to know if they were open use commercial licenses for their tracks on FMA for users to use in their projects.
From the CC Non-Commercial Licenses Allowed artist group, the majority selected:
64% - Help me with people who want to license my song(s) for commercial projects
60% - More stats about my songs, traffic, fans
56% - Any help with making money with my music is appreciated

Even though these responses are almost similar to the CC Commercial Licenses Allowed artist group, 40% of the CC Non-Commercial Licenses Allowed artist group would prefer to "Host everything related to their music perpetually in one place" on FMA. For the FMA team, this is a clear direction to continue rebuilding FMA for all types of artists, especially those that want to use FMA as their digital hub for their music catalogue.
One FMA artist wrote down:
It's a great platform and community, just maybe needs more ways to help fans and users support the creators in a way that make sense so we don't need to direct people off platform. It would be great to send fans to my FMA page and everything is there.
These survey results, helps us narrow down which tooling's we need to implement in the new upcoming FMA toolkit and which features we can add and connect monetization with.
Furthermore, the FMA team believes the FMA Curators are the most suited to help share music and co-monetize with the FMA artists. FMA Curators have the power to feature and promote all FMA tracks on their curator page. They are also the main Bloggers on FMA and their mixes and playlists are be eligible to checked for the FMA Home Page feature mix.

As mentioned in Chapter 6, the FMA Home page is another strong FMA tooling we use. This way FMA Curators help connect FMA tracks to new online stakeholders and boost opportunities for FMA artists.
Connecting Communities with FMA
For both artist groups, the FMA Team will definitely look to the Tribe of Noise Pro model, which has been helping Tribe of Noise Pro Artists since 2018. Next to all the new monetization opportunities, giving creators on FMA the option be flexible and to co-exist on big communities with different stakeholders and users, will broaden their music scope and most importantly, help reduce the immense value gap musicians continue to face everyday.
In the opposite direction, our team has encouraged Tribe of Noise artists to join FMA and share their original tracks with FMA users. A great example of this is the initiative of Buma/Stemra and the Ministry of Education, Culture, and Science, where 5 Tribe of Noise Pro artists were encouraged and financially supported to create new music for Tribe of Noise Pro clients and Free Music Archive users.
This shows first examples of independent artists using both services for their main purposes and being able to be present in different audiences and environment without any obstacles or hindering's. Check out the 5 new albums available on Tribe of Noise Pro and Free Music Archive. Read more about this imitative below.
More connections on FMA
Next to that, the need to interact more online has taken over the internet and it's no surprise FMA artists want more ways to reach and communicate with FMA listeners and fans and we hear it loud and clear.
As another FMA artist wrote down:
For artist it's important to be in touch with their fans.
This is why the FMA team is also prioritizing new community section for artist pages, where fans and new listeners can connect and comment. This community feature will be added to the upcoming new artist templates for FMA artists to start growing their own community and audience within FMA. This will deepen the support for FMA artists and help us implement new tooling to improve the artist and user relationship.
One FMA artist wrote down:
You are doing already an outstanding job in connecting artists and users. It has been a wonderful journey with you, and the great feedback from users has enhanced my life. If I have one suggestion, it is to make this direct connection even better. For example, I would like to know more in writing where my music is being used. It is no obligation of users to let me know, but building in incentives for users to share that information with the creators would be great.
These responses give us three directions to focus on for the FMA artists new upcoming toolbox and the motivation and direction to continue improving FMA for all.
New FMA Objective
As Free Music Archive is hosting unlimited amounts of CC licensed music while the musicians can enable web monetization on their artist, album and song page, we know we must continue to do more.
The FMA team has learned a lot about individuals willing to spend time curating, sharing and promoting artists successfully. The missing link today is the toolkit for musicians and enthusiasts to monetize content together. When do we know it's successful?
We believe it will be a combination of valuable insights about fair revenue sharing via web monetization and the community of participants starting to spread the word and showing others how to join and contribute.
Our main goals?
To research and unleash a resilient payment infrastructure and promote inclusive and sustainable monetization models for musicians in the music sector. We have to start with artists 100% in control and willing to experiment with new business models.
Our next steps?
The FMA team wants to do our best to ensure our support for FMA musicians with new tooling and opportunities on Free Music Archive to bring forward their value in the music industry, in societies, cultures and around the world.
We will continue to keep an open-door policy to all artists, musicians and members that has any advice and suggestions for FMA.
More inside stories by FMA?
The FMA team will share insights we have gathered with our FMA community and publish them on Coil.com
So, make sure to follow us and check out our previous chapters!
• Inside FMA - Chapter 1
• Inside FMA - Chapter 2
• Inside FMA - Chapter 3
• Inside FMA - Chapter 4
• Inside FMA - Chapter 5
• Inside FMA - Chapter 6
• Inside FMA - Chapter 7
Coil.com?
Coil is a fun way to enjoy original (premium) content from journalists, musicians, photographers, game developers, podcasters and many other creatives. With your Coil Creator account enabled in your browser, small amounts of money will travel from your account to the content creator. All-you-can-consume-content. You never pay more than $5 for a month access to tons of creative content while supporting the creators. More information? https://coil.com