Happy Holidays from Grant for the Web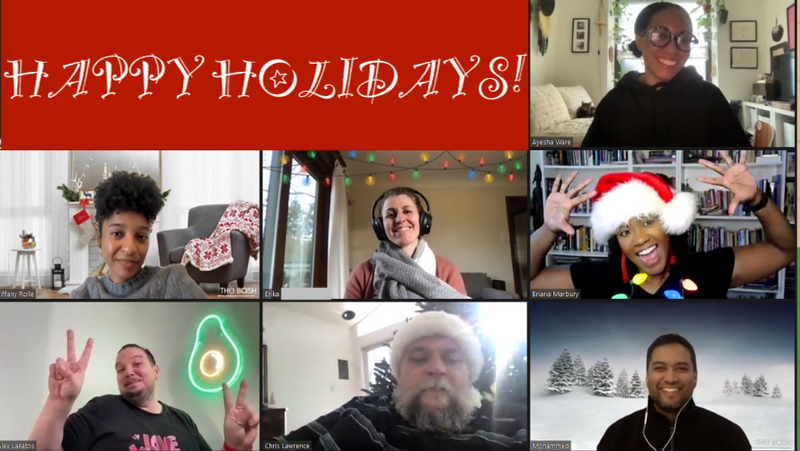 This is our last round-up of the year. We'll be off for the holidays and will return in January. 2021 has been a great year in Web Monetization and we want to say thank you to our community. Your continued support, sharing of ideas, creativity and innovation has allowed our community to grow and we appreciate you.
---
Projects MG.Social, ProgNovel and more reach the finish line.
Mathew Safford shares new web app for project MG.Social is live in final report
Our project has been a success and we have met all the goals that we had set out to accomplish during our grant period of June - December, 2021.

When we were deciding what success would look like for the window of this grant period we wanted:

An MG.Social mobile app released for iOS and Android (completed)
A re-designed and improved web front-end released (completed)
New MG.Social marketing materials (completed)
The completion of legal and tax items (completed)

In addition to accomplishing these goals we had hoped to grow the MG.Social user base to at least 500 accounts by the end of 2021, we have blown past that goal and now have over 1350 user accounts as of December, 2021!
Radhy Ramadhan project ProgNovel launches for public use in final report
Before I knew it, ProgNovel has been in the sixth month as Grant for the Web grantee. This grant report also signify the last days of me being a grantee of Grant for the Web with ProgNovel. So here it comes.

For short-term goal, launching the project means spreading words to let authors and creators know about he benefit of ProgNovel and Web Monetization API through forums and social media.

Long-term goal for ProgNovel is to research technologies more to align ProgNovel with more Web3 technologies, on top of incoming Interledger features like Coil tipping and features unlocked by Rafiki.
James Casia's platform Fliptoons for comic readers and creators is fully functioning in final report
We have finished the major features of the site, namely:

Comic reader page which have web monetization enabled if the author of the comic specified his/her wallet pointer_
A web monetized comic title page which lists all necessary details of the comic and all its episodes
Creator dashboard which let creators create comics/shorts and manage them
Home page showcasing the Discover, Top Ranking, New Releases, New Episodes, and Continue Reading section

The objectives that we detailed in the proposal were:

(1) Determine if webcomics is a great fit to a micropayment streaming monetization model
(2) Give content creators more options to monetize their work and protect consumers from privacy invasive ads and the inconvenience from too many subscriptions
(3) To create more awareness, especially Filipinos, to the problem with the web's current business model and to introduce more people into web monetization
Xander Jake de los Santos' project wips.art builds a better platform for sharing wips (works in progress) in final report
We wanted to create a platform for visual artists to share wips (work in progress). Most platforms, including those designed for artists, are focused on the "final" work. Though you can share wips with them, they are not designed for it.

One day an artist might want to share a wip for an illustration, the next day a wip for a different illustration and so on. This makes for a very messy instagram profile.

A better platform for sharing wips is needed and so we built it. On https://wips.art/ it's easy for artists to share wips in context, making their profile understandable for new fans. The platform also gives them the ability to monetize their work with Web Monetization!
Joshua Elkes' project Harbournew tool creates a way to access online content
With this being our final report, it's a great time to reflect on the journey from idea to launch. We set out to create a way for anyone online to request permission to use content from a creator under a creative commons license. Until we created this tool, content was placed under a creative commons license almost solely by a creator's own doing, and there was not a scalable way to request that content be placed under a creative commons license. The ability to layer in COIL payment pointer info to not only foster legitimate collaboration, but also meaningful monetization of the web made for a truly incredible opportunity. There were ups and downs, some related to COVID-19 and some of the highs being related to expanding our network of collaborators, and getting to build something truly amazing from scratch for the public to use.
Mathew, Radhy, James, Xander and Joshua thank you for being Grant for the Web awardees and we hope to see more updates and progress with your work in Web Monetization.
---
Metasebia Yoseph's project Addis Futures Lab builds Digital Gojo platform in Ethiopia
It's been an exciting 3 months since we began the project and remain excited about the possibilities. We're currently preparing to launch a working prototype for distributing and monetizing content while examining new models for commercial and cultural access.

As I mentioned in my introductory post, the concept behind Digital Gojo is to serve as a digital sanctuary for our target audience of viewers and creators. A "Gojo" is a traditional hut-style habitat and iconically signifies the "every-home" in Ethiopia.

The platform will serve as a virtual "home" or interior space where they can access a variety of content according to their interests such as: news, music, e-books and magazines, audio books and podcasts, nft art/ crpytomedia, children's content, and games.
---
Stayed tuned for new updates and upcoming community events in 2022!