The holidays are just around the corner, here are a few highlights to get you in the spirit!
ILP Summit reports and reflections keep coming!
Travel Grantees Takunda Chirema, Cassie Plunkett, Victoria Coker shared their experiences and from the Summit
Hello, I'm Takunda Chirema and I received a travel grant to the ILP Summit 2022 in New Orleans, Louisiana. I work at the UCT (University of Cape Town) Financial Innovation Hub which seeks to turn research in blockchain and financial services into viable businesses. I have a startup called Axone, which is a platform to collaboratively author written work. For the POC Axone used Web Monetization for streaming payments to authors. I was interested to know how Axone can become a web monetization provider to enable more features for creator rewards.
I was keen to know more about Rafiki which was presented on the first day by Sabine and I learnt a lot from it and the demo. The Revenue Sharing Language (RSL) presentation by Nic was particularly of interest to me as well because of the collaboration aspect of Axone.
I'm Cassie Plunkett, I am from the US currently based in Los Angeles, and I work for Beats By Girlz - a nonprofit whose mission is to empower the next generation of women and gender expansive people through music and technology. I came to the Summit with very little knowledge of the Interledger Protocol and the world of open payments, but with lots of excitement about the potential this technology has to help empower and connect our global community at Beats By Girlz and beyond. As someone with no real knowledge of tech outside of music production, my most important goal was simply to demystify, contextualize, and understand what any of this could mean for a musician or audio professional.
Coming into the Summit I was very anxious that the other attendees and the summit itself would be too technical for me to understand. I was relieved and overjoyed to find myself amidst a friendly crowd working in a variety of fields and experiences, some of which even overlapped with my own. While some of the panels and discussions I understood more than others, it was incredibly powerful to see all sides of the protocol from extremely technical to community-oriented. Simply put, there was something for everyone. Some of the most eye opening moments for me were during the Broadening Financial Inclusion, Life After the Grant, and Community Building for Innovation and Sustainability discussions.
Hi, my name Victoria Coker, I am the founder of Black Web Fest, a native New Yorker, and an Interledger 2021 grantee. I was blessed to receive a travel grant to attend the ILP Summit. I wanted to attend to really connect with the community. I joined the community during the pandemic, so this was the opportunity to meet the creators and builders in person.
Saturday, November 12th I took the stage with other grantees on a panel titled "Broadening Financial... what does that mean?" Sharon Wang led the panel and also featured Erica Hargreave, Andrés Arauz, and Karl Carter. Each panelist shared their experience and the need in their community for financial inclusion. The panel was a great conversation starter among other attendees. After I participated in a session "Life After the Grant". During the session, we had an open conversation on how to build sustainable organizations and shared resources.
ILP Summit Reflections from ILF Financial Services Grantees BessPay, Patrick Rahy and Fernando Almiñana
_BessPay is a content monetization and payment service for Caribbean digital creators. It connects creators to Interledger Protocol-enabled platforms and services through Mobile Carrier Billing & other local digital payment solutions.
We aim to enable most Jamaicans and Caribbean nationals with mobile phones to participate in the emerging global digital economy through Content Creation, Web Monetization, and Open Payment Systems.

Our key takeaways were:

Sabine Schaller's presentation on Rafiki an Open-Sourced Digital Wallet Library provides additional functionality that will be explored by BessPay. Some of this functionality includes:
Sending tips to Creators
Buying things online
Paying subscriptions
Connecting Decentralized Apps to BessPay's wallet
Excited to hear that Google and Apple have invited Interledger's team to experiment with Web Monetization with the aim of integration to their web kit technology offering. If this is successful, then this will open a lot of additional opportunities for Caribbean Digital Creators. 3.There is a general openness to collaboration, and we are very excited to follow up on all potential business collaboration opportunities started during the Interledger Summit 2022._
Hi all! I'm Patrick, from Kult. It was a pleasure meeting some of you in person during the ILP Summit and seeing how this community is open, accessible, diverse, and eager to learn with each other.
I have to say, I still don't know if the weekend gave me more friends or learnings xD
Key highlights about your participation at the Summit
First of all, the connection with the community was really remarkable. Something that made me feel really happy and proud was seeing so many diverse people coming together, sharing experiences, laughs, learnings, and good moments.
When showing Kult to you folks, I received a lot of powerful feedbacks and insights. I discovered, for instance, that there is an Indian version of Kult, called Bingeit! It was surprising and funny finding out that 2 people had the same idea in opposite sides of the planet. We exchanged ideas, experiences, problems, and we both left with the certainty that we are in the right path.
With Agnostipay, SnakeNation, People's Clearinghouse, Beats by Girlz, and others, I found friends and potential partners for the future. Thanks guys for the amazing time together!
It was also special to see a lot of people interested in our proposal to connect ILP to PIX. That gave us an extra clarity of being on the right path (oh, and we will come back with news about this soon ;D)
I'm Fernando Almiñana, from Venezuela and co-founder of Wallet Guru, a US fintech specializing in providing digital currency payment solutions for utility companies in Latin America. I attended the Summit along with Emilio Rubio, the company's founder. As newly awarded grantees, we wanted to get to know the ILP team along with the other cohort members and present our new project called Paystreme.
Key highlights about your participation at the Summit
Meeting the ILP team and its community was one of the most important highlights of the trip. Having the chance to interact with those responsible for leading and developing the ILP and propagating its use worldwide was humbling and inspiring. It will surely allow us to progress faster in achieving our goals with Interledger and its adoption in Latin America and beyond.
Another important highlight of the trip was having the opportunity to showcase our project, Paystreme, during the first day of the Summit. Being able to validate the idea conceptually and technically allowed us to fast-track our design process and fine-tune key areas of the business model.
We truly value all the information and feedback received during these days, as well as the relationships that were formed. The ILP Community not only took time out of their busy schedules to put together this event, but also created an environment of extreme insightfulness and dedication to all their guests.
Head over to Travel Grant Reports and ILP Summit Reflections read more from our grantees!
---
Final Grant Report from Philo van Kemenadefor Gradual details how skill-sharing facilitates learning and discussion between community members.
Philo writes…
Hello everyone!
It has been our aim to make it easy and fun for communities, companies and organizations to see what feels most alive and take action on shared interests. Our time as part of the Grant for the Web cohort has taught us many valuable lessons on how to achieve that goal as we empower members of the Web Monetization community with a safe and accessible space to learn with others as we grow into a healthy, social and connected ecosystem.
During the first months of the project, we've done important work to equip the current GftW cohort with tooling for peer2peer skill sharing. We launched a dedicated skill sharing space where community members share their how-how and learning intentions, from which matches with other members emerged. Since launch, we have released several improvements to the tool, more on that later.
This year's MozFest provided a first opportunity to meet many members of the GftW community, and we built on that momentum during the Community Call we hosted in March. These encounters have been vital in getting to know the learning needs of the Web Monetization community.
We have learned that the community's strongest motivations to come together and exchange are based around:
showcasing work and gaining new traction for your project
incentivization to boost open, fair, and inclusive standards and innovation related to web monetization
networking and or partnering with other cohort members
Our approach to learn from the behavior of members of this community has informed us about how to best serve the community and adjust our product design accordingly. We have been able to streamline user input by adding an important extension to the Gradual tooling in the form of a flexible database and authentication solution called Supabase.
A huge thanks to the Gradual team, Philo and Gunnar for working on this project and bringing our community together.
---
The Grantee Report
Meet Yotam Liel and Lior Zalmanson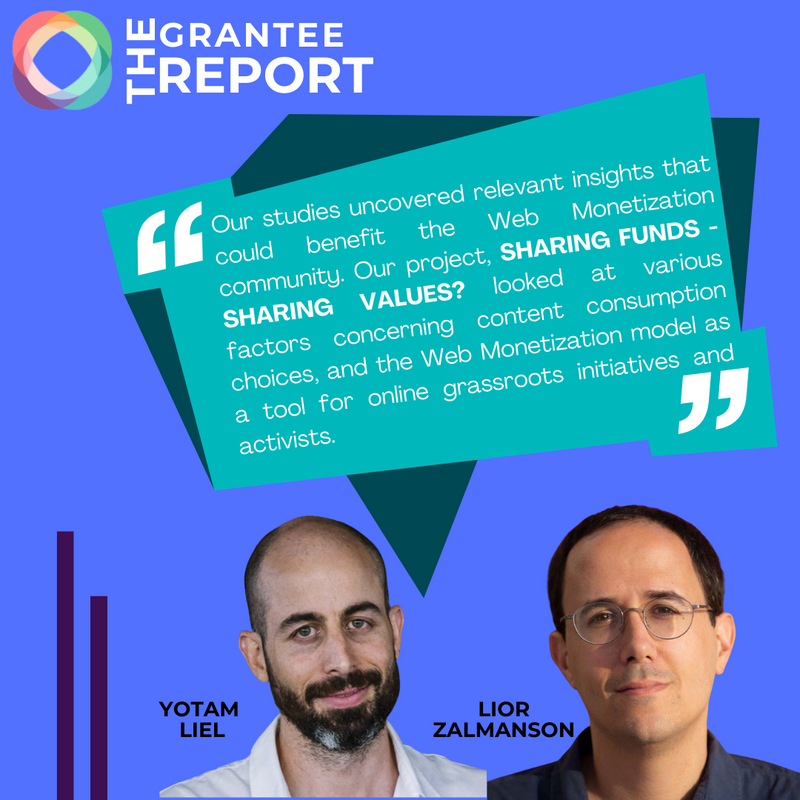 Is the Web Monetization model suitable for grassroots initiatives and activists operating online? Are consumers of online content willing to compensate creators? Do people prefer seeing ads or paying for subscriptions?
Check out the insights from the study and experiments done by Yotam Liel and Lior Zalmanson in this week's Grantees Report highlight here.
---
Project Updates
Maggie (https://community.interledger.org/magnanks) share new update on project Binusu Universal Wallet
Hello Community, This is to introduce the Universal wallet project that we are building as CryptoSavannah with the support of the financial service grant from Interledger Foundation. The solution we are working on is to addresses the problems of existing loyalty and rewards programs, which will also be an entry point to identity and crypto payment adoption.
Several business including airlines, retail shopping, fuel and hospitality operate loyalty and rewards programs which are plagued with delays from the long Turn Around Times, inefficiency as users hold multiple cards from different vendors and inadequate as points are not easily transferable from one vendor to another.
Our aim is to provide single digital wallet first in Uganda, a simple mobile application on a phone where rewards from loyalty programs are captured and easily managed and this will be integrated to the Vendors' sales management system.
Free Legal Consultations from ILF Grantee New Media Rights
We are offering free 1-hour legal consultation sessions for Grant for the Web recipients and others who are involved in Web Monetization projects. After the consultation, appropriate projects may receive additional free or low-cost legal services. We are licensed attorneys based in California, which means that we might not be able to speak to the specific laws of other states. We also can only advise on US laws.
If you're based in the US or encountering US legal questions, come talk to our team about your copyright and trademark concerns, contracts, and other legal issues you might encounter working with Web Monetization tech!
Read the full post to get more details or contact New Media Rights at support@newmediarights.org.
---
From the Community
Casey Herd for Ballet Rising shares new dance performance Esperança
In 2019 Ballet Rising went to Brazil to tell the story of Daniel Robert Silva, a rising star in the Dutch National Ballet who comes from humble beginnings. Dani Silva embodies the passion and love of art that inspires many to dream big and go far. We are proud to present his story. I
It is a lovely documentary, please take time to watch and thank you Casey for sharing.
---
ILF Updates
Open Payments Huddle: Accelerating Financial Inclusion: Year-End Recap & What's Next?
Yesterday, we hosted the final community engagement of the year. Chris Lawrence gave recap of 2022 and shared what's next in 2023, panelists Tabi Bonney, Lawil Karama and Karl Carter discussed their participation in the ILP Summit and shared their thoughts on the work being done by ILF and members of the Interledger ecosystem to enhance financial inclusion. The recording is now available and you can watch it now.
Did you know we have a newsletter?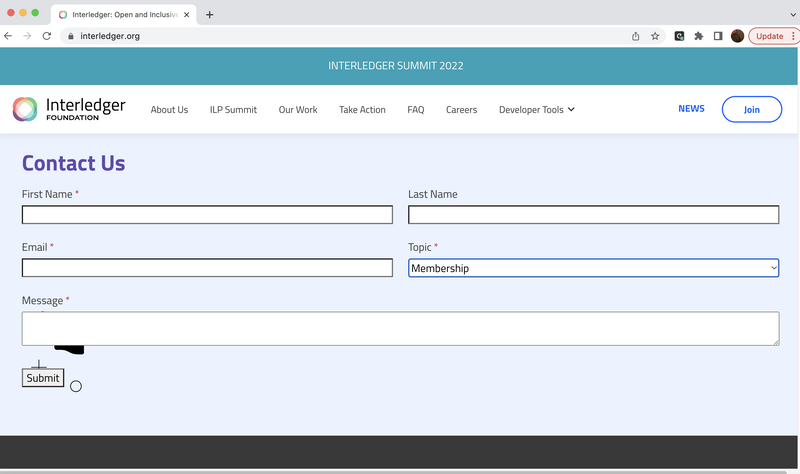 Join our mailing list and stay in the loop, sign up at interedger.org.
We're going on holiday!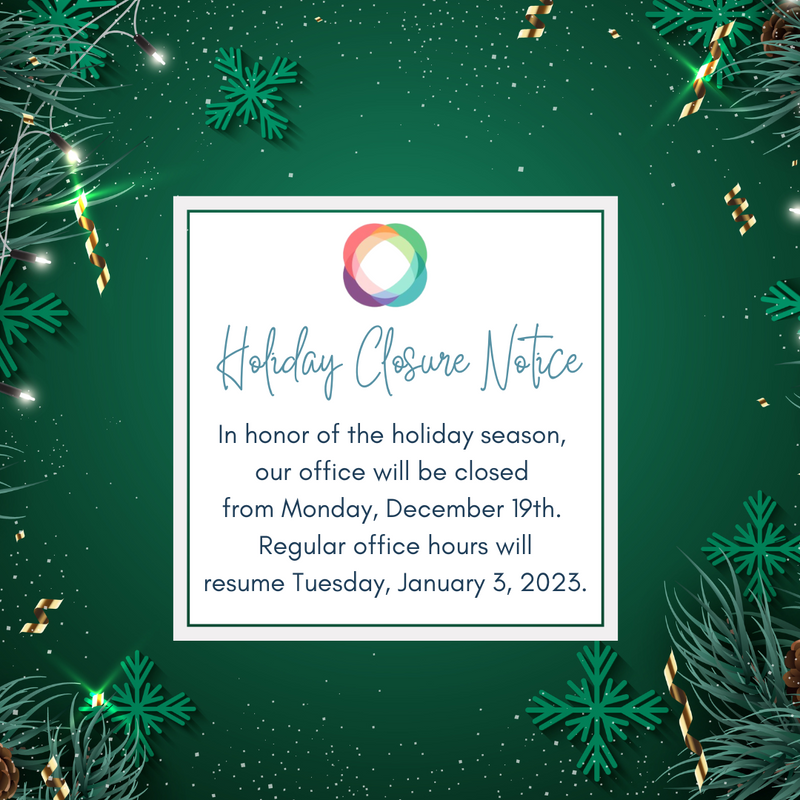 Interledger Foundation's office will be closed from 19th December until 2nd January 2023 for the holidays. We will resume operations on 3rd January 2023.
The support you have given us in 2022 is greatly appreciated and we look forward to serving you in 2023.
We wish you a restful and enjoyable holiday season and a successful start to 2023.