Catching up this week on what's been happening in the community!
---
ILP Summit 23
If you guessed it right, Costa Rica is the place to be for this years Interledger Summit
The #ILPSummit23 will be brought to you live from San Jose, Costa Rica; commencing on November 5th (Welcome Reception) through to the 8th (3-day Summit).
Will you be joining us?
We value our community support and participation. So, we are all ears! Let us know what you'd love to learn and/or experience at the next #ILPSummit23.
Stay tuned, more details to come!
---
EOI Alert: Seeking Projects for Summer Internship
Bowie State University is seeking to connect its students with the Interledger community in various technical and non-technical roles, via an internship program.
The goal is for HBCU students to contribute to open-source, open-protocol, and open-payment projects via micro-internships to develop and enhance their skill sets, primarily during the summer. Exposure to these projects, we anticipate will help students understand the benefits of open protocols, open-source projects, collaboration with global teams, and opportunities to apply and enhance their knowledge.
Please visit the link above to learn more about this opportunity and how to apply!
---
Meet Interledger's New Community Ambassador Hollis Wong-Wear
Hello! My name is Hollis Wong-Wear and I am excited to be a new Interledger Community Ambassador. I come to this work as an artist, a community organizer, a filmmaker, and a dot connecting enthusiast who is passionate about the intersection of creativity and social change. I am fascinated by new and daring models to challenge the status quo, and thus I am thrilled to dig into the technology and opportunity of the Interledger Protocol and catalyze discourse about creating more equitable financial ecosystems. More specifically, I have been honored to participate in the Future|Money Grant Program to bring in artists and creatives to generate new work that imagines financial futures - big shout out to Kokayi Issa for his vision with the program, and for bringing me into this fold.
We are excited to have Hollis on board, please be sure to drop a welcome note or comment under her blog post.
---
From the Community
gFam.Live reports on distributing advertising revenues to creators
We are now distributing 100% of our advertising revenue generated by the posts on gFam.live to the creators creating those posts.
We have never, ever, ever been a fan of advertising, so it's totally hurting our heart to have to rely on it to generate an income for our creators, but we've tried to make it as non-intrusive as possible... but we'll be very keen to incorporate web monetization again once all the technology pieces are available.
Read gFam.Lives monthly report here.
---
The Grantee Report
Beats By Girlz is exploring ways to simply explain web monetization to its global community. Through its grant project and sprint design activity, they've sketched out potential solutions and agreed on a BBG "Spaces" initiative which is a browser based music making and learning environment created by and for the global community. Designed by gender equity activists and educators, Spaces aims to make music technology more equitable and accessible.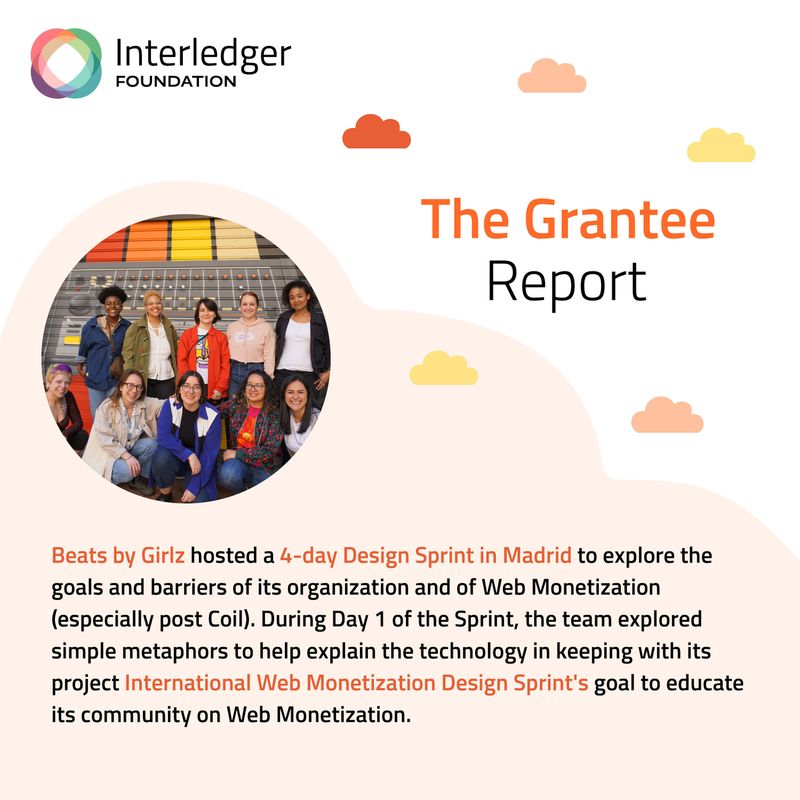 To learn more about Beats By Girlz project aimed at providing an equitable, accessible, and inclusive tool for learning and creating music, read their progress report here
---
Update on the ILP-enabled Financial Services Cohort
The ILP-enabled Financial Services grantees are wrapping up their respective projects.
Phase 1: Research & Development of the June 2022 Call for Proposal resulted in twelve projects being funded to conduct extensive research for the development of consumer-facing services that will activate as ILP nodes on the network; with the following outputs: a business plan for becoming a financial node on the Interledger network, a technology plan on how the project will use the Interledger Protocol and/or open payments technologies,; and to demonstrate an understanding of the requirements to obtain a money transmitter license in the chosen region(s) of operations.
You can review the deck of slides showcasing the 5-minute update provided by each project and final reports from Snake Nation, BessPay , Kult, AgnostiPay and CryptoSavannah.
Leave a comment, question or your thoughts on each report at the link above.
---
Grant Report from ILF Financial Services Grantee Thitsaworks
Nyein Thiri Han for Thitsaworks shares progress report on their project An Inclusive Payment Network for the Unbanked and Underbanked in Myanmar
We are thrilled to share the progress of our work dedicated to enabling microfinance institutions (MFIs) and its borrowers in Myanmar accessible to a Mojaloop enabled interoperable real-time payment switch.
ThitsaWorks has researched and designed an innovative solution to address the needs of microfinance institutions (MFIs) that lack an API-capable core banking system (CBS). Our proposed solution, Thitsa Payment Portal, is a cutting-edge product designed to meet this unique challenge faced by such institutions. The main purpose of Thitsa Payment Portal is to serve as a middleware layer for MFIs without the API capabilities with a core banking system or without core banking system to connect to the interoperable real-time payment platform built on the Interledger Protocol.
One advantage is that we won't be subjected to regulatory requirements from the Central Bank of Myanmar for the creation of this portal. It will serve as a middleware, facilitating the upload and download of bulk payment data by connecting to the interoperable payment switch. The primary legal framework for KYC (Know Your Customer) in Myanmar is established by the Central Bank of Myanmar. However, only financial institutions and designated non-financial businesses and professions (DNFBPs) are required to conduct customer due diligence (CDD) measures to verify the identity of their customers and assess the risks associated with them. Since ThitsaWorks is neither a financial institution nor a DNFBP, all KYC and CDD requirements will be met by the MFIs utilizing the TPP (Thitsa Payment Portal).
You can read the full report at the link above and leave your comments or questions.
---
Interledger Community Call Recap
If you missed the May 10 community call, Vineel has shared the meeting minutes and recordings for your review
---
Stay tuned for more from the Interledger community engagements!