There's lots to report this week!
---
BBC R & D Geo-limited Monetization Project Final Report
Bill Thompson reports out WMA final trial findings
Research
Using the funding provided, we created an internal team led by senior producer Ian Forrester and research engineer Iain McClenaghan, reporting in to Head of Public Value Bill Thompson. They set out to examine the potential of these technologies, building a prototype using the WMA to see if it was possible to limit micropayment requests to visits from non-UK site visitors.
Having completed a wide-ranging literature review to get an understanding of the context and ramifications of adding payments to the web, we built a number of demonstrators, ending with a prototype that uses the WMA.
Having assembled the technical understanding and support systems needed to deploy a geo-linked monetised site, we ran our trial with live users.
Initial Research
Currently, WMA is enabled by adding a link to the head of a web page. This includes the payment pointer to which WMA Provider should instantiate a payment stream.
It is then up to the website to decide how to use WMA. It can be entirely passive monetisation, providing the same experience to paying and non-paying visitors while funds are transferred in the background, or it can be exclusionary and implement a hard paywall for visitors so that non-monetised users see different content.
For the first stage of our experiment, we set up a series of demonstrations of web monetisation using the React module published by Coil. This was used to implement a GeoIP based system for determining payment rate in which the rate can be linked to a country's relative purchasing power. The payment system was then used to provision advertising, exclusive content, and a full paywall on a demonstration site, as part of the preparatory work for building the trial site.
In the process of this work some unexpected features of the WMA were encountered. Because the Coil extension relies on reading the Payment Pointer (the Interledger address to which funds should be transferred) it is possible to edit the extension and send funds to an arbitrary wallet. This could be done either by editing and compiling a new version of the extension, or by injecting the appropriate tag into a non-monetised page. We have shared these results with Interledger.
Finally, we developed a trial protocol to allow authenticated BBC users to visit our demonstration website and receive visual feedback of which country the site believed they were visiting from, and the payment rate for that country.
---
Beats By Girlz International Web Monetization Design Sprint — Progress Report #1
Beats by Girlz Cassie Plunkett gives us an update on the project's process on exploration & education and the design sprint meetup in Madrid.
Overview
Beats By Girlz is a US based 501c3 with a global footprint whose mission is to empower the next generation of women and gender minorities through music and technology. We're committed towards giving our community the tools, resources, access, and opportunities to reach their full potential and we do that work in full partnership with our chapters and chapter leadership all around the world.

Our process consists of 3 phases:
Phase 1 - Exploration & Education
Phase 2 - Design Sprint
Phase 3 - Compilation & Development

Project Update
We have now completed Phase 1 and 2 of our project, and are preparing for Phase 3. Phase 1 was in some ways the most challenging part, considering that web monetization and Interledger were foreign concepts to much of our community. We spent most of our time the last few months building a basic understanding throughout our group by meeting and discussing with each other, sharing resources, and assigning past projects to research and teach back to the other participants. Our hope was to walk away from this phase with a very clear understanding of the tools and functions associated with the technology, as well as a model for how to teach them back to our community in ways that are easier to understand. Our results varied, with some participants having a deep understanding and others left with lots of questions.

Luckily, we were able to get everyone on the same page and fill in any gaps during Phase 2. Phase 2 took place April 18-24 in Madrid, Spain in collaboration with one of our local chapters. 8 core participants from our US-based staff and our chapters in Malawi, Turkey, and El Salvador (plus leadership from our Madrid chapter) took part in a 4 day Design Sprint. Interledger also graciously sent Lawil Karama to participate in the first few days of our Sprint, providing an invaluable perspective and resource to our group. Over the course of our trip we explored the goals and barriers of our organization and of web monetization (especially post Coil), discussed past initiatives, explored ways to simply explain web monetization to our global community, individually sketched out potential solutions, voted on a core solution to test, and then tested out the efficacy of our solution on a small group of Beats By Girlz students, educators, program directors, and partners in Madrid. We're very excited by the results of the Design Sprint and look forward to entering Phase 3.
---
The Grantee Report
Interledger highlights the work of a grantee, this we have two for the grantee report
Hyperaudio
Imagine a platform that allowed conference organizers to preserve, promote, repurpose, and monetize their recorded content. Web Monetization offers the opportunity to compensate existing content owners and incentivise the creation of new derivative forms of content.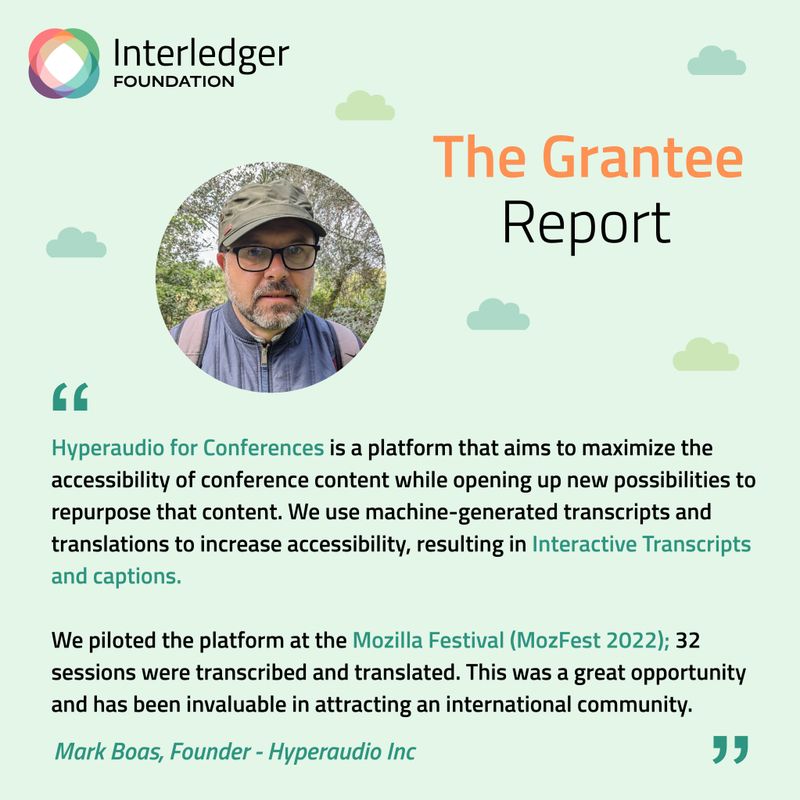 To learn more about Hyperaudio, review their project's final report here

BBC R & D
BBC Research and Development's project which explores how the interaction of web monetization and geo-blocking will help organizations that want to geo-limit the use of WMA.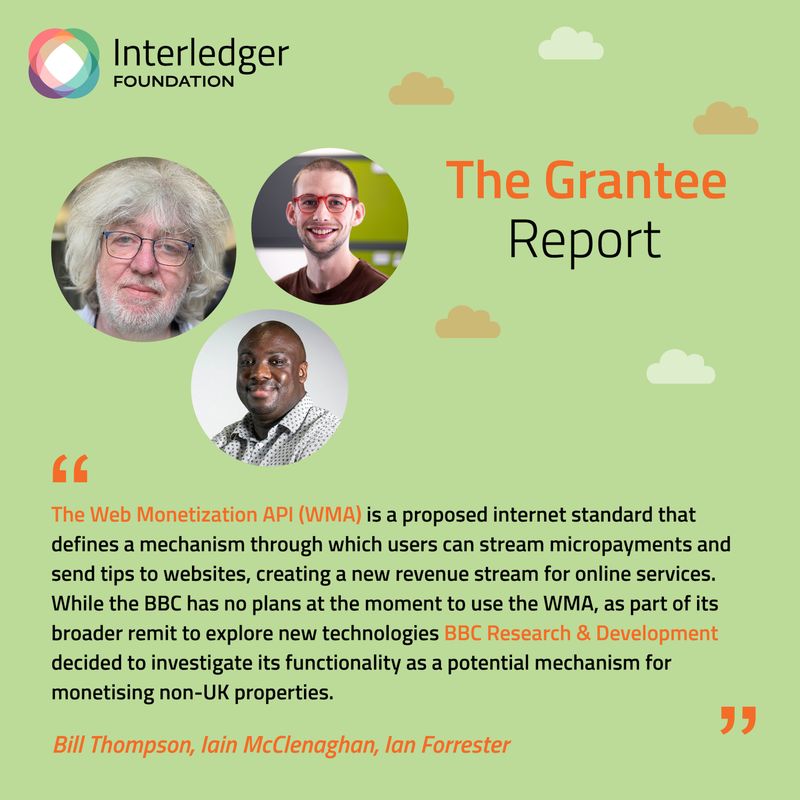 For more about BBC's project, read their report here

---
Grant Reports from the ILF Financial Services Cohort
ILF funded 12 projects that ranged from a coalition of credit unions in rural Mexico, tooling to measure impact investing, a program to facilitate cross-border small business loans, and other ideas to expand how people can benefit from the Interledger Protocol. Each project explored compelling use cases for ILP-enabled digital wallets, neobanks and community platforms.
We hope you'll take some time to read each report, leave a comment or ask a question.
Kult ILP Open-Source Digital Wallet
Snake Nation As- A-Tier 1 ILPS
---
Watch Now! ILF community activities from our recent panel discussions at GDDF and Open Payments Huddle are out now.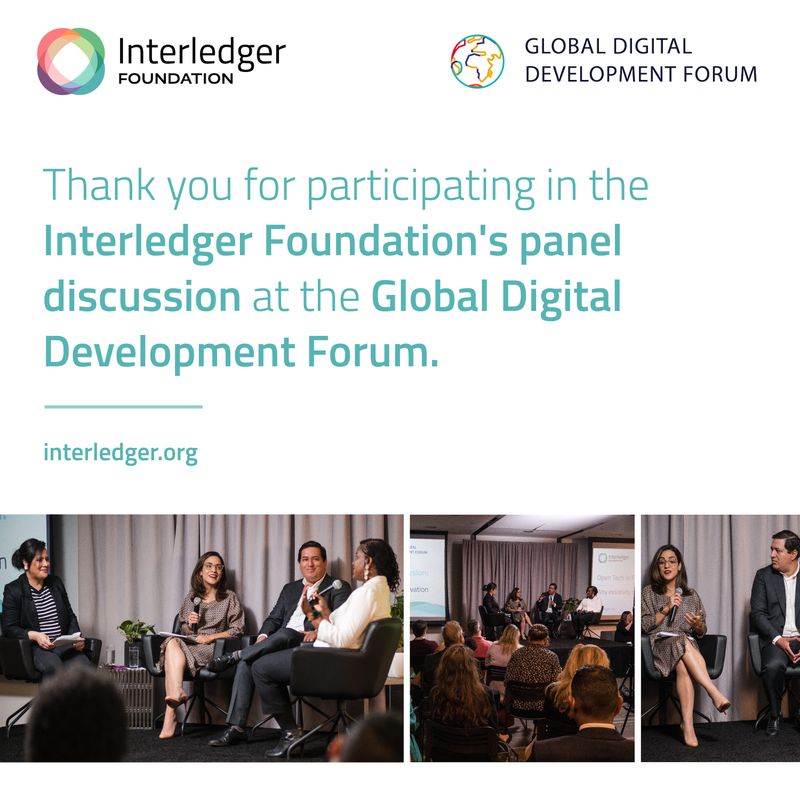 Interledger Panel Discussion at GDDF
A special thank you to our panelists and viewers for participating in #Interledger's panel session on Open Tech in Financial Inclusion: Why Inclusivity is the New Innovation at the recently held Global Digital Development Forum.
If you missed the session, you can view now at https://vimeo.com/819256522
---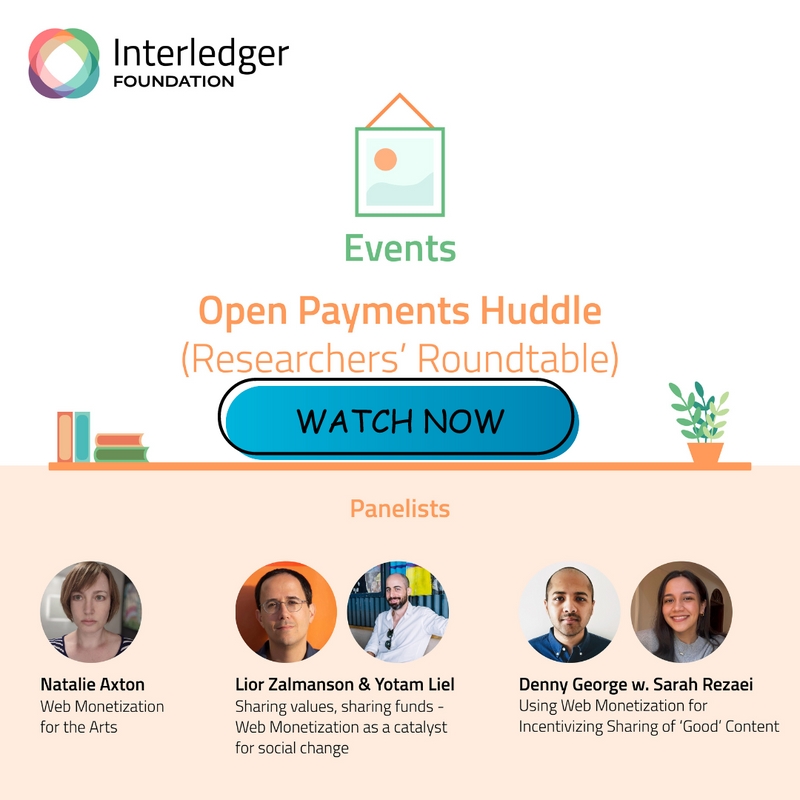 Open Payments Huddle: Researchers Roundtable
ILF Grantees Natalie Axton, Lior Zalmanson, Yotam Liel, and Denny George w. Sarah Rezaei & Hansika Kapoor to discuss the topic User Research in the Open Payments Ecosystem and respective research projects on the adoption of Web Monetization and Open Payments in various groups.
You can watch this panel discussion here
Many thanks to the panelists and guests for participating in our community gathering of purposeful discussions and the exchange of best practices amongst individuals and businesses within the Interledger ecosystem.
---
Interledger Community Call on 10 May 2023!
Join us next week for a deep dive presentatio, Patrick Rahy, Helena Tude and team will be presenting on Kult.pt, a social platform for culture lovers to discover, share and organize content. The Kult deep dive will include the technical documentation explaining how Kult plan to develop an open source ILP-based digital wallet.
Plus updates from
Interledger Foundation
Fynbos
Rafiki
Open Payments teams
Time: 10.00 AM Central Time
Meeting Minutes:
Public note taking document here.
Meet joining info
Video call link
Or dial: ‪(GB) +44 20 3956 1581‬ PIN: ‪476 812 309‬#
More phone numbers: https://tel.meet/pzs-iwrv-jny?pin=2824719901292
Have questions or need help? Join us on Slack here.
---