Following my Masters research into NFTs ...
... the team and I behind the internationally award winning nature documentary and web series Naturally Ours are launching an NFT Collectibles experiment for fundraising future seasons of the series.
Seeing as a number of people in our community have been interested in NFTs, I thought I'd share the experiment as we work through it.
For those of you that are unfamiliar with Naturally Ours, it is a nature series all about parks and natural spaces and the people they inspire.
Our team loves shooting this series, as the stories people share with us are rich in hope, cultural understanding, and awareness and connection to our natural world. While we might think we have an idea of what the people we interview are going to share with us, we are constantly blown away by the greater depth and layers of understanding that they end up sharing with us. For me, this also allows me to return to my nerdy, tree hugging biologist days.
We shot Season 1 of the Series on Salt Spring Island. In addition our film festival screenings, and featured launch on Vidme (which alas exists no longer), the series can also be found on:
And we shall share Season 1 on Roamancing's Cinnamon, as a part of our NFT launch.
And then the documentary, can be found on:
After conducting the NFT research above, we decided to attempt a Naturally Ours NFT experiment to see if we could raise money for filming subsequent seasons of Naturally Ours, like Stoner Cats has done. The major difference here being that wanting to create a project with heart, we have looked to Anatomical Hearts and Emotion Monsters as our role models.
What this means is that we contracted Bjorn Yearwood, a recent university graduate turned art therapy student to create some NFT collectibles for us. Why Bjorn? As he gets us and our storytelling, is using art to do good in the world and help others, and as he is an incredibly empathetic young fellow, which fits with how we operate within this series. You can see him pictured below from his graduation a couple of weeks ago.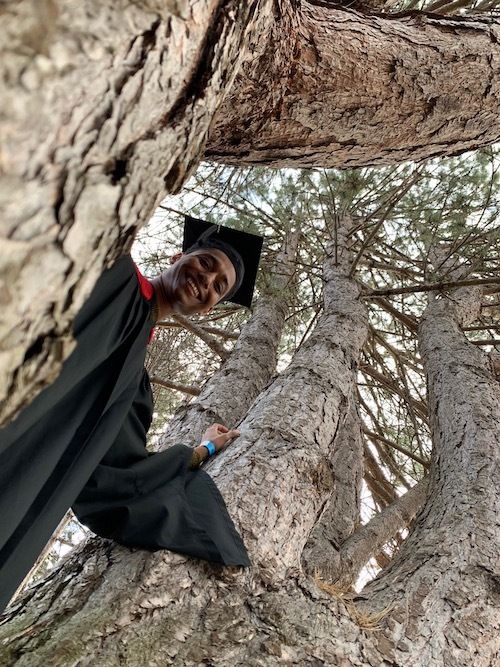 For our first NFT drop, Bjorn has crafted a series of characters that we got to know through Season 1 of the series, including Mount Maxwell pictured above.
Our goal with these NFT collectibles will be for:
10% of NFT sales to be donated to a nature charity in the areas that we film,
10% to go to our NFT artist Bjorn Yearwood in royalties (with the hopes that if we are successful that this will help further support him through his art therapy program), and
the remainder to go to the production of future seasons of Naturally Ours and an accompanying website with park and educational guides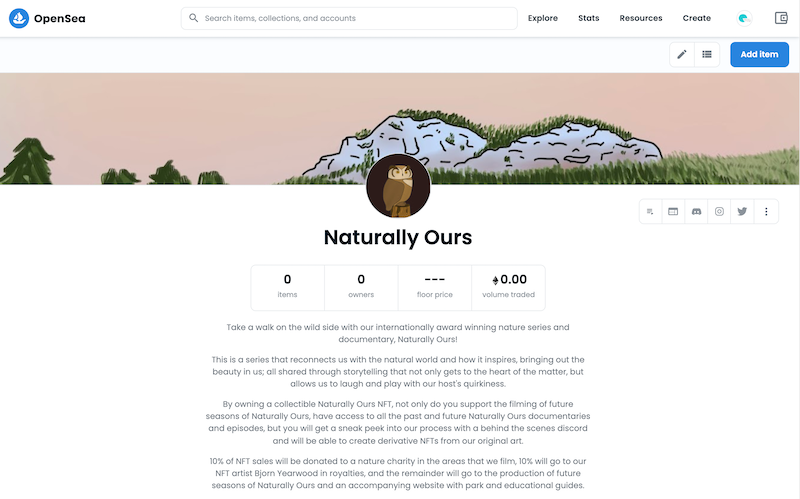 By owning a collectible Naturally Ours NFT, the purchaser will be supporting the filming of future seasons of Naturally Ours, have access to all the past and future Naturally Ours documentaries and episodes, get a sneak peek into our process with a behind the scenes discord, and will be able to create derivative NFTs from our original art.
If you have others things you think would be beneficial for us to share here, please let me know. With this I will be creating a public version to the Naturally Ours website (that will be Web Monetized), and a private version of the site, purely for the NFT holders.
As mentioned above, I have also built a Naturally Ours discord community, which I've quite enjoyed putting together.
I've designed the discord so that the community can:
get behind the scenes glimpses into the series development and production
be able to participate in development discussions
share their nature rambles
share their nature pictures
chat about other nature series they enjoy
indulge in mindful moments
talk about their favourite parks
In addition, we have created a space in the discord for NFT enthusiasts to chat about that world, and for teachers to discuss and share nature education resources.
On that note, we invite you to join the Naturally Ours discord, whether to follow along on the experiment, to support us in fostering the community there, or to nerd out to nature with me.
More on how this experiment plays out soon. Next up, I will be minting the artwork that Bjorn sent me! Stay tuned!