This week's roundup includes details on our new open call for proposals, the grantee report, a cohort update, grant reports, ILF tech update, and next weeks Interledger Community Call.
---
Future|Money Art & Culture Grant Open Call for Proposals
The application for our new open call for proposals is now open. You can apply here. The deadline for submissions is Friday, March 24, 2023 at 11:59 pm EST.
FUTURE|MONEY is the first in our new Arts & Cultural stream of awards, which we call Inti/vations. "Inti/vations" is a portmanteau of intention and innovation, centered on the idea that intention exists within the creative core, acting as a catalyst for empathy to evoke positive human reaction. Through empathic, intentional expressions of a financially inclusive future, new systems of economic justice can emerge through the liminal scenarios created.
To learn more about this exciting opportunity we are offering office hours sessions. This is an excellent opportunity to drop in to ask questions you may have about the Call for Proposals.
You can register here for one or more of remaining weekly sessions.
March 8, 2023 at 3:00 pm EST / 8:00 pm GMT
March 15, 2023 at 8:00 am EST / 1:00 pm GMT
March 22, 2023 at 10:00 pm EST / 7:00 pm PST
---
The Grantee Report
There is undoubtedly a lot of interest in monetizing digital content, Natalie Axton in her research found that artists do not have a lot of experience with technical skills like editing HTML or installing WordPress plugins to enable them to earn online.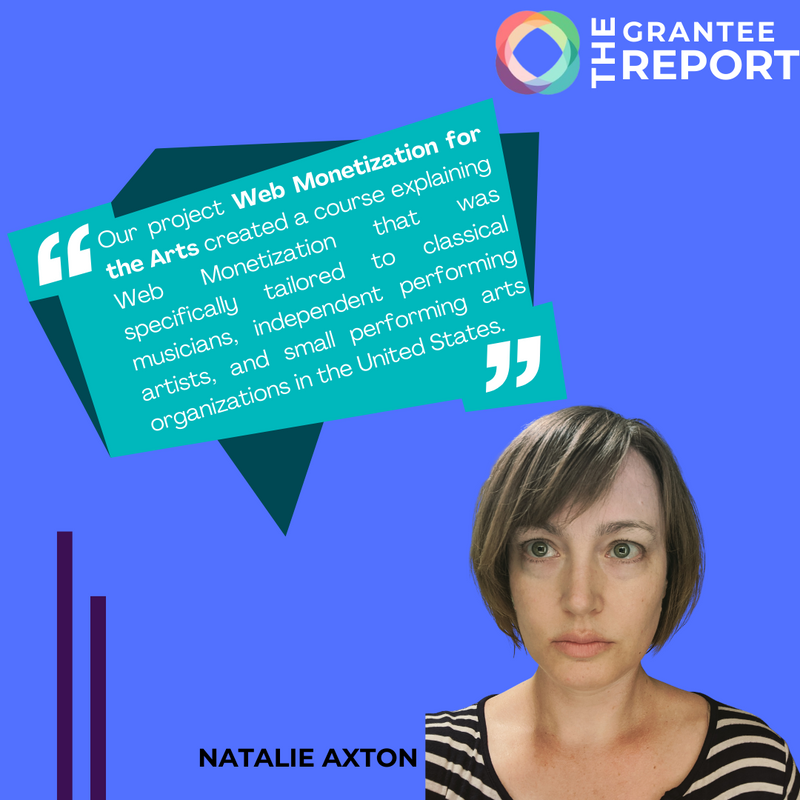 Via her project, Natalie created a course to educate the creative community on Web Monetization. How the Web Monetization ecosystem evolves over the next few months will be interesting to see. In the interim, take a look at the work done over the past few months in the Web Monetization for the Arts project.
You may read the report here
ILF Financial Services Cohort Update
Julaire shares an update on the progress of cohorts projects that included a 2-Day Sprint Check-in & Exchange in January which provided the grantees with the platform to exchange ideas and best practices as they seek to implement their respective projects.
Here's the deck of slides showcasing the 5-minute update provided by each project.
You can read Julaire's full post where she also shares links to each grantee's progress reports.
---
Grant Reports
Nicole Li shares the bumps in the road that her project Elementari has experienced but have built a Web Monetizeable pathway for educators and artists.
The Flops and Struggles
🤔 For us, the largest struggle has always the UI/UX, and in particular the proper messaging of what exactly is Elementari to our target audience - K12 educators.
This struggle has also extended to Web Monetization as a whole. We have learned that the struggle is not just about adopting a novel idea; it is about not being vetted by known institutions, not being currently used in mass, and not being able to clearly answer the question of "what's in it for me - right now."
The Wins and Highlights
💻The software development side of things is "as expected". So it counts as a win? When developing software, we expect bugs, and typically a solution is pretty straightforward (though it often takes more time than planned). All in all, we've completed the majority of our software development and have developed additional features to make Elementari just more accessible and fun.
👥 Attending two education conferences was a turning point for us, as we were able to directly engage with education influencers and decision-makers. This gave us a better vision of where we want to take Elementari, how we can integrate Web Monetization, and how partnerships can spearhead these efforts moving forward (more on that in Communications).
Melissa Srbinovich delivers final report for PRX's Web Monetization for Podcasting project.
We have onboarded 3 well known podcasts from our Radiotopia network to use Web Monetization. They have already added payment pointers to their feeds on Dovetail, and web monetized players to their websites:
Song Exploder by musician, podcaster, and Netflix star Hrishikesh Hirway
Theory of Everything by pioneering independent radio producer and podcaster Benjamen Walker
This Day In Esoteric Political History from prolific producer Jody Avirgan, scholar-researcher-author-podcaster Nicole Hemmer, and award winning author and professor Kellie Carter Jackson.
We hope these shows will serve as examples to their peers and the podcasting community, especially in how simple it now is to add this additional form of support for podcasts.
Tani Olhanoski's final report Web Monetized Digital Knowledge Commons for project Mysilio built a platform using Solid and Web Monetization.
Project Update
We're excited to finally be able to share with you all the work we did as part of the second round of Grant for the Web. While we weren't able to achieve all our goals, we were able to build a solid (pun intended) platform for building and deploying a knowledge commons community using Solid and Web Monetization. In addition to the functionality we've already built, our architecture is now easy to extend and integrate with, allowing anyone to build their own custom add-ons and plugins with relatively little effort. The Digital Gardening (https://maggieappleton.com/garden-history) movement is just getting started, and we're excited to provide this toolkit for others to build their own richly interlinked knowledge commons ecosystems.
Progress on objectives
Mysilio Garden
https://mysilio.garden
Mysilio Garden is a demo interface for managing and automating a social knowledge commons stored by and monetized for multiple Solid personal online datastores, or pods. Each user logs into the application with their own Solid pod, and all data is stored in those pods. We have no other databases we use to store data – just the Solid pods. This means that every piece of data on the platform is owned by a specific person or organization with a specific WebId and Web Monetization payment pointer.
*Carolyn Malachi's final report for project Call & Response addresses two problems for performers and artists. *
The Call & Response system (U.S. Patent Publication No. US-2022-0122570-A1) addresses two problems for individuals (referred to hereafter as "performers") operating in the virtual performance space: payment friction and inaudible audiences. A matter made urgent during the height of the COVID-19 pandemic for music professionals who found themselves involuntarily out of normal work, also proved consequential for recording engineers, producers, songwriters, music instructors, and other professionals whose work shifted from in-person and relationship dependent to online and anonymously associated. Call & Response sought to and digital signal processing technologies to achieve its goal while preserving the privacy of audience members using only information from their live-virtual event feedback (comments, emoji, etc.) to guide what the performer or practitioner hears and how much digital currency that person or entity receives.
Research
When designing Call & Response, the question of whom the system needed to reach and if they would be likely to adopt the system once complete was raised. Women, young workers, and racial and ethnic minorities were among the major demographic groups experiencing the greatest increases in unemployment during the pandemic. Studies show that prior to the pandemic, women who worked in the music industry were already behind the economic curve before the pandemic with 90% working multiple jobs to earn a livable wage. Also, among the music industry's studied population of producers and engineers, reportedly only 3% are women, a figure that is oft refuted by the population itself. Women working in the music industry appeared poised to benefit the most from the Call & Response system, especially given their daily interaction with technology. Neither of the available quantitative analyses included information about open payments or whether this demographic had used blockchain-based technologies to support themselves economically.
---
Interledger Community Call
Join ILF team members Vineel and Chris for the Interledger Community Call on March 8, 2023 at 4.00 PM GMT / 10.00 AM Central Time. There will be updates from Intereldger, Fynbos, Rafiki and the Open Payments team and more.
Meet joining info
Video call link
Or dial: ‪(GB) +44 20 3956 1581‬ PIN: ‪476 812 309‬#
More phone numbers: https://tel.meet/pzs-iwrv-jny?pin=2824719901292
Add to Google Calendar
ILF Tech Update
We are happy to announce that we've finished the last issue in the Rafiki v1 milestone, and we invite you to help us with the documentation.
Check it out here.
Rafiki weekly Community Call and Github details
If you have any questions, head to Vineel's post and leave a comment.
---