Image (optional)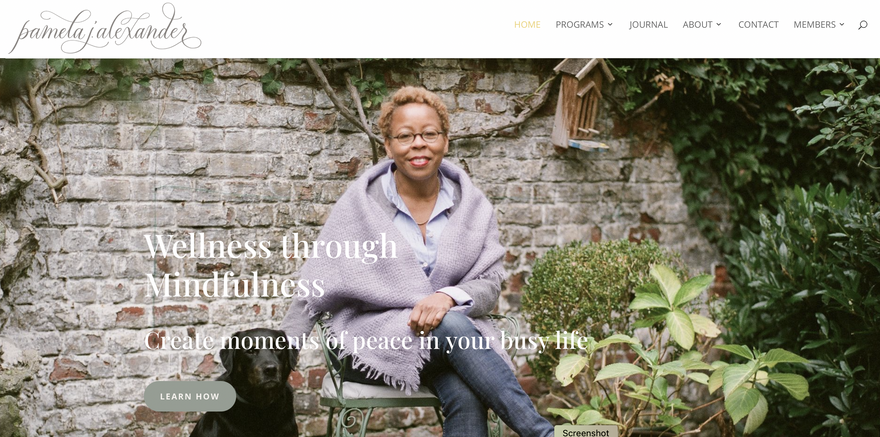 Project Update
I finished my last report with "My team is confident that we will have the basic site up and running in about 4 weeks." That was the February 21. Four months later, I feel like I'm careening into home plate head first…coughing up dust and dirt! But I did it. The site and my course are both finally live. And I thought I was requesting that extension so we'd have a few more weeks breathing room. Ha!
It goes without saying, this project did not come without its challenges. My developer's dad got really sick, so she brought on someone to help her. Shortly after my last report the site started acting buggy and when I brought it up the "assistant" developer, she got mad and quit. Then as far as we can tell, when we installed a WordPress update, the site broke because the person helping was hardcoding and using CSS instead of the template/theme. Then my original developer's dad ended up in hospice, so to keep everything going I had to rebuild the all of the pages for both the site in WordPress and my course in LearnDash myself. My developer jumped in fixing things when I couldn't figure out how or when she could.
Once the course was built I turned my attention back to videos. As it turned out, the videographer I hired was not the video editor she claimed to be. Or at least was not willing to work with me to edit the video, despite not being a mindfulness teacher or understanding the content and how it should flow. So I had to learn how to edit video. Everything was moving ahead smoothly until it wasn't! So while I'm left dusting myself off, I'm also very proud of what I've accomplished.
Progress on objectives
My final deliverables include:
— Development of WordPress site using Divi themes with LearnDash
—An 8 module course with 3-6 videos per module
—Linked student documentation, audio meditations and integrated mindfulness exercises.
Here is a recap of the main goals of my project and what I've learn creating the deliverables:
Use my site as a test case to see if MBSR can be made available on the Coil platform. The short answer is yes, Coil/Cinnamon is a viable platform for delivering course content, but it can't be dripped one module at a time or in a specific order on Coil. And the Coil tech team told me that "Coil Web Monetization plugin is not working on adding the functionality to schedule content". So the course content must be delivered as standalone modules. For a fully functional course, I integrated LearnDash into my WordPress site using a Divi theme. The integration between Coil/Cinnamon and LearnDash is as simple as uploading the widget into Wordpress. And with LearnDash you have all of the functionality needed to deliver a fully functional course that drips content, allows for quizzes, etc.


Promote remote and affordable delivery of courses (MBSR) that pays (MBSR) teachers fairly: On first glance the short answer seems to be that Coil/Cinnamon is still too new and doesn't have enough traffic to make it a feasible learning platform that allows teachers to make a living. But again as explained to me by the technical team at Coil there is the possibility of leveraging both the " 'Monetized and Public' option, which pays creators when Coil members visit the site while allowing 'Non-Coil members' access the same content keeping creator's content open to everyone, while still getting paid for Coil views. This can be a great option to begin site monetization for those who are reluctant to lock exclusive content for Coil members only and are using other means of payment (like PayPal) in the interim to unlock exclusive content until Coil web monetization revenue picks up because it means they are being rewarded for views and can also get a good sense of how much they are making from Coil members as they move forward with the current operation."


Create a turnkey model for (MBSR) teachers who often are not tech savvy. 
The short answer is that the platform is evolving at a lightening speed. Issues that made the platform not "turnkey" ready for delivering courses in March 2021 had already been resolved by April 2021. At this point integrating Coil into WordPress is not an issues because as I mentioned above Coil Web Monetization only requires a plugin. Therefore how turnkey the delivery of any course will be is dependent on what tool the creator decides to use to deliver the content (e.g. custom LMS or theme vs. out of the box LMS and theme, etc.) and if they have the course content developed or not. Again I used WordPress and LearnDash, so anyone can download an out of the box WordPress template buy LearnDash and if they have the course content have their course up and running in weeks. Or they can get something more custom and still using WordPress and LearnDash, it could take months.

Create a framework that helps (MBSR) teachers promote and monetize their courses: As far as a structure that helps teachers promote and monetize their courses is concerned, I'd recommend keeping it simple. Here are my recommendations or things to consider:
A good quality course doesn't required TV or movie level equipment to be well done or effective. The equipment can be as simple as a smart phone, a lapel mic and the free software that comes with your computer like iMovie and GarageBand. Upgrade your equipment from there depending on your budget.
Consider shooting your own video. I hired a videography, but I would encourage others to buy the video equipment, learn to use and edit the video.
Learn how to do everything yourself, even if you don't have to. I believe that the long term benefits of being able to create, edit and release your content yourself will outweigh the initial challenge of learning how to do it because you can use the skill to continue to create videos for ongoing marketing, post-course support, or additional course creation, etc.

Note: When I started I was thinking of mindfulness teachers and the like. But I now realize that that's everything here holds true for educators of all kinds, so I now have MBSR in brackets.
Key activities (so far)
Communications and marketing
Repeating what I wrote in my first report, while I didn't expect it at the onset, I am fully integrating Coil's, Mozilla Foundation's and Collective Commons's philosophy into my long-term business and marketing plan. As a result I'm am limiting my use of social platforms like Facebook and Instagram, which invade people's privacy and I've applied a Creative Commons 4.0 license to my site.
On my homepage, I highlight my Cinnamon video with a link to https://cinnamon.video/pamela and I've created an About Our Grantors page (https://www.pamelajalexander.com/about/grantors/) describing my mission and position on security and safety as well as celebrating the support provided by of the Grant for the Web and Coil.
I'll post weekly premier videos on Coil. These premiers will include Coil exclusive content. When the video is not Coil exclusive I will post it a week or so later on YouTube.
And as soon as I hit the 1,000 subscriber/4,000 views threshold I'll start doing YouTube Lives. I'll then invite my FB/Cinnamon Video followers to meet me there for live events.
I'm currently writing a series of articles for Reddit, CoilBLOGS, LinkedIn and Medium. These articles will support the video series as extra content. As with the videos, they will first be released on CoilBLOGS and my website, then on LinkedIn and Medium the following week.
I've already started sending broadcast emails to my mailing list. Now that the site is up, I'll begin driving my current subscribers to Coil with an email campaigns.
And finally I've started talking with a handful of MBSR teachers, who absolutely see the value of a platform like Coil/Cinnamon and starting to look at ways to integrate the platform.
What's next?
I have a month before my Grant for the Web Final Report is due. From now until well beyond the delivery of my final report, I'll focus on marketing my site and Coil, posting on CoilBLOG, Reddit, LinkedIn and Medium while continuing to post videos on Coil and YouTube and of course promoting my course.
What community support would benefit your project?
How you can help me:
Please share, like and follow me on Cinnamon at https://cinnamon.video/pamela
Please share, like and follow me on YouTube https://bit.ly/3w7kdXL (I need 1,000 subscriber/4,000 views so I can start doing YouTube Lives!)
Check out my course, tell me what yo think. What works? What doesn't? How is the experience? Suggestions? https://www.pamelajalexander.com/courses/wellness-through-mindfulness/
Additional comments
How I can help you:
Lessons Learned
For the benefit of all the grantees, I asked myself what I learned, what I wish someone would have told me and what I could I have done better.
— Know your project inside and out. I certainly could have finished the project sooner by calling in favors to get the site built and the videos edited faster, but I believe by taking on the challenge of thoroughly understanding the in's and out's of how my site is built, how the integration with Coil and LearnDash happened, I'm more self-sufficient which will enable me to both do and delegate work better in the future. 

— If you run into delay or issues reach out to the Grant for the Web team (Ayesha, Chris and Erica). You may need a time extension or advise. They REALLY are here for us. So the moral of the story is don't suffer in silence. Everybody is really nice. Call if you need help.
— The Coil tech team is super helpful. Here's a shout out to Sara Jones and Marc Perel over at Coil, who walked me through the integration of Coil with LearnDash. They are more than willing to share insights and offer up suggestions too. Plus they are open to suggestion from us, which helps them improve Coil. It's win/win. 

— Grantees come from all walks of life. Some are highly, highly, highly technical. Other are plain old folks with great ideas. Don't be intimidated. Just introduce yourself. Even if you're not super outgoing, if you introduce yourself people in the community will connect with you just because they are interested or have similar projects. And the Ayesha, Chris and Erica are incredibly supportive. Don't be surprise if they spontaneously connect you with other Grantees!

— Look for opportunities to connect with other Grantees. You may not be able to attend all of the events, but make an effort to show up for some. You'll be surprised by what you'll learn and who you'll meet. The more often you run across people's paths, the more likely they are to reach out and the more chances you will have to connect with others. The GFTW community has been amazingly helpful, willing to share and promote everyone/each other.