Hi everyone!
This is our final grant report for the January 2022 Grant for the Web Public Call as a Flagship awardee. We have completed the milestones in our project and we absolutely massively appreciate this opportunity provided by Grant for the Web. It's just an incredible program.
Throughout the project, we've been very focused on working towards solving these problems:
Introduce Web Monetization to the content creator ecosystem in an easily understandable way using a familiar format.
Enable creators to monetize their content without needing to resort to brand deals, sponsors, advertisements, merchandise, courses, subscribers, etc.
The platform to try and solve these problems is gFam.live. We have built a variety of functions to bring more content creators into the world of web monetization, and functions to assist creators to monetize their content. Let's go through all the things!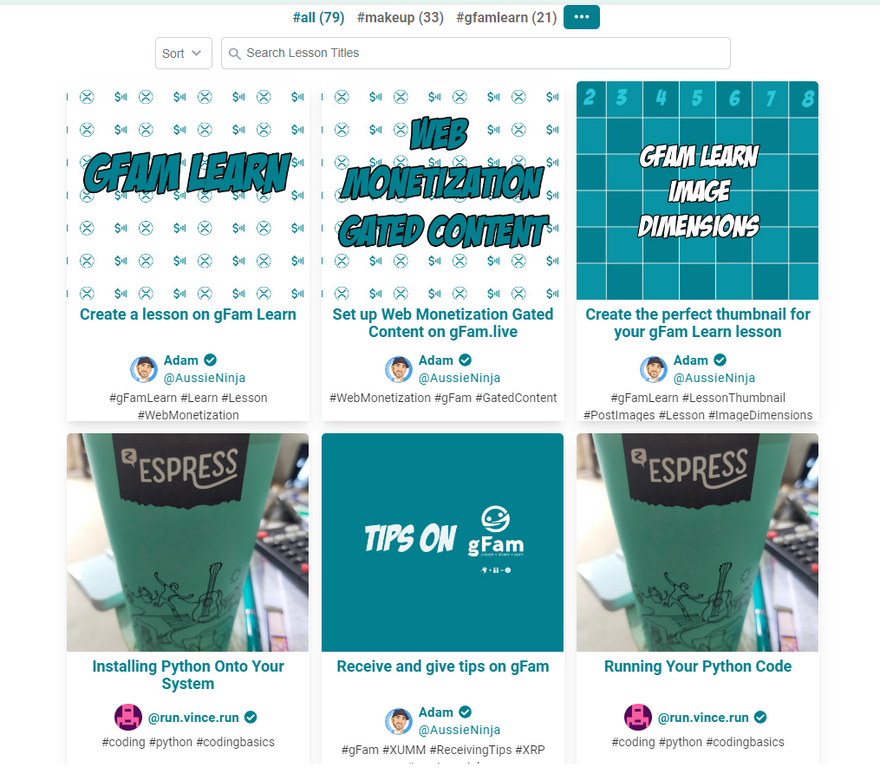 Above is a screenshot of gFam Learn
Project Update
We've completed our milestones:
Embedding videos into posts
Gated Content for Coil Subscribers
Web Monetization statistics for creators
Tipping automation to tip large numbers of users
gFam Learn
gFam Challenges
Web Monetized Chat Room
Obstacle Course Competition Tracker
From a technical perspective, we've had to do a lot of problem solving, an absolute ton of testing and, honestly, we weren't sure if we were going to be able to do the tipping automation... but with some amazing work by our developer we got there in the end.
We think that we're providing functionality that no other platform in the world is offering, so that's exciting!
One thing that's been a little disappointing is that while we've built some really fun functionality, that has been embraced by our community, we haven't really moved the needle on Web Monetization Subscriptions via Coil.com.
We do understand though, that this takes time, lots of educational material and marketing... so that's where I'll be spending my time in the coming months. It's not always easy to set someone up for Web Monetization on gFam.live and while the people who have set it up love it, I'm still essentially bringing people across one by one... although we're hoping gFam Challenges might help change that.
Progress on objectives
We have been providing monthly progress reports on our blog, but sometimes we get too excited to wait for the end of the month:
Embedding videos into posts
Gated Content for Coil Subscribers
Web Monetization statistics for creators
gFam Learn
Web Monetized Chat Room
Obstacle Course Competition Tracker
gFam Challenges with automated tipping
Honestly, the use by the gFam community of these new capabilities has been super exciting to see.
I'd say every day or two someone adds a video into their post or lesson. For the lessons in particular, it's incredibly helpful. People learn in all different ways, and people also learn different things in different ways.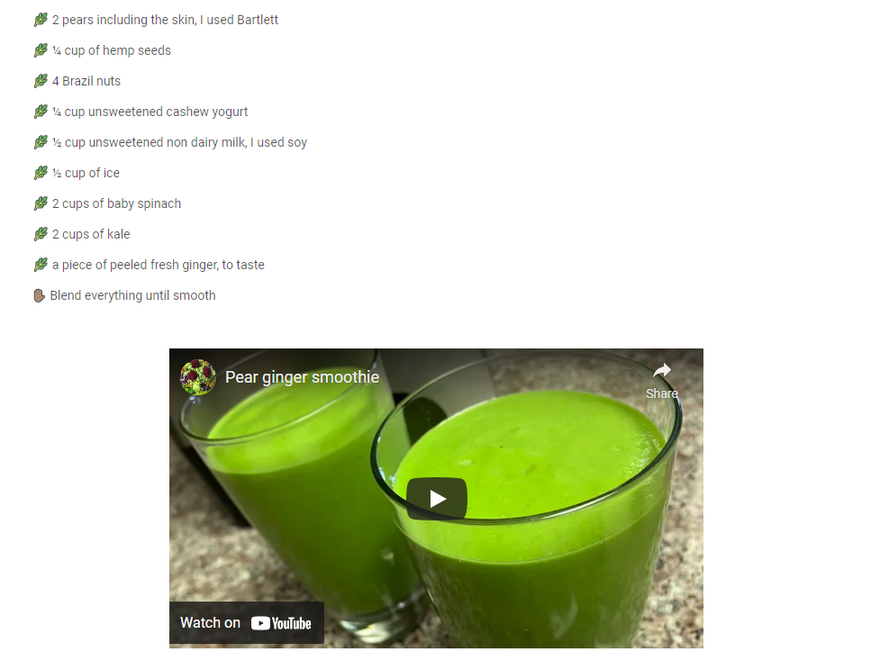 Sometimes I just need to solve a small problem and so trying to find the solution on a video can be maddening... but it's a breeze in a written tutorial. Sometimes no matter how many times I read something new, I just don't get it, so seeing the teacher do it directly in a video can be invaluable.
The gated content for Coil subscribers has barely been used, but as we educate, promote and entice the creator community about the benefits of web monetization we imagine this will be used a lot more.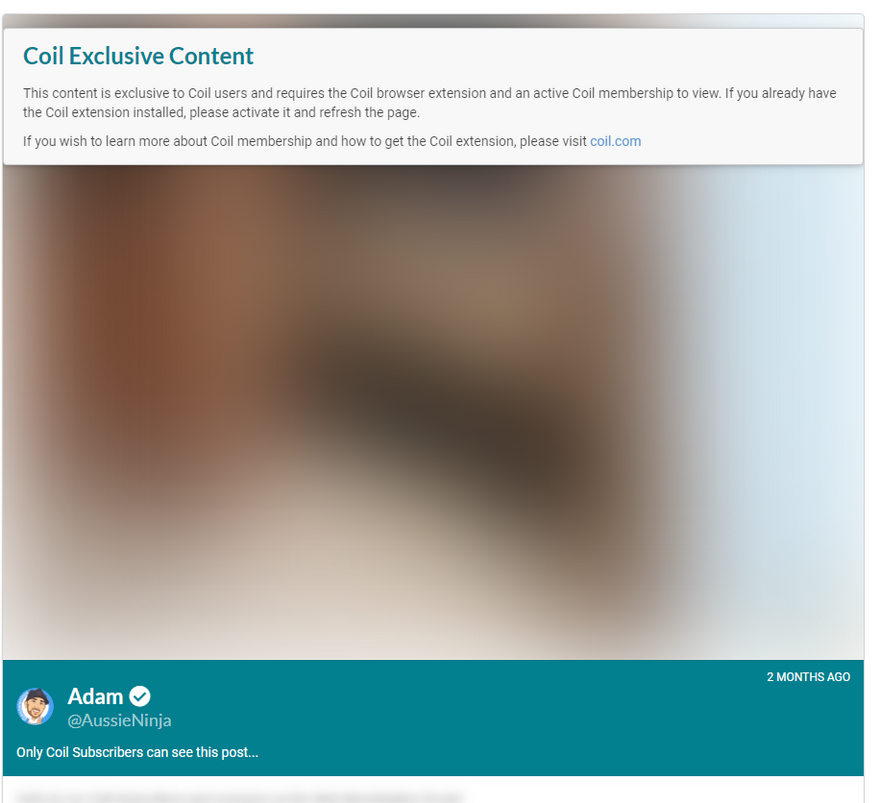 I definitely know a couple of users, myself included, who enjoy seeing how much we've earnt in web monetization micropayments over time so the web monetization statistics for creators have been a great addition to the site. Everyone loves more statistics!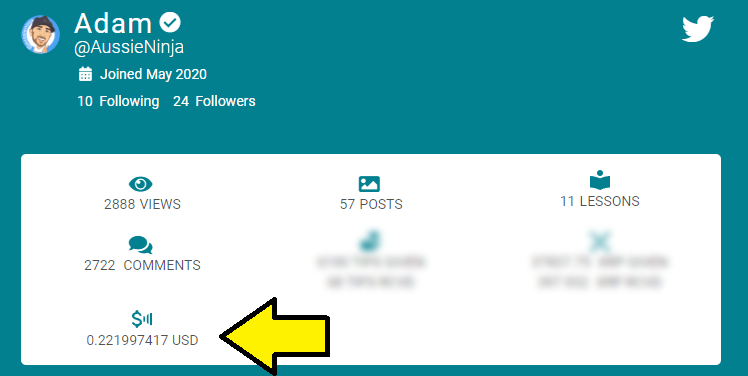 gFam Learn has been incredible and the adoption by creators has been far greater than we honestly imagined. Every time I pop in there is couple of new lessons... even between the screen shot at the top and this one.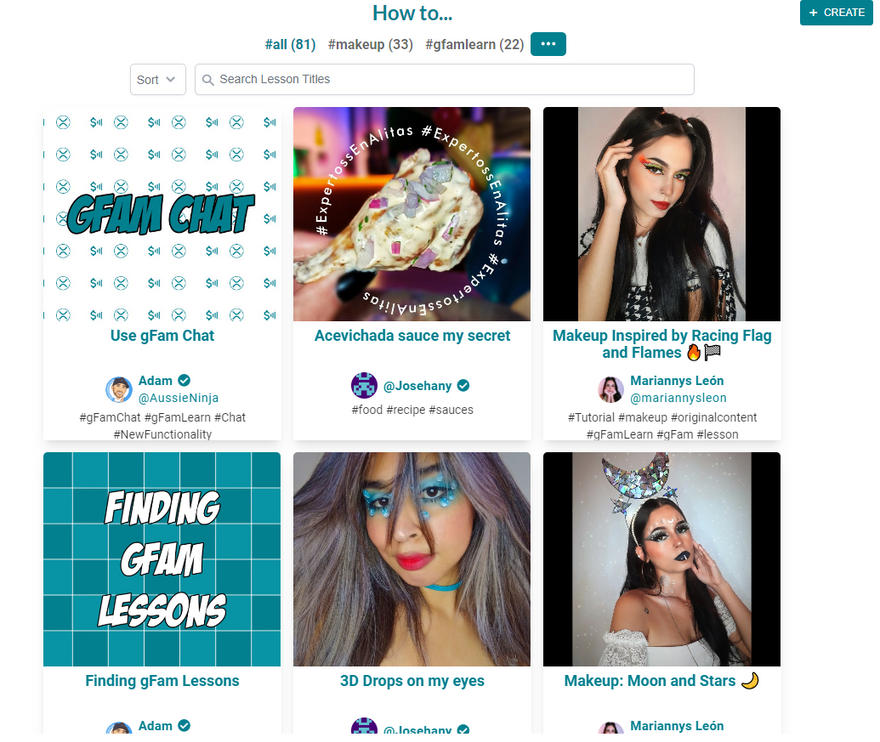 Anyone can create a tutorial on gFam Learn and earn micropayments from the time active web monetization subscribers spend learning. There are lessons on fitness, makeup, vegan and very not vegan recipes, pixel art, recycled art and programming. It's astonishing how much work our creative community has put into this.
We're hoping gFam Learn helps Teachers earn more by providing valuable lessons to the public. We're hoping Students can learn at a much cheaper price by purchasing web monetization subscriptions to pay teachers for the time they spend learning or to unlock exclusive lessons. Students are also able to tip teachers for the lessons they find specifically valuable.
The Web Monetized Chat Room had a rush of action initially but is moving a lot slower now. As we start to onboard more creators we expect newer members will find this feature really handy as they can ask questions and have anyone in the community answer them on the site. We also think it's important for active web monetization subscribers to have a chance to get to know the creators on the site, especially since the community spans the globe.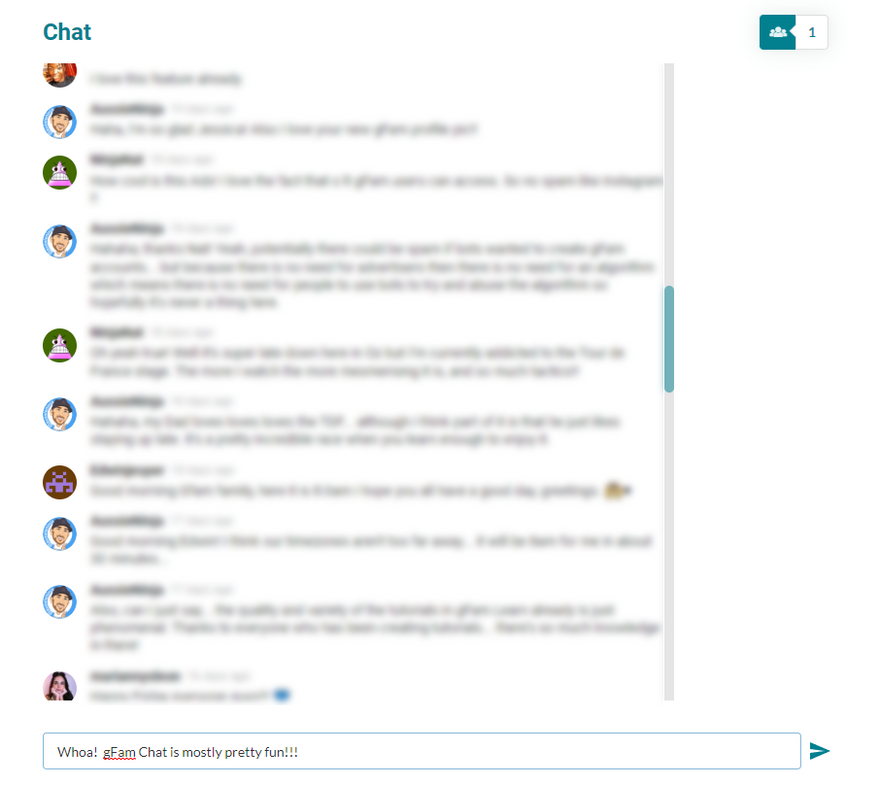 The Obstacle Course Tracker was actually a replacement function for a Public Square capability that we were intending to build to help link up the MG.Social and gFam communities. Sadly MG.Social has closed down, so we're glad we made this decision and we appreciate the effort the Grant for the Web Admin put in to help us change this milestone.
The Obstacle Course Tracker is our attempt at bringing a community I am super, super familiar with into the world of Web Monetization by providing much needed international visibility.
Currently national Obstacle Course leagues exist but this sport is very international and athletes always want to know how they shape up on the international stage, especially since some athletes get super famous when they compete on television shows like American Ninja Warrior, etc.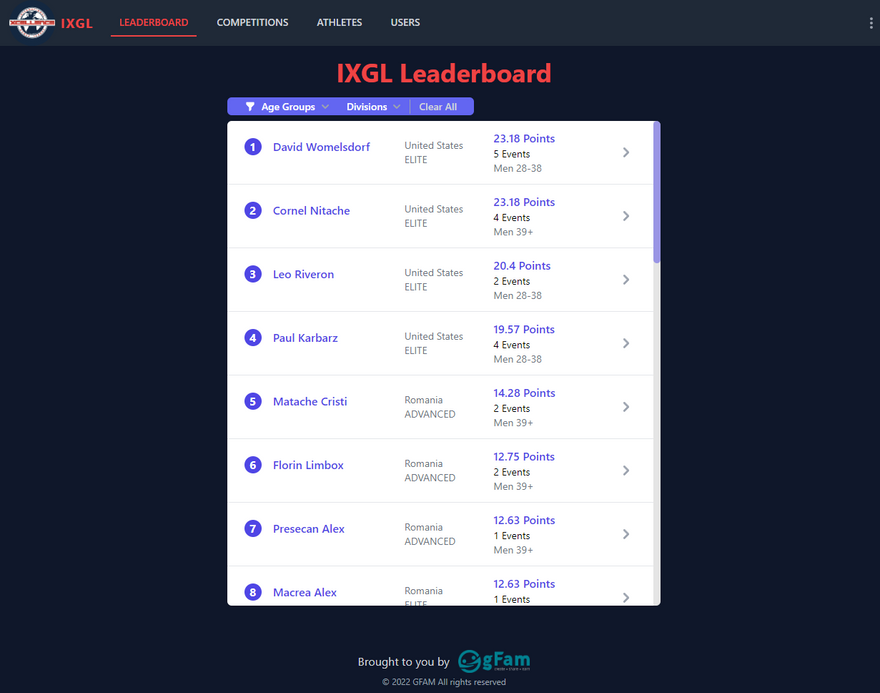 Again we've been blown away by the adoption of this function from people all around the world, and how passionately athletes have tested this function for us to make sure it works well.
We needed a lot of testing too... this function has really different authorisations for Admin, Organisers, Athletes, Users and the general public. We want to protect everyone's privacy, but also have a smooth working app. It was difficult but we think we got there.
We're really only just come out of our official testing stage recently and as more and more athletes compete in competitions and place on the international leaderboards, we'll be able to again educate, promote and entice them to try web monetization. These athletes can often be absolutely incredible content creators, performing stunts, races, tricks and conquering impossible obstacles - and drum up huge audiences... but not really make anything from those audiences or the sites that benefit from the traffic they bring. This exact problem for this community is exactly why we started building gFam.live in the first place.
We've only recently unveiled gFam Challenges but the community seemed to love our first test run immediately.

gFam Challenges is our attempt at providing an alternative to advertising. At the moment a brand might pay a social media influencer, say, $10,000 to promote a product they don't truly care about, to people who either don't realise it's a paid endorsement or do realise but get annoyed. Even once the influencer negotiates with the brand, submits appropriate content, gets it reviewed, they then have to chase the brand, sometimes for months for payment... all for content their audience doesn't really want to see.
Instead, a brand could set up a challenge where 20,000 people (thanks to our automated tipping mechanism) all follow the brand's social media accounts and earn $0.50 each... fast, for example. Brands could actually reward their loyal customers for creating content for them, potentially changing the relationship brand's have with their audiences and customers.
This is an experiment to help creators earn more for their skills and hopefully make traditional advertising less of an element in a companies marketing budgets. We're hoping it brings more money into the web monetization ecosystem by providing brands with a super easy onramp into rewarding their customers.
The good thing is... brands, or honestly anyone, can spend as little or as much as they like providing challenges to their audience and rewarding them for their activities. The barrier to entry could be as little as a couple of dollars.
Key activities
Our biggest activities have been the literal coding of the above functions, and secondarily all the testing, communication, retesting and community management.
We'd like to publicly thank everyone who helped us with testing. We found volunteers all around the world which have helped us really develop (we hope) a great application and experience.
Communications and marketing
Now that all our milestones have been completed, we're now ready to for some 'educate, promote and entice' fun. We're ready to get really active on traditional social media (the thing we're actively trying to replace) as well as jump into podcasts and events to help get the word out.
We'll also be reaching out to Web Monetization community members and Grant for the Web grantees to see how we can best co-market and help us all out.
We've enjoyed a couple Web Monetization tipping events (Erica's post), Gradu.al's session, joined a B2B Business podcast and another OurDecentralizedFuture podcast to be released any day now.
What's next?
For the next few months/years we really need to get the word out on the street about the benefits of the suite of capabilities for both creators and consumers on gFam.live.
We really want to get more Web Monetization active subscribers to help reward creators and teachers for their content, and we want to bring new money into this ecosystem by working with brands.
In the future we want to enable creators to easily split their micropayments with their collaborators and allow creators to mint NFTs that unlock exclusive content.
Essentially though, we built the things and now we need to let the world's peoples know about it.
What community support would benefit your project?
We're actually, finally, totally ready to ask for the community's support. We'll try to contact you ourselves to see how we can best work together, but essentially we'd love you to create tutorials to teach people about your projects... and get us to create challenges for you to encourage people to interact with your projects.
If you're ready for us, let us know in the comments below.
Additional comments
gFam.live would love to become the lowkey/no stress hangout for everyone in the Web Monetization community as well as an easy onramp for people with zero knowledge or experience with blockchains into our way more fair and equitable protocol.
We'd encourage everyone to create an account and say hello. Feel free to build up tutorials to teach people how to interact with your projects. Let us set up some challenges for you.
Relevant links/resources
gFam.live
gFam Chat
gFam Learn
gFam Challenges
International Xcellence Games League
gFam.live blogs
gFam Twitter
gFam Instagram