We're starting off the month with lots to share!
---
ILP Summit Reflections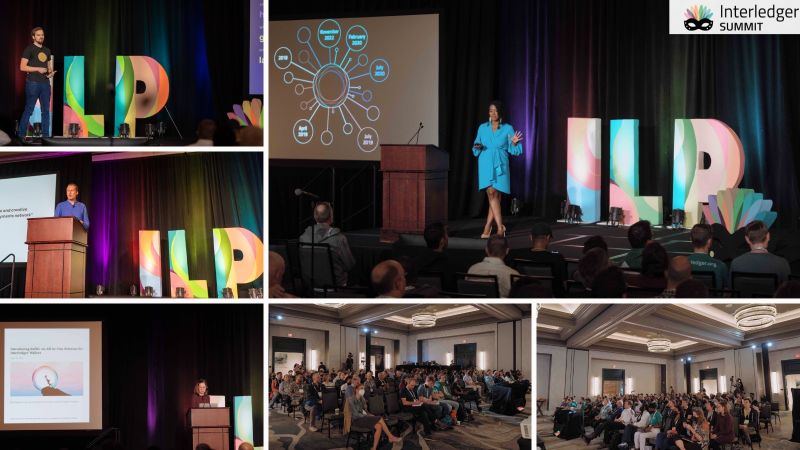 Last month, Interledger Foundation hosted the ILP Summit in New Orleans. We've asked grantees and community members who we sponsored to attend to share their reflections about the Summit.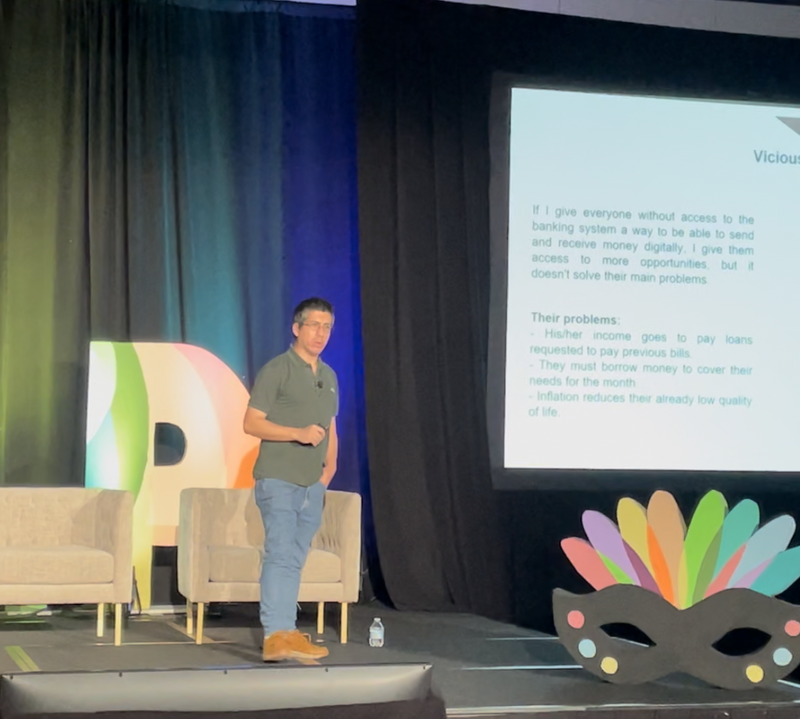 I'm Nestor Campos, from Chile. I am the founder of PeerPay .
I participated in the Interledger Summit as an attendee and speaker, managing to learn from highly prepared and motivated people with the evolution of money, financial inclusion and access to opportunities for all.
The event was spectacular in general, there were many new things learned and a spectacular network of contacts.
I think Open Payments technology is very good, but it's a long way from being more popular for use (just because it's not as well known as other technologies).
I also believe that all of us who are working with these technologies, when exposing them to non-technical people, should stop using words like Web3 and more (the massification of technologies and opportunities has to be without technical terms, otherwise it will always be for a group select people).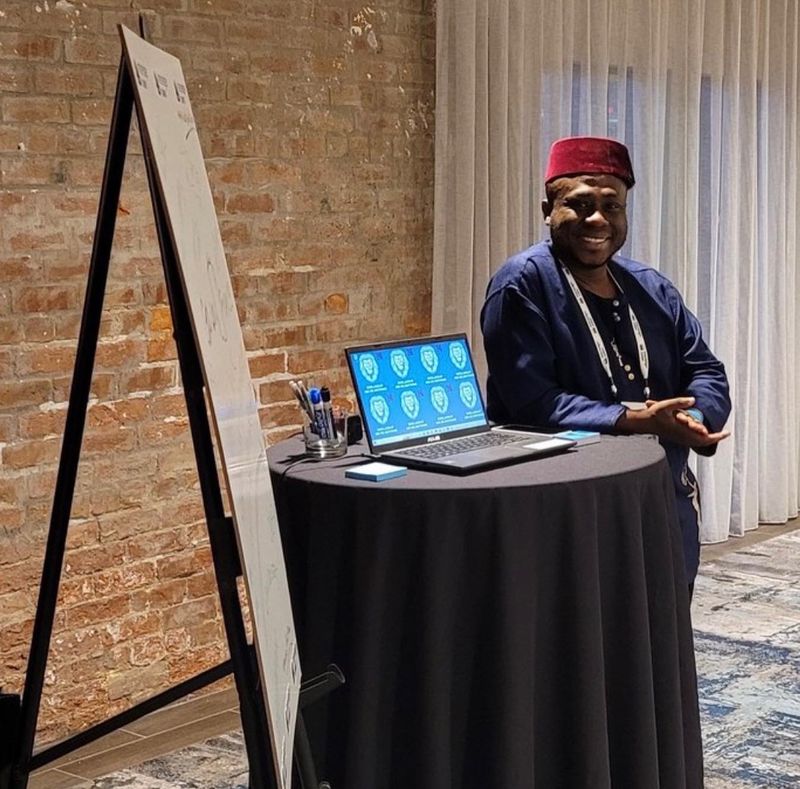 Howdy! I am Richard Seshie, founder of COOL LION FINANCE, a startup building "loan-as-a-service" financing pulled from crypto + fiat lenders to help businesses in emerging markets decarbonize.
This was my first time attending an Interledger event !
So I had quite a long flight and made it New Orleans on November 10th. The energy was amazing afterwards.
From having the chance to showcase what my company is building at the welcome reception to engaging with peers who believe their work can make a positive dent on the world to interacting with highly knowledgeable persons with subject matter expertise and finally to a memorable evening akin to a mini carnival experience, these days have been fully enriching and rewarding.
We'll be sharing more reflections from the Summit over the coming weeks. In the meantime, you can watch speaker highlights from Day 1 and Day 2 on our YouTube Feed.
---
The Grantee Report
Meet Nicole Li for project Elementari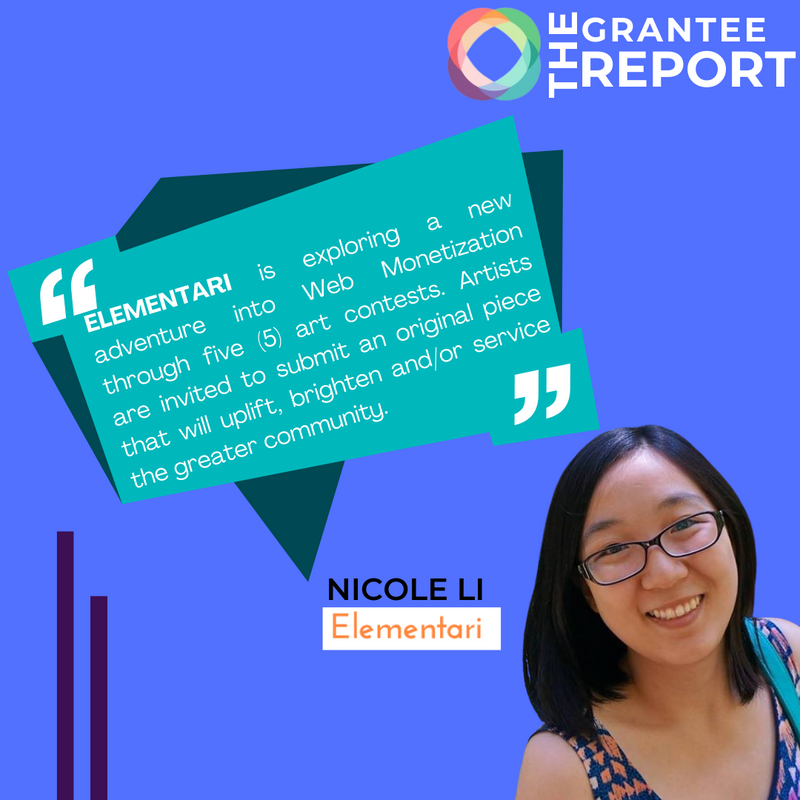 Elementari invites you to #UseTech4Good through a series of art contests running from October 2022 through to January 2023.
These art contests are made possible with a grant from the Interledger Foundation to boost open, fair, and inclusive standards and innovation in Web Monetization.
---
Grant Reports
Imani Brown shares in final report how project The Black Tattoo Anthology has taken on it's own life.
We are so excited of how this project is shaping up and taking on a life of its own. We came in hoping to share more about Black Tattoo history and culture and have found that our community needs much more - we need to understand HOW tattoo helps heal our psychological wounds as a people and why Black tattoo culture is imperative to our thriving.

Our main objective has evolved into a streamlined process and journey, designed to take people from end to end as if you would in a museum.
Originally we envisioned creating the product - a book of Black tattoo culture - for community consumption.
Now we are more interested in creating the product WITH community - including a tattoo therapy podcast and social club where the content creates the book.
We feel this will be a better approach to guarantee that the project is executed with future needs of the industry in mind.
Denny George for Tattle Civic Tech's final report for Using Web Monetisation for Incentivising Sharing of 'Good' Content
Our proposal outlined the following objectives:
To understand whether and how web monetization technologies can incentivize people to share accurate information.
To understand whether there are differences between social incentives and financial incentives when choosing to share information
Results showed that incentivization, regardless of the type, encouraged people to share more true information although they also indicated that the type of incentive (monetary or social) did not influence the participants' sharing-behavior on the platform. Although we did not achieve the result we were expecting, we discovered interesting insights on how people react to posts using emojis and how certain individual characteristics influenced their engagement with posts. The results show that people with conservative political beliefs were more likely to react to posts (using the happy, sad, and/or disgust emojis). Men and women did not differ in their sharing-behavior; however, in terms of age, older individuals were more likely to share posts than younger participants. One's political ideology was also related to sharing of true, plausible, implausible, and wholesome posts, as well as whether they chose to 'read more' about a given post. We also found that individuals who 'read more' about a post are more likely to share it.
Randy Lubin writes about microgrant program funding designers of marginalized identities in final report.
Our project was a microgrant program that funded designers of marginalized identities to make web monetized games via Story Synth.
We kicked off our microgrant program last winter and had a strong first wave of applicants. Over the course of the spring and summer continued to promote the program at conferences and on social media. We've since approved and disbursed 100 microgrants of $300 each, all going to game designers of marginalized identities. The majority of our grantees have finished their games and many others are in the late stages of playtesting. We'll remain available to help the remaining designers finish their games.
On the technical side, Story Synth has a new set of features tied to web monetization. Designers can choose to add custom styles for those using web monetization, a message for non-monetized users, or have a hard web monetization paywall .
We've also added a number of extra features in response to grantee requests, taken steps to increase platform security and accessibility, and made the platform more approachable and flexible for first time game designers.
Curious about our grantees' games? Browse our grantees' games in the Story Synth Microgrant Gallery.
Meghan Laclé shares big updates from Free Music Archive's in Final Report
Big updates for FMA! The new Free Music Archive (FMA) was launched!! Since 2019, with the help of Grant for the Web, our team has reached out to the FMA community for their insights and input; on needed features on all the four types of member pages, FMA search and navigation, web monetization toolings and community engagement.
Through numerous surveys, one-on-one video calls, community calls, round tables and direct emails, we have received their feedback, suggestions, requests, and overall advice for a more sustainable space where they are valued and heard. The entire FMA community has waited patiently, and their wait was finally over on the 27th September 2022!
With this big milestone comes another big update: Now all FMA Curators and Netlabels are able to set up their digital wallets, add payment pointer(s) and monetize with Coil! Before, FMA Artists tried out Coil, as we focused on onboarding musicians first. Now, Artists, Netlabels and Curators are also able to add payment pointers of fellow peers and charities to increase support!
---
Project Updates
Gradual wants you to monetize your online content
Hey everyone!
During our time as part of the cohort this year it has been our aim to make it easy and fun to see what feels most alive and take action on shared interests with each other. On the community hub you'll now find over 15 sessions of zoom calls, peer shares and skill shares.

Web Monetized
One of the great things we've learned is that having your online content web monetized can act as a stimulus for sharing it with others in the community and beyond. Additionally, the ability to publish content in a web monetized space can also motivate people to produce new content in the first place.
By implementing the option of adding a custom payment pointer on individual Gradual Session pages, we will enable content creators to share their skills (e.g. in the form of a video/call recording or written post) and attract micro payments from their audience. This means that any added previous community calls will be payment pointer allocated.
What we need from you
If you have hosted one of the sessions that is featured on our community hub, we would love for you to have your unique payment pointers allocated to the session pages so you can start generating revenue from clicks and streams!
Please forward your payment pointers to gunnar@gradu.al or leave a comment below before December 14th so we can add it to your pages. You can also decide to leave it so any incoming streams which will directly go into future development of Gradual.
---
Interledger Foundation Community Events & Updates
Please remember to join us for our final community engagements for 2022. Here are the upcoming events you don't want to miss out on.
ILF Community Call - Wednesday, December 14, 2022
Get updates on Rafiki, and happenings in the Interledger ecosystem.
Meet joining info:
Video call link] (https://meet.google.com/pzs-iwrv-jny
Or dial: ‪(GB) +44 20 3956 1581‬ PIN: ‪476 812 309‬#
More phone numbers: https://tel.meet/pzs-iwrv-jny?pin=2824719901292
Open Payments Huddle - Thursday, December 15, 2022
Join the conversation and discussion with ILF staff and grantees on Accelerating Financial Inclusion: Year-End Recap & What's Next?
Registration details available at: https://www.eventbrite.com/e/471436849307
Rafiki Tech News
Did you know Rafiki comes with a GraphQL interface for anyone running an instance? And now, thanks to Santhosh Viswanatham, we've also got the API Reference for it available on https://rafiki.dev/docs/reference/queries.
---
Thanks for being a part of our community, see you next week!