In this short article, FMA Team shares inside updates, outcomes and follow ups related to the rebuild of the global iconic music service: Free Music Archive. The FMA mission remains clear; create sustainable spaces & systems in favor of independent creators to continue creating and sharing original music online.
Chapter 7
With the Music Insiders by Free Music Archive podcast release, we were eager for more opportunities for FMA artists. We didn't have to look far. The FMA team was ready to join the MozFest 2022, specifically to try out the new tipping feature for Coil creators and a new way for FMA members and listeners to give support to FMA musicians.
New Curated Journeys
In order to try out the tipping feature on FMA and present a creative yet valuable communication strategy, the first ever FMA Treasure Hunt was created, using web monetized artists pages on FMA.
Using data that we learned in Inside FMA Chapter 6, we were able to choose top visited pages, together with monetized FMA artist pages, we were able to put together a cohesive and interesting treasure hunt throughout FMA that also works has a fun tutorial to explore FMA; see how to roam and use it. This way, we were able to test out the tipping feature with Coil users while they get to know FMA right away.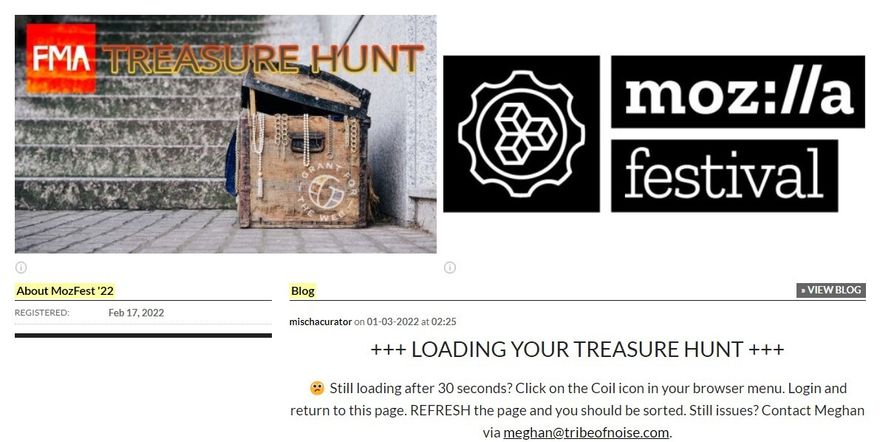 We invited FMA artists and members to get their free MozFest 2022 ticket with their free 6-month membership, a great initiative to introduce Coil to new users, especially to creators. There are FMA artists that became Coil users for the first time to try it out the tipping feature which has a great influence on how they will continue to perceive Coil and Web Monetization as creators. Inviting both subgroups to try out the other side helps a lot in strengthen the community.
The FMA Team added a BOSE Noise Canceling Earbuds as winning prize for the first FMA artist or member to submit the correct answer. FMA artist; Siddartha Corcus is the winner of the first FMA Treasure Hunt!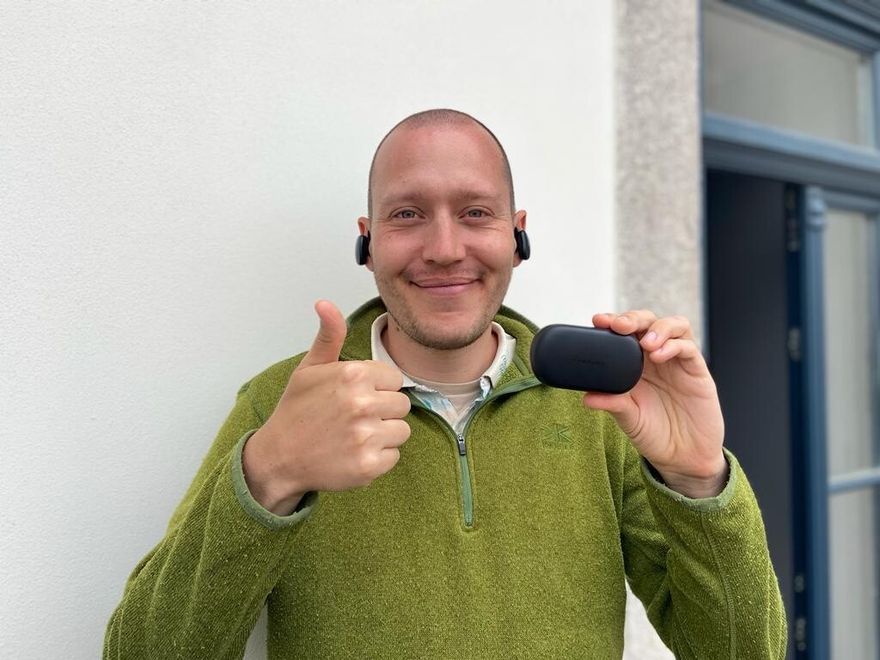 Thank you FMA team for these epic earbuds! I'll be sure to put them to good use, and hopefully they will inspire more and better music! Wishing you all the best from sunny Portugal… - Siddhartha
Siddartha Corcus is a Coil Creator, you can show him support with your Coil membership on his FMA artist page! Don't forget to take the FMA Treasure Hunt with your Coil Membership right here!
The FMA Treasure Hunt is another strategy and tooling that we will continue to use to take online users on curated journeys on Free Music Archive. This way we can highlight web monetized pages on FMA and put spotlights on FMA Artist pages with monetization enabled. Read more in the FMA Treasure Hunt Action Plan for MozFest 2022 below.
The tipping feature was right on time as one of our main objectives is to directly communicate, help and onboard 1000 musicians to monetize their FMA artist pages. For this objective, we created the FMA Next Club for the first 1000 musicians interested in monetization and new tooling's for their FMA pages.
New FMA Events
In true FMA fashion, reaching out to the FMA community to gather insights for FMA has always been a valuable approach for the FMA team. We scheduled an informal kick-off session for FMA artists on Google Meet where we invited the FMA artists and explained a bit more about the FMA Next Project.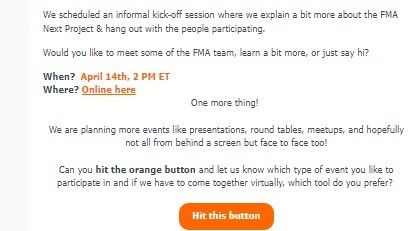 During the kick-off, FMA artists got updates on FMA rebuild and informed of the perks and tooling's they could expect on their new upcoming FMA artist page(s). Their feedback and input is essential as this continues to be an opportunity to co-create the ideal online experience for self-releasing musicians, their fans and the professionals they want to reach.
Before we could continue gather insights and update FMA artists, it was important to also do an FMA communication check to see how and where FMA artists prefer to meet up. With a quick FMA survey, we asked FMA artists which type of FMA event they would participate in.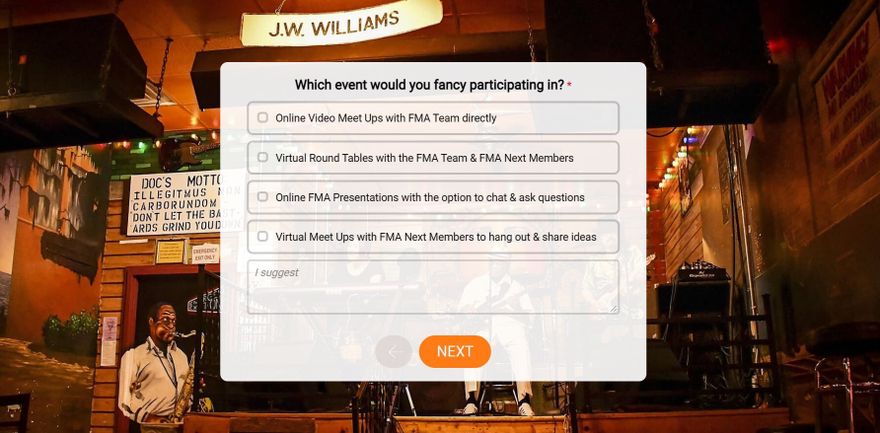 55% - online FMA presentations with the option to chat and ask questions
52% - virtual round tables with the FMA team & FMA Next Members
48% - Online video meet ups with FMA team directly
35% - virtual meetups with FMA Members to hangout and share ideas
Since direct communication with FMA artists is top priority, we put our focus first on the FMA artists that selected direct online meet up with FMA team, to meet up and assist them right away, by answering their questions and updating them about our objectives for the coming months. It was then time to organize an FMA event.
However, before we hosted our own FMA Artist Community Call, we were eager to participate in our first Grant for The Web community call for FMA, where we were able to introduce FMA to new grantees, share the FMA journey and lessons learned.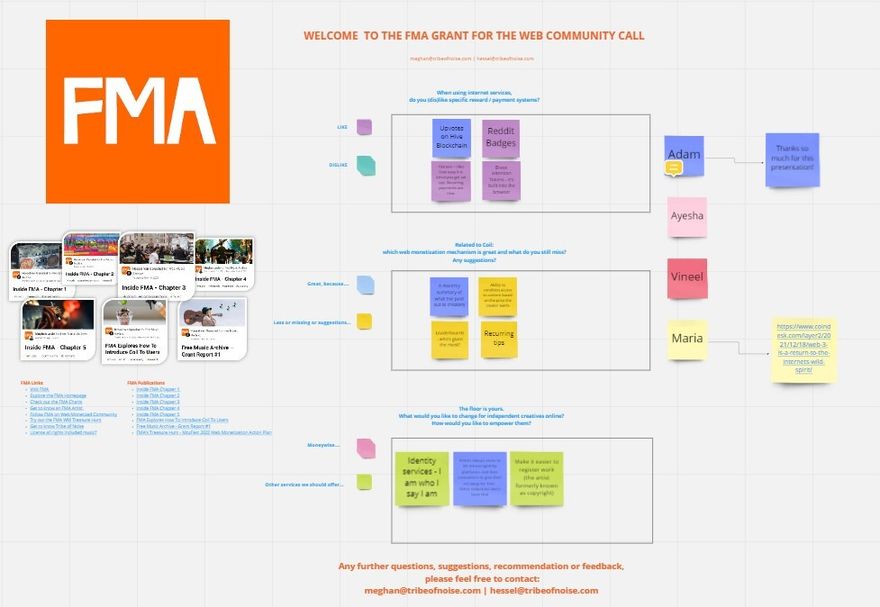 Read more about the Grant for Web FMA community call below.

The FMA team was now ready to reach out to FMA artists and invite them to an FMA presentation with the option to chat and ask question. These artists insights gives FMA team a clear overview of the structure for new FMA events and calls to come:
Virtual FMA Round Table where we will invite FMA artists, especially those with monetization enabled pages and have a open panel discussion together with other FMA artists, to focus on the need and value for the growth of monetization for creators.

Virtual FMA Meetup with FMA members to hangout and converse with each other, with the main focus on gathering insights on how we can start strengthen the FMA community between artists and users and increase more support for all creators on FMA.
With this structure, we will able to continue to communicate in different settings and give FMA artists more spaces to come together to learn and help us co-create FMA.
During the Grant for the Web FMA community call, we also premiered the 2nd episode of Music Insiders by Free Music Archive podcast with FMA artist guest; Simon Mathewson/ Nul Tiel Records.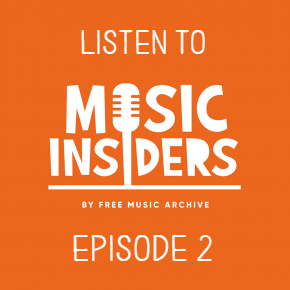 Get to know another FMA artist in the second episode of Music Insiders with our Head of Music; Marko and FMA artist; Simon. All background music used in the episode are original music by Nul Tiel Records available on Free Music Archive.
Next to FMA events and calls, the Music Insiders podcast is a new FMA tooling to introduce and communicate web monetized opportunities for artists, add spotlight to FMA Artist with monetization enable pages and grow new audiences and users for FMA, therefore potential new Coil members and creators.
New FMA Objective
As Free Music Archive is hosting unlimited amounts of CC licensed music while the musicians can enable web monetization on their artist, album and song page, we know we must continue to do more.
The FMA team has learned a lot about individuals willing to spend time curating, sharing and promoting artists successfully. The missing link today is the toolkit for musicians and enthusiasts to monetize content together. When do we know it's successful?
We believe it will be a combination of valuable insights about fair revenue sharing via web monetization and the community of participants starting to spread the word and showing others how to join and contribute.
Our main goals?
To research and unleash a resilient payment infrastructure and promote inclusive and sustainable monetization models for musicians in the music sector. We have to start with artists 100% in control and willing to experiment with new business models.
Our next steps?
The FMA team wants to do our best to ensure our support for FMA musicians with new tooling and opportunities on Free Music Archive to bring forward their value in the music industry, in societies, cultures and around the world.
We will continue to keep an open-door policy to all artists, musicians and members that has any advice and suggestions for FMA.
More inside stories by FMA?
The FMA team will share insights we have gathered with our FMA community and publish them on Coil.com
So, make sure to follow us and check out our previous chapters!
• Inside FMA - Chapter 1
• Inside FMA - Chapter 2
• Inside FMA - Chapter 3
• Inside FMA - Chapter 4
• Inside FMA - Chapter 5
• Inside FMA - Chapter 6
Coil.com?
Coil is a fun way to enjoy original (premium) content from journalists, musicians, photographers, game developers, podcasters and many other creatives. With your Coil Creator account enabled in your browser, small amounts of money will travel from your account to the content creator. All-you-can-consume-content. You never pay more than $5 for a month access to tons of creative content while supporting the creators. More information? https://coil.com